In the past three games Edward Mujica earned two holds and a save. He lost his momentum last night in the eighth inning. He relieved Clay Buchholz and was charged with maintaining a 3-2 lead. Mujica allowed consecutive singles to Chris Carter and Dexter Fowler.
Tommy Layne took over and struck out Jason Castro and Jon Singleton. John Farrell didn't think Layne could handle Matt Dominguez and called on Burke Badenhop. Dominguez sent a tapper to Xander Bogaerts that prompted a chain of improbable events.
Bogaerts had backed up on Dominguez's ball which caused the play at second to be close. Pat Hoberg ruled Fowler safe.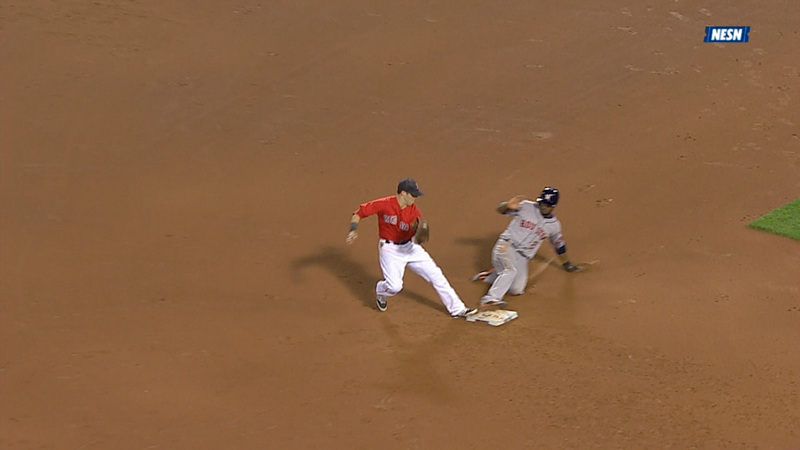 Petit kept on running towards home on the play. At two points it seemed that Cory Blaser could have ruled that Petit was out of the basepath. It could be argued that Petit wasn't actively avoiding a tag when he wandered into the grass, but once a defender near him got the ball would the umpire change his ruling?
Farrell challenged both plays and lost, rendering the score 3-3. The local nine lost in extra innings for the 10th time in 16 tries. The Red Sox are 4-5 in extra inning games at Fenway..
On the bright side Buchholz pitched well: 7 innings, 7 hits, 2 earned runs, 2 walks, and 9 strikeouts. Yoenis Cespedes enjoyed his first home run at Fenway Park, a line drive that cleared the Green Monster. David Ortiz scored along with him and celebrated at home plate. If they pair up like this more often this offense may return to its former glory.
Game 121: August 15, 2014

∙ 10 innings
Houston Astros
51-72
5
W: Tony Sipp (3-2)
2B: Robbie Grossman (8), Jake Marisnick (3)
HR: Grossman (6)
Boston Red Sox
55-66
3
H: Tommy Layne (3)
BS: Burke Badenhop (3)
L: Craig Breslow (2-4)
2B: Mike Napoli (19)
HR: Yoenis Cespedes (20)