Right fielder Kole Calhoun has carved through the Red Sox pitchers in this series thus far. But his success hasn't stopped at the plate. In the second inning he seismically shifted the outcome of last night's game. The Red Sox had two runners on and two out with Brock Holt at the dish. Holt skyed the ball to right field on a path that would surely clear the Angels bullpen wall. Calhoun's glove interrupted the ball's flight and instead of the score being 4-0 in Boston's favor the second inning ended with a slim 1-0 advantage to the local nine.
In the third inning Calhoun tied the game 1-1 by driving in Chris Iannetta.
The Red Sox pulled within a run in the fifth inning when Mike Napoli's ground out plated Dustin Pedroia. Holt tied the game 3-3 in the next frame with a sacrifice fly to drive in Xander Bogaerts.
Providence-born Iannetta broke the tie in the ninth inning when Koji Uehara uncharacteristically gave up consecutive doubles to Brennan Boesch and the Angels backstop.
Pedroia questioned home plate umpire Tom Woodring in the ninth inning. Yoenis Cespedes had pinch hit for Christian Vazquez and came through with a single. Holt sac bunted him over and it was up to Pedroia to advance Cespedes. Pedroia felt he got a part of Huston Street's pitch to him but Woodring said the second baseman whiffed.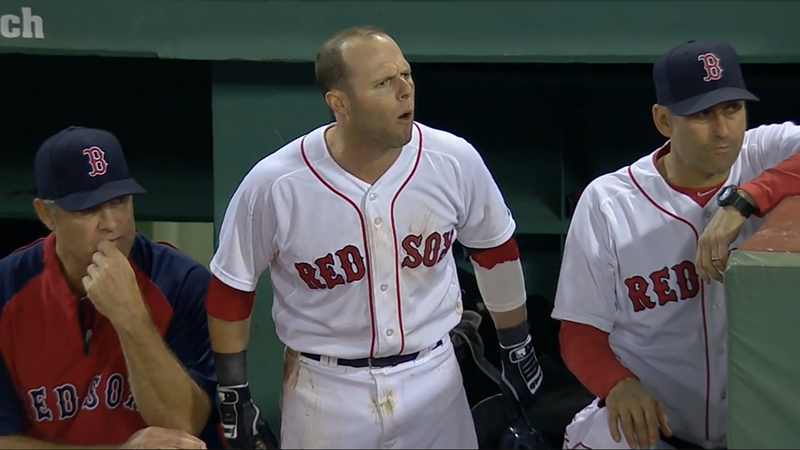 The Red Sox didn't help the Red Sox West out in Oakland, but they helped themselves by beating the New York Mets. That stopped a five-game slide. Jon Lester and Jonny Gomes accepted David Ortiz's ice bucket challenge but no video has been posted yet.
I was nominated for the #icebucketchallenge by the Large Father @davidortiz & my buddy Zein. Challenge accepted, comin at ya tmrw w/ Gomes!

— Jon Lester (@JLester31) August 20, 2014
Game 125: August 19, 2014

Los Angeles Angels
74-50
4
BS: Jason Grilli (5)
W: Joe Smith (5-1)
S: Huston Street (34)
2B: Chris Iannetta – 2 (21), Brennan Boesch (2)
3B: Mike Trout (6)
Boston Red Sox
56-69
3
L: Koji Uehara (5-3)
2B: Mookie Betts (3)
HR: David Ortiz (29)