A.J. Pierzynski did his usual ground out on the first pitch in the second inning but eventually mustered two hits. His two-out single to left field in the eighth inning enabled the Cardinals to take the lead 3-2. As Pierzynski went home on John Jay's single he glared into the Red Sox dugout.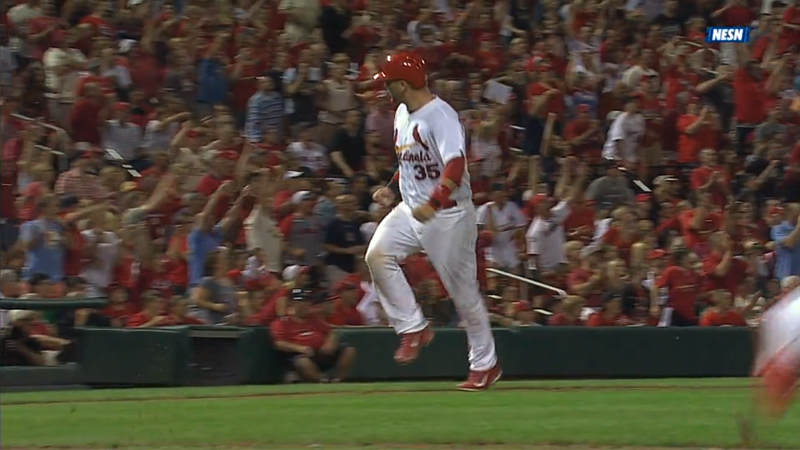 Two former Red Sox starters hung out together. Cardinals fans weren't too enthralled by the John Lackey acquisition. They warmed to him rather quickly when he pitched seven strong innings and notched a tight 3-2 win against the division-leading Brewers on August 3.
Justin Masterson seems much more in line with the Cardinals Way. He also pitched in a winning effort against the Brewers in his senior circuit debut but allowed five runs over six innings pitched. They are probably having a laugh about having to hit but also getting to face their counterparts when on the mound.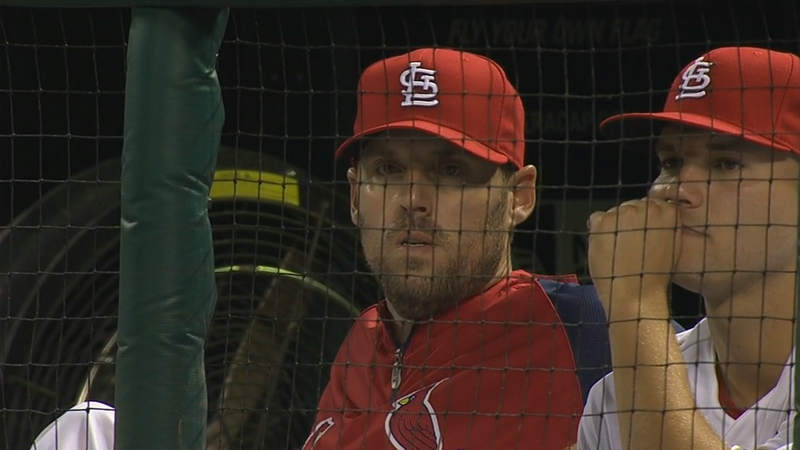 Of all the traded starters Jake Peavy seems to have landed in the best situation with the Giants: pitchers' park, no designated hitter, and second in the division. Jon Lester can enjoy the spacious foul territory and outfield fences of the Coliseum but doesn't get the benefit of pitching to pitchers.
Yoenis Cespedes seems to be coping well with having being dealt to a cellar-dwelling team. He went 3-for-4 in the clean-up spot. In the second inning he blooped the ball just out of reach of Kolten Wong, who made an extraordinary effort to get to the landing spot. The ball bounced into foul territory and one of baseball's best fans reached over the wall to get it as Cespedes dashed to third base. The umpires seemed to toy with the idea of sending Cespedes to second base on fan interference but ultimately allowed the outfielder to stay at third base.
One umpire, Mark Ripperger, had his judgment questioned. Mike Napoli argued a called strike in the seventh inning but wasn't ejected. Matt Holliday vociferously objected to Ripperger's zone in the bottom of the same inning and was tossed.
I guess Pierzynski and Lackey are rubbing off on their new teammates.
Game 112: August 5, 2014

Boston Red Sox
49-63
2
BS: Tommy Layne (1)
L: Junichi Tazawa (1-3)
3B: Yoenis Cespedes (4)
St. Louis Cardinals
60-51
3
W: Pat Neshek (5-0)
S: Trevor Rosenthal (35)
2B: Matt Carpenter (25), Matt Holliday (26)