Four Red Sox greats entered the Red Sox Hall of Fame. For a few of them it may have been the precursor to Cooperstown.
I thought Roger Clemens might hear some boos when his name was announced. I think anyone who hasn't forgiven Clemens for any or all of his multitude of sins sat on their hands instead of being overtly and loudly negative. When he visited the booth he showed his human side by reminiscing about his grandmother. She had been alive to witness many of accomplishments, but not this one.
I don't know if Pedro Martinez was more brilliant on the mound or with the microphone. He talked about his 17-strikeout game against the Yankees on September 10, 1999, which was commemorated in the Red Sox Hall of Fame. Martinez was mad because Joe Kerrigan got on his case for missing the pitchers' meeting. The manager told him he had to figure out how to get Derek Jeter out on his own because he missed the meeting.
"What am I going to learn, it's the Yankees," laughed Martinez. It reminded me of Allen Iverson's comments about practice. The mediocre ones need repetitive meetings and mind-numbing practice sessions. The great ones don't.
Nomar Garciaparra is the last person I thought would have shone as a television personality. But he has been perceptive and personable on ESPN. I still feel there's a touch of melancholy around him when it comes to Boston. Or perhaps that is me projecting it on him. There is no one more than Garciaparra who deserved to be on the field when the Red Sox won it all in 2004. He said he has only watched two World Series: the one where his college roommate Jay Payton played and 2004. Maybe he has gotten over it, but I haven't.
There was a moment of levity when Garciaparra said he wanted to give Kevin Kennedy the bat he used for his first hit. "He would have sold it," remarked Jerry Remy.
Joe Castiglione was the play-by-play announcer for all of these three players' careers in Boston. Don Orsillo took Castiglione's class and seemed to have learned a lot, including how to hit an all-time great like Clemens. "I can hit him," thought Orsillo as he recorded Clemens throwing batting practice to one of Clemens's K-named sons.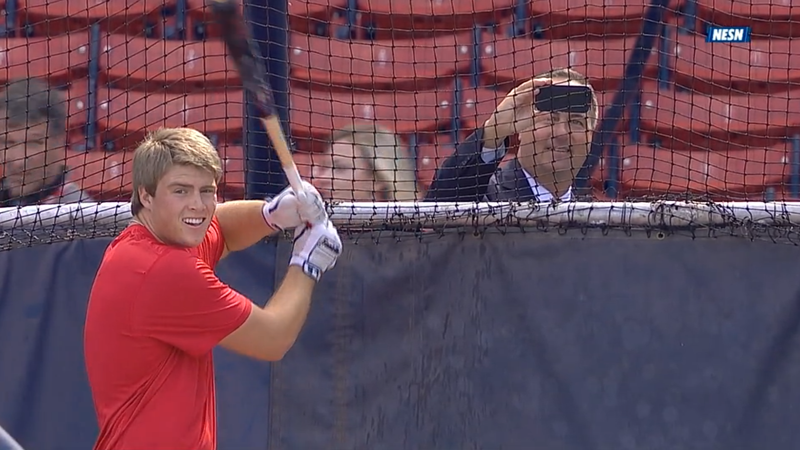 The Red Sox unleashed an offensive torrent in the sixth inning. They batted around and them some. Dustin Pedroia knocked in a ground-rule double in his second at bat of the inning to make the score 8-4. It was worth it for the runs and to see Pedroia standing next to Jose Altuve.
Christian Vazquez plays with such panache. He tagged out Jake Marisnick to end the seventh inning. It was a nice reversal of Mike Napoli's aggressive baserunning in the fourth inning that saw him out at home to end a potential scoring opportunity.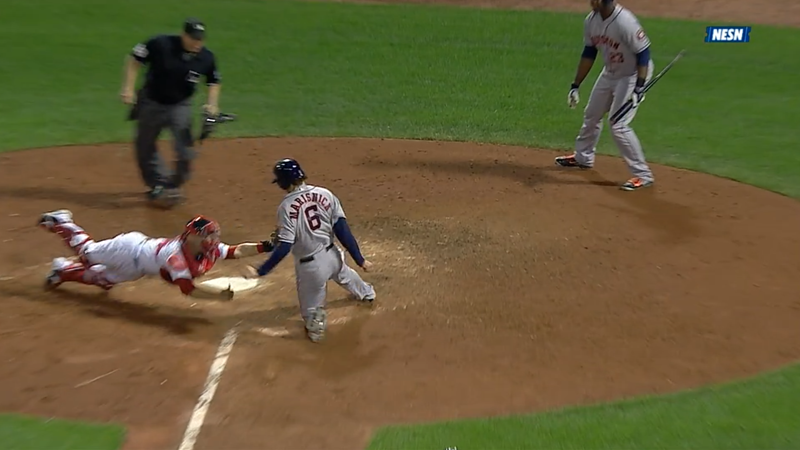 Game 120: August 14, 2014

Houston Astros
50-72
4
L: Scott Feldman (6-9)
2B: Marwin Gonzalez – 2 (8)
HR: Matt Dominguez (14)
Boston Red Sox
55-65
9
W: Allen Webster (3-1)
2B: Daniel Nava – 2 (11), Brock Holt (22), Dustin Pedroia (31)