Best friends Jim Kelly and Shelby Miller opposed each other on the mound last night. As buddies are wont to do they had a wager about who could get a hit off the other. Perhaps Kelly was playing some mind games when he allowed Miller to walk on four pitches with two out in the second inning.
In the third inning Kelly sent a bounding ball past Miller into Jhonny Peralta's glove. Peralta's throw reached Mike Adams almost simultaneously as Kelly's foot touched the sack.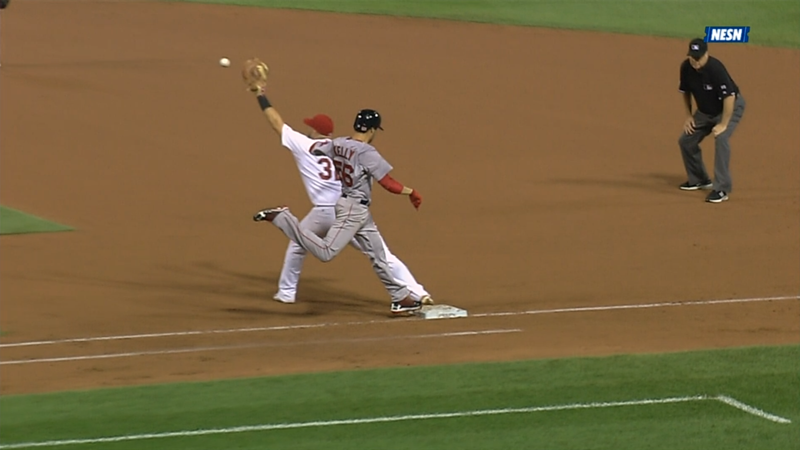 Gary Cederstrom called Kelly out but the replay showed that Kelly had indeed managed a hit off his best friend. The bet was a hundred doll hairs, not a hundred dollars, Kelly quipped.
Almost as rare as a pitcher getting a hit is an umpire calling a runner out for running inside the first base line. This happened to Oscar Taveras in the fourth inning and the incident had Mike Matheny out of the dugout to argue. I've seen far more flagrant violations that weren't called so I don't blame Matheny for disputing Cederstrom's judgment.
Allen Craig injured himself trying to beat out a ball to first in his Red Sox debut and was placed on the disabled list. He wouldn't be introduced to his former team in this series but had a chance at being acknowledged by Cardinals fans when he brought out the lineup card. He received a standing ovation.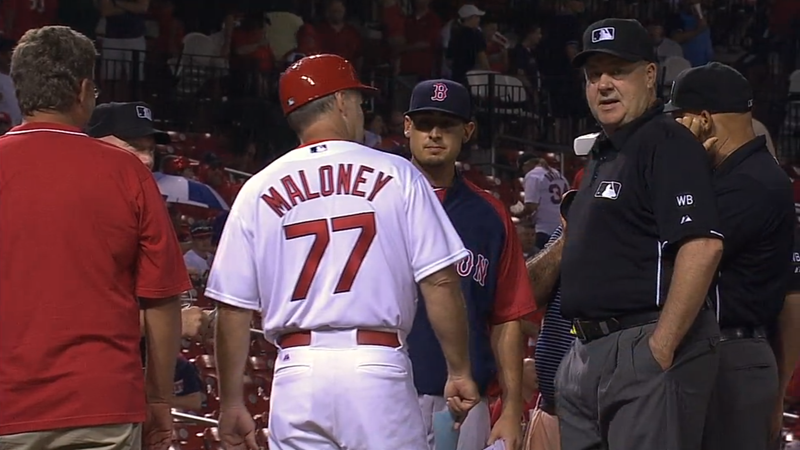 It's easy to make fun of St. Louis fans for their earnestness, and I'm sure I have done so, but other cities could take a page out of these fans' playbook. I'm looking your way, Philadelphia.
Game 113: August 6, 2014

Boston Red Sox
50-63
2
W: Junichi Tazawa (2-3)
S: Koji Uehara (23)
2B: Mike Napoli – 2 (18), Xander Bogaerts (21)
St. Louis Cardinals
60-52
1
L: Trevor Rosenthal (1-6)
2B: Matt Carpenter (26)