The Red Sox built an early lead by scoring in each one of the first three innings. Brandon Workman had a disastrous fourth inning that saw the Mariners bat around and score seven runs. After Seattle pulled ahead Boston loaded the bases in the bottom half of the frame but didn't capitalize on the opportunity.
Brandon Workman was optioned to Pawtucket today and Heath Hembree took his place on the roster. He has lost all of his eight starts since June 27. He is the pitching equivalent of Jackie Bradley, Jr.; a young talent that just can't consistently be successful in the majors.
This youth displayed his skills in the first inning.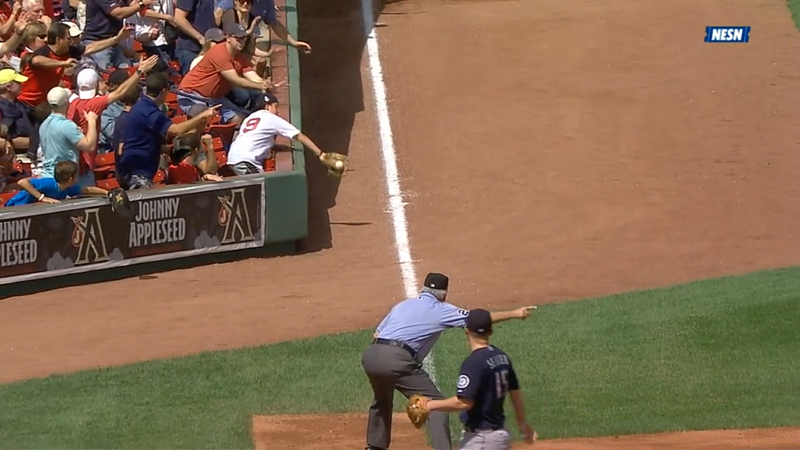 His reaction to interfering with a ball in play was similar to Red Sox fans' reactions to this homestand as a whole: head in hands in disbelief.
From the "there's a first time for everything" department comes David Ross's first ejection ever. Ross took issue with first base umpire Vic Carapazza's ruling that he went around when he tried to check swing in the eighth inning. He thought he was awarded first base on a walk but then Carapazza gestured at him to take a seat in the dugout. It's amazing to think that he had never been tossed before because as a catcher he has the potential to rile umpires manning home plate by standing up for his battery mates.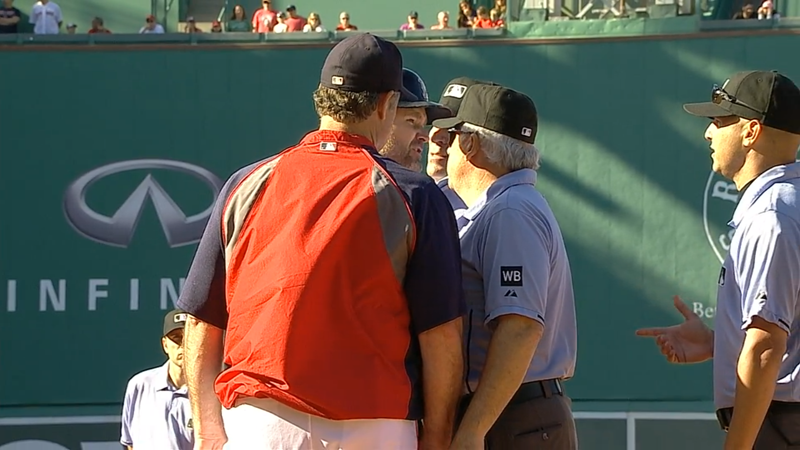 Runsey Castillo watched his first game at Fenway. He won't be able to play on the team until he gets his work visa. Gordon Edes chronicled how the team courted Castillo in this article.
David Ortiz was hit on the arm with a pitch in the bottom of the sixth and Kelly Johnson hit for him in the ninth. This combined with Xander Bogaerts getting hit in the head, Yoenis Cespedes getting brushed back, and the Mariners batters feeling fairly invincible at the plate prompted a response from the Red Sox. Alex Wilson hit Robinson Cano in the seventh. The benches were warned but there were no other incidents in the game.
Game 129: August 23, 2014

Seattle Mariners
70-58
7
W: Tom Wilhelmsen (2-2)
2B: Chris Denorfia (11)
HR: Dustin Ackley (9)
Boston Red Sox
56-73
3
L: Brandon Workman (1-8)
2B: Dustin Pedroia (32), David Ross (7), Mookie Betts (4)