So we beat this guy.
Mat Latos's cat's name is Cat Latos. As much as I would like to make fun of this, I did note the rifle on the table in the background. So instead I will say the Red Sox were lucky to have prevailed over Broward County Athletics Association All-Star and 2009 All-Star Futures Game participant Latos. The right-handed starter pitched seven innings and held the Boston batters to a single run with one walk and five strikeouts.
Latos was 0-for-2 at the dish but Joe Kelly finagled an opposite-field single off Latos to lead off the third inning.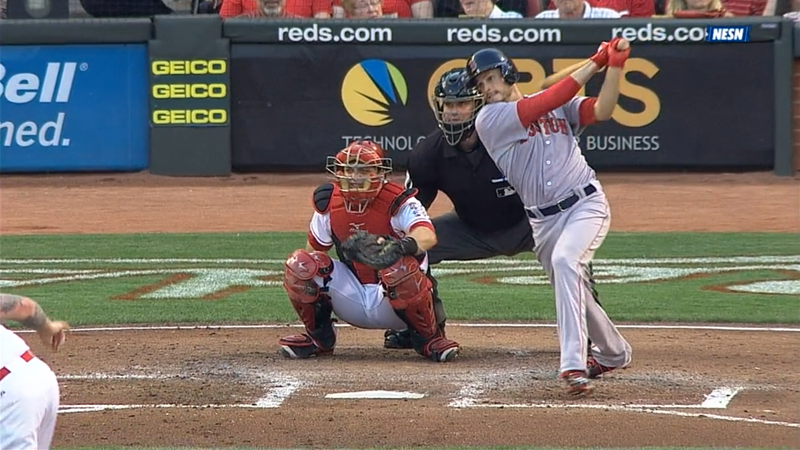 Kelly advanced to second base on Brock Holt's sacrifice bunt and then swiped third base with Dustin Pedroia batting. It was Kelly's first steal and the first steal by a Red Sox pitcher since Bill Landis on September 8, 1969 against Cleveland. The last time a Boston pitcher stole third base was Tom Brewer on July 30, 1959, also against the Tribe. His hair, like his baserunning, is a throwback to pitchers past.
But Kelly didn't score in that frame. In fact the Red Sox didn't get on the board until the seventh inning. Daniel Nava led off the stanza with a double and was plated by Xander Bogaerts, who seems to have settled down enough to become productive again.
It didn't take very long for Yoenis Cespedes to feel comfortable in a Red Sox uniform. His turn at bat came up in the eighth inning with his team trailing 2-1. Holt led off with a single but was stranded by Pedroia and David Ortiz.
Jonathan Broxton buzzed Cespedes with heater high and tight. Broxton would have to go 435 feet to straightaway center to get a good look at Cespedes's response.
Koji Uehara slammed the door in the ninth and the Red Sox notched a series-opening win by a slim 3-2 margin.
Game 118: August 12, 2014

Boston Red Sox
53-65
3
W: Tommy Layne (1-0)
H: Edward Mujica (3)
S: Koji Uehara (26)
2B: Daniel Nava (9)
HR: Yoenis Cespedes (19)
Cincinnati Reds
60-59
2
BS, L: Jonathan Broxton (5, 4-1)
2B: Devin Mesoraco (20)