This game had most of the hallmarks of a classic Yankees-Red Sox clash: drawn-out at bats, lead changes, and multiple home runs. What it didn't have was dramatic tension. Neither of these teams are close to contending for a playoff spot, although New York has a better chance of salvaging its season than Boston.
A little more than ten years after the day Jason Varitek fought with Alex Rodriguez there were no such fireworks on the field. The closest a player came to getting injured was self-imposed: Junichi Tazawa landed awkwardly in the seventh inning when pitching to Brian McCann and took a tumble. Only Tazawa's ego was bruised, unlike Rodriguez's face a decade ago.
Clay Buchholz's health and technique seems to have followed Tiger Woods's downward trajectory. How such talented athletes could fall so far is unfathomable.
Dan Shulman and John Kruk called the game from the Green Monster but the new vantage point didn't add anything to Kruk's contributions. Mostly he talked about how afraid he was of heights.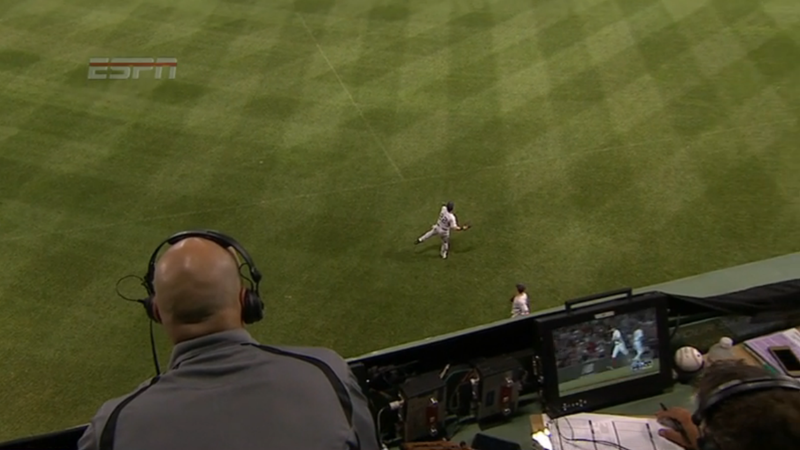 Game action (such as it was) was spliced with Shulman and Kruk's visit to various spots in Fenway. They should have done this during the park's 100th anniversary season two years ago.
It was great to see the traces of Ted Williams's home and away home run counts. But these days so many people go behind the wall and scrawl their names on those historic walls. It's like writing lyrics to a Justin Bieber song on the Rosetta Stone.
Game 111: August 3, 2014

New York Yankees
57-53
8
W: Esmil Rogers (1-0)
H: Dellin Betances (17)
S: David Robertson (29)
2B: Brett Gardner (16), Brian McCann (13), Stephen Drew (8), Carlos Beltran (19), Chase Headley (15)
HR: Gardner (15)
Boston Red Sox
49-62
7
L: Craig Breslow (2-3)
HR: Dustin Pedroia (5), David Ortiz (26)