「お誕生日おめでとうございます!」 Pronounced "otanjōbi omedetō gozaimasu," this is a formal way of wishing Koji Uehara a happy birthday. The 39-year-old closer has earned this respect not just by being an elder but by showing he can dominate hitters in 2014 as he did in 2013. Uehara threw only seven pitches in this outing; he may not throw his age until his team's first trip to Yankee Stadium next weekend.
1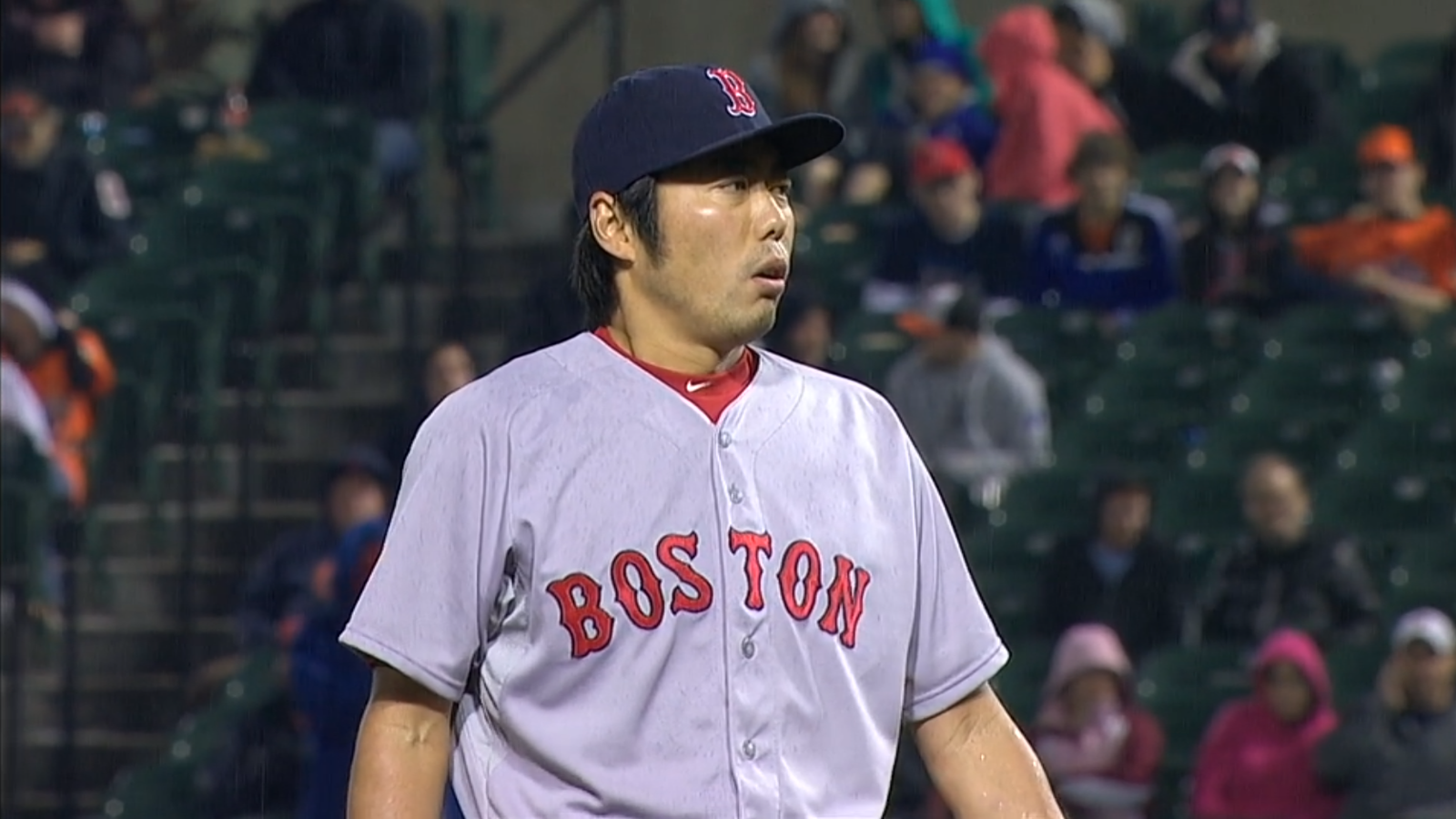 Jonathan Schoop "saw" three of Uehara's pitches; the way he flailed at the splitter in the dirt he might as well guest star as J.K. Simmons's visually impaired buddy in that sitcom NBC keeps flogging. Ryan Flaherty and Nick Markakis saved themselves from that embarrassment by popping out to Will Middlebrooks, both on the second pitch.
Speaking of embarrassing, Nelson Cruz made a bad break on David Ortiz's looper to left in the third. Unlike many of Manny Ramirez's shenanigans in left field Cruz's mishap was unintentional. Jackie Bradley Jr. displayed speed and game awareness, taking off on contact to score from first on the Oriole's foible.
Cruz came close to tallying an assist in the fourth frame. He gathered David Ross's grounder and fired to the plate as Xander Bogaerts sprinted down the home stretch. Matt Wieters was forced to abide by rule 7.06 about obstruction:
NOTE: The catcher, without the ball in his possession, has no right to block the pathway of the runner attempting to score. The base line belongs to the runner and the catcher should be there only when he is fielding a ball or when he already has the ball in his hand.
I think Old Hoss Radbourn had the best response to this.
If I want to wield a scimitar and barrel into a catcher blocking home plate that is my god-given right as an American and patriot.

— Old Hoss Radbourn (@OldHossRadbourn) December 11, 2013
Game 3: April 3, 2014

Boston Red Sox
2-1
4
W: Felix Doubront (1-0)
H: Brandon Workman (1), Chris Capuano (1), Junichi Tazawa (1)
S: Koji Uehara (1)
2B: Will Middlebrooks (1), Dustin Pedroia (1)
Baltimore Orioles
1-2
3
L: Wei-Yin Chen (0-1)

2B: Chris Davis (1), Matt Wieters (1)