The internet has led me to believe that Spanish for "bobbleheads" is "cabezónes," although "muñecos bobblehead" is also a possibility. Some bobbleheads do a poor job of replicating a player's likeness but David Ortiz's was remarkably well done. NESN showed one whose right finger was broken, but the tint of the sunglasses, the bling around the neck, and the elbow guard were on point. The only thing missing was a bit of saliva on the gloves from Papi's signature at bat preparations.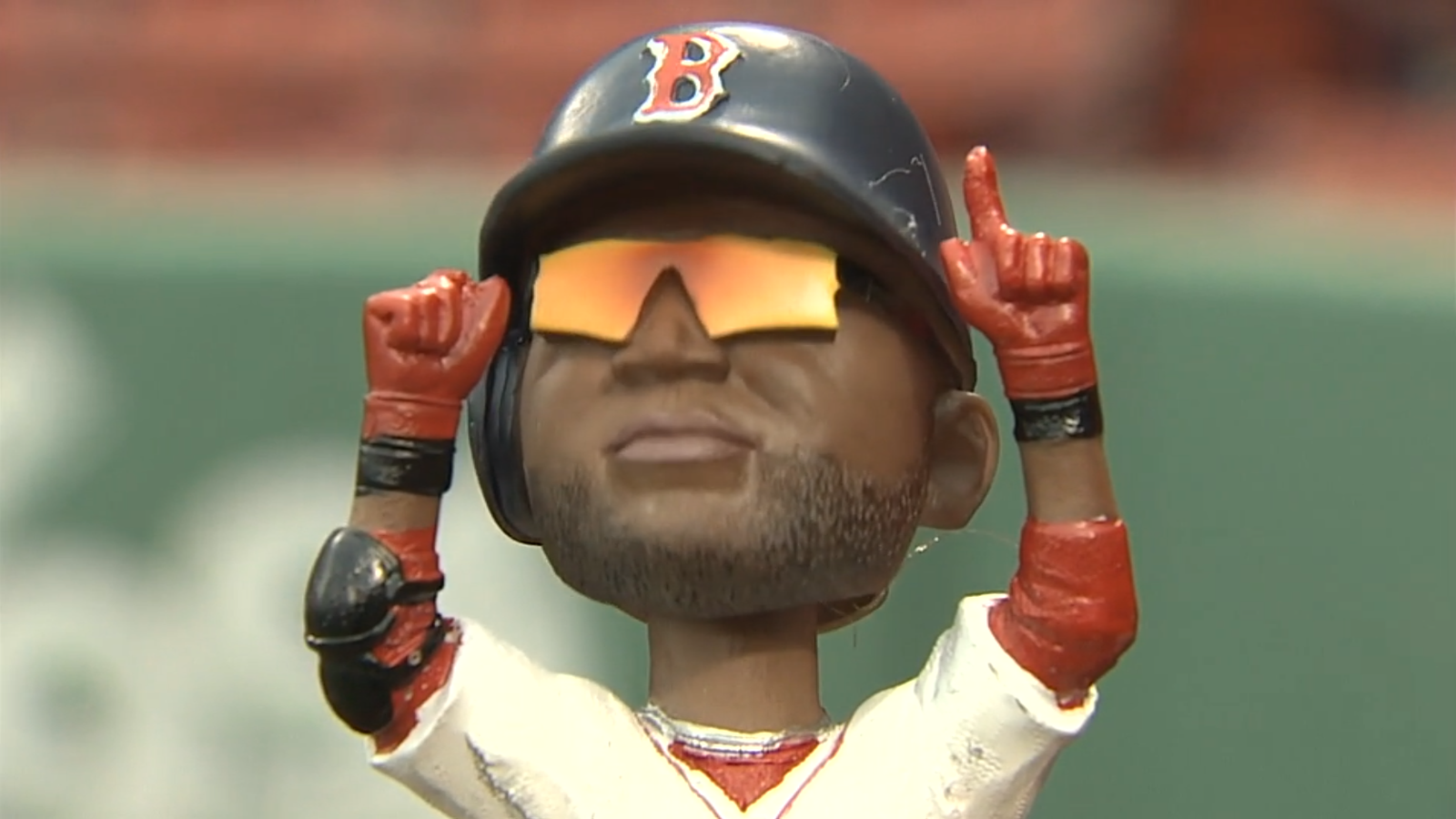 In the third inning Shin-Soo Choo clouted the ball to deep center field. Grady Sizemore pursued it with reckless abandon. Fortunately for the Red Sox Sizemore didn't injure himself. Unfortunately for us Mike Timlin is no longer playing baseball; he would be chomping at the bit to replicate the crime scene he made for Johnny Damon when he collided with the bullpen wall back in 2005. You are not a true Red Sox player until you are immortalized by committing or being victimized by a prank.
Will Middlebrooks's replacement Jonathan Herrera went 1-for-2 with a walk and a run scored. While he hasn't dazzled at the dish he did turn in a daring play near the Rangers' dugout. The third baseman perched precariously on the top step and gloved Alex Rios's pop-up for the second out of the ninth inning.
Jackie Bradley Jr. had a superlative evening in the nine-hole: 3-for-4 with a run scored and two RBIs. His bobblehead should have a removable helmet with a do-rag underneath.
John Lackey lasted seven innings with a line of 5 hits,1 unearned run, 2 walks, and 5 strikeouts. Now that he is loved in the Hub, his bobblehead would lovingly, not mockingly, have a sound chip with "Mahna Mahna."
Game 7: April 7, 2014

Texas Rangers
3-4
1
L: Tanner Scheppers (0-1)

2B: Donnie Murphy (1)
3B: Shin-Soo Choo (1)

Boston Red Sox
3-4
5
W: John Lackey (2-0)
H: Chris Capuano (2)
2B: Grady Sizemore (1)