For the visiting club the highlights of the game weren't authored by the players on the field but by the team's broadcast crew. Don Orsillo attempting to field a foul ball in the seventh had Jerry Remy in stitches. "You could have had that one!"
The foul balls that honed in on the radio duo came in hot. Joe Castiglione and Dave O'Brien avoided the orb's trajectory and let the wall behind them take the blow. They preferred the dry wall take the divot rather than their hands.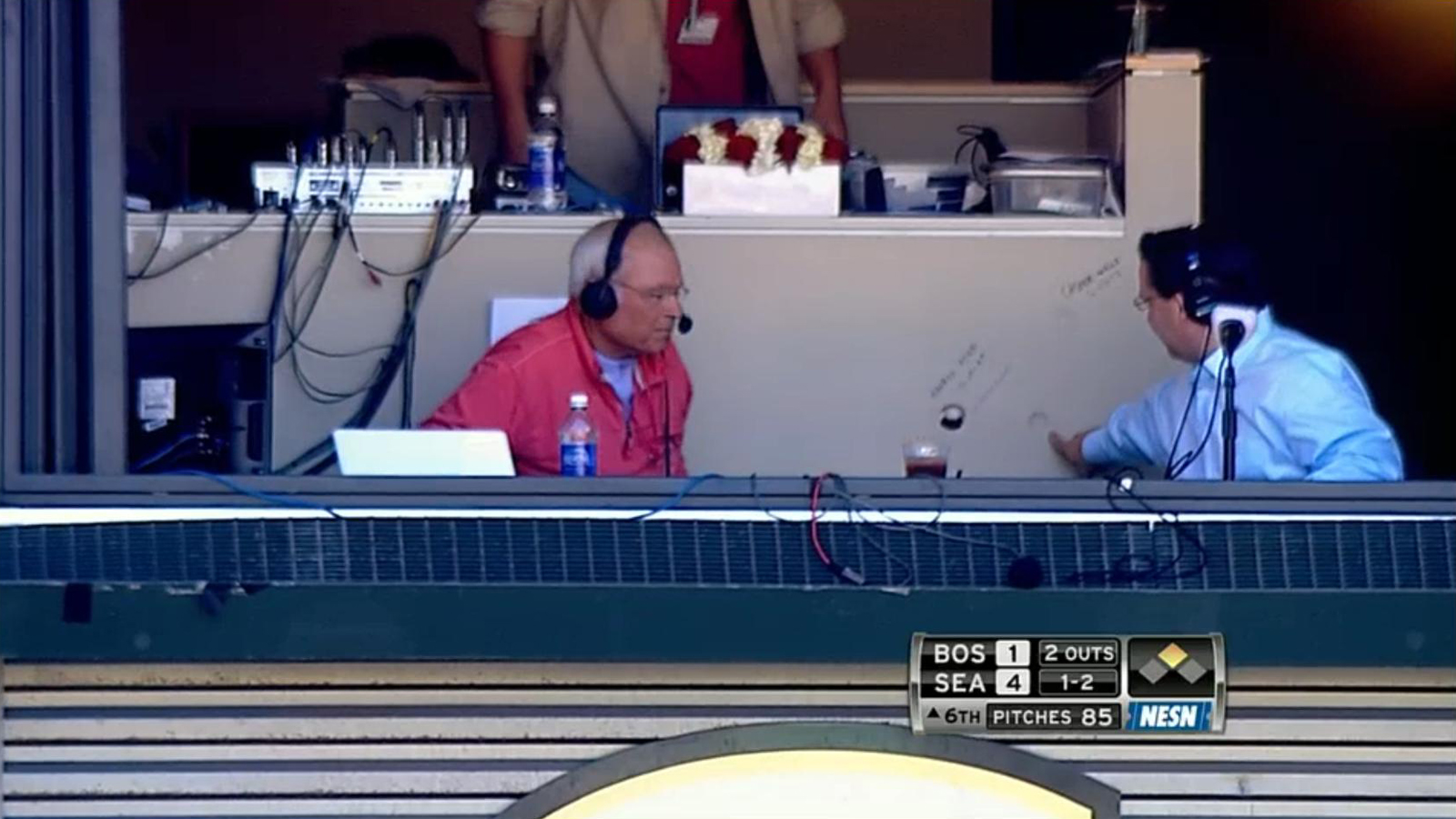 Clay Buchholz pitched fairly well except for the fourth inning. The starter surrendered a string of singles and grazed a batter, an unfortunate series of events that allowed the tying and go-ahead runs to score.
But then the defense failed. Eric Thames flied out to Jacoby Ellsbury with runners at first and third. Ellsbury airmailed the ball over the cutoff man and Ryan Lavarnway didn't block the ball as it dribbled past him to the backstop. While other players appeared lackadaisical Buchholz made the best effort to stay with the play, diving at the ball before it wended its way to the dugout, but the third run of the inning scored.
Miguel Olivo singled up the middle and Justin Smoak advanced to third. Carlos Peguero grounded out to Jose Iglesias but the normally sure-handed shortstop bobbled the ball as he rushed to start a twin killing. Instead of two outs another run scored and Peguero was safe at first. On the bright side that set up a spectacular double play that had Iglesias making a backhanded stab at Brendan Ryan's grounder and firing to Dustin Pedroia faster than Bobby Valentine could say, "Nice inning, kid."
Game 136: September 3, 2012

Boston Red Sox
62-74

1

L: Clay Buchholz (11-5)

2B: Dustin Pedroia (33)

Seattle Mariners
66-70

4

W: Jason Vargas (14-9)
H: Josh Kinney (4)
S: Tom Wilhelmsen (23)

No extra base hits