With the ubiquity of camera phones even regular people at any moment can have their actions tweeted about and their awkward expressions photographed and facebooked. So a major league baseball player should expect even more scrutiny.
Brett Lawrie couldn't avoid NESN microphones picking up his shouted expletive when he struck out to lead off the sixth inning. Yunel Escobar brazenly sported an anti-gay slur on his eye black stickers and is now serving a three-game suspension during which he will lose about $83,000, or as Mitt Romney would call it, chump change. Escobar fell back on the typical defenses saying that he has gay friends. "The person who decorates my house is gay, the person who cuts my hair is gay." Thankfully he will also go to sensitivity training.
The money will go to You Can Play project, which works for equal treatment of athletes regardless of sexual orientation, and the Gay & Lesbian Alliance Against Defamation.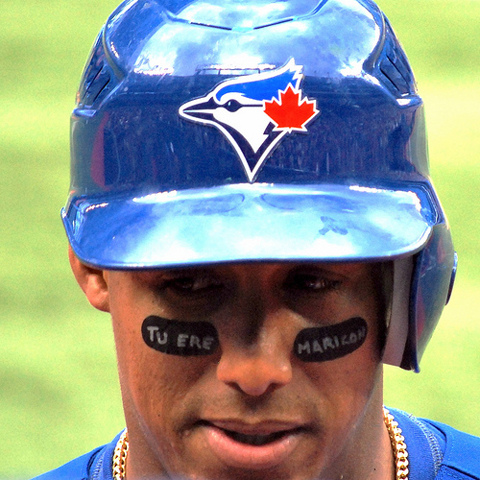 Photo courtesy @james_in_to.
Game 147: September 16, 2012

Boston Red Sox
66-81

0

L: Jon Lester (9-12)

2B: Ryan Lavarnway (5)

Toronto Blue Jays
66-79

5

W: Brandon Lyon (3-2)
H: Darren Oliver (15)

2B: Omar Vizquel (3), Brett Lawrie (23)
HR: Adeiny Hechavarria (2)