Despite his questionable decisions Bobby Valentine exclaimed to the Comcast SportsNet camera, "It's not true, I'm not trying to get fired, folks! It's not true! It's all made up by him!" By "him" Valentine meant Dan Shaughnessy. Even a relatively new manager is aware of Shaughnessy's reputation.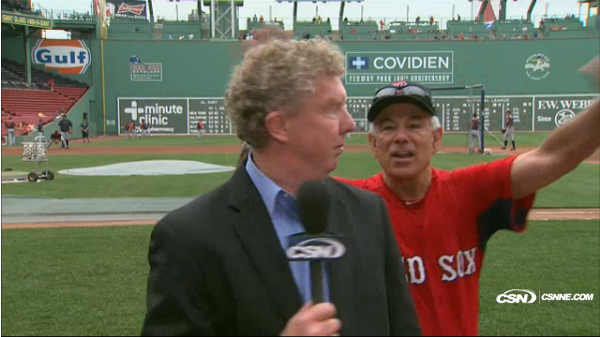 Valentine had the smarts and the guts to bring in Alfredo Aceves with the bases loaded and none out in the eighth with the score 2-1. Justin Morneau, the first batter Aceves faced, laced the ball to right for a sacrifice fly to tie the game. But the closer battled back to get two outs without further damage.
That Pedro Ciriaco hit his first major league home run to lead off the bottom of the eighth as a pinch hitter was more luck than managerial acumen. Ciriaco didn't get the silent treatment; in fact, the Fenway crowd called him out of the dugout for a curtain call. The Red Sox tacked on another run with Cody Ross's grounder to right, which plated Dustin Pedroia.
Where Valentine could be faulted is not pulling Aceves when the Twins started smacking the ball around the ninth. Alexi Casilla doubled with one out and scored on Jamey Carroll's single. Aceves induced a fly ball out off Denard Span's bat but Ben Revere singled with a scorcher up the middle. When Aceves pitched wildly to Joe Mauer both runners advanced into scoring position. Valentine could have intentionally walked Mauer and brought Craig Breslow to face Morneau, or brought in Breslow to face Mauer.
At least Remy and Orsillo entertained. There was a shot of the sun setting in the third.
Remy: You know which direction we were looking in, right?
Don: The west. The sun sets in the west.
Remy: Very good!
Don: You didn't think I knew that, did you?
Game 108: August 4, 2012

Minnesota Twins
47-60

6

W: Alex Burnett (4-3)
S: Jared Burton (5)

2B: Darren Mastroianni (3), Alexi Casilla (12)
HR: Joe Mauer (7)

Boston Red Sox
53-55

4

BS, L: Alfredo Aceves (6, 2-7)

2B: Carl Crawford (2)
HR: Mike Aviles (11), Pedro Ciriaco (1)