Felix Hernandez didn't need to imbibe a lucky potion, don the gear of his alter ego, or proffer his ventriloquist act; he just did his thing on the mound. Some potential longballs may have been deadened by the roof being shut and Hernandez might have benefited from home plate Adrian Johnson's rather generous judgment. But regardless of those advantages the ace pitcher still had his entire repertoire at his command.
This Red Sox fan must have know chances were slim that he'd see David Ortiz's 400th home run with Hernandez toeing the rubber, but he made a sign anyway. His wife's sign must have distracted Dustin Pedroia, who went 0-4 with two strikeouts.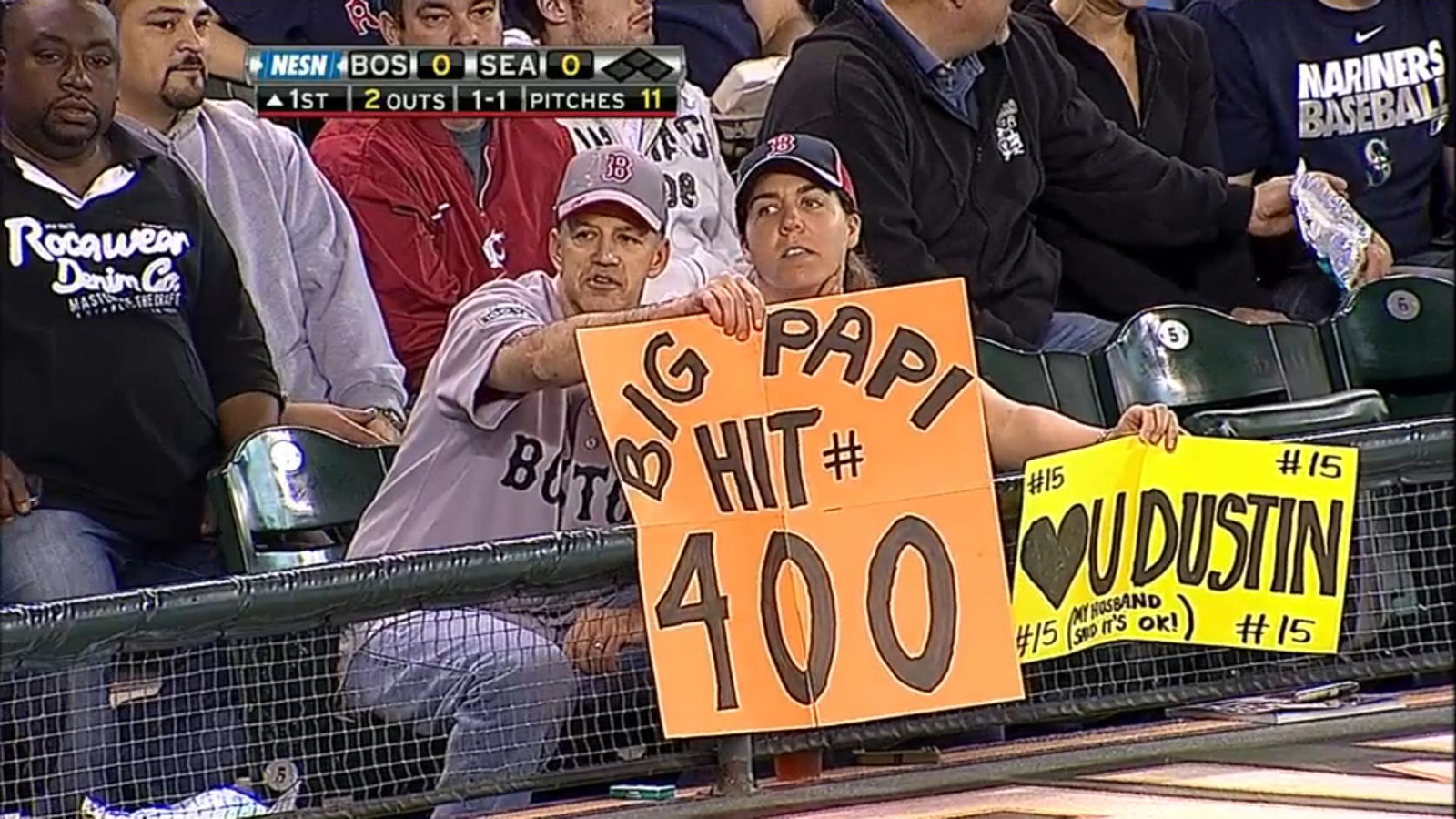 Franklin Morales's scoreless seven innings were as impressive as Hernandez's complete game shutout given that the former was a reliever up until a few weeks ago. Morales didn't factor into the decision but he can wear this outing like a badge of honor. Not many pitchers match Hernandez pitch for pitch and Morales nearly did.
Scott Atchison pitched without his usual competence and the Mariners hit without their typical incompetence in the bottom of the ninth. Casper Wells laced a double to to center with one down in the ninth frame. Bobby Valentine called for the four-finger salute for Justin Smoak but had Atchison pitch to John Jaso, who has been hitting well for the past two weeks.
The pinch hitting catcher lined the ball to Cody Ross. Ross's throw to home was a shade too far up the third base line, but Jarrod Saltalamacchia should have caught it to tag out his counterpart.
The Mariners celebrated as if their city's basketball team made the NBA Finals.
Game 76: June 28, 2012

Boston Red Sox
40-36

0

L: Scott Atchison (2-1)

No extra base hits

Seattle Mariners
33-45

1

W: Felix Hernandez (6-5)

2B: Casper Wells (6)