The Red Sox laid waste to another Rust Belt city's squad by scoring another 14 runs. Drew Sutton hit two doubles in a second consecutive game and Alfredo Aceves won his second start in a Red Sox uniform. It's the baseball equivalent of "Groundhog Day" but unfortunately the Yankees are following the same script; the Bronx Bromides have won two games in a row and are just .003 percentage points ahead of the Red Sox in terms of winning percentage. However, the two AL East powerhouses are neck and neck using the "games back" calculation.
Max Scherzer, he of the heterochromic eyes, reeled off six wins in eight starts but, like the city itself, has been on the skids the last two games. His previous loss to Pittsburgh wasn't as bad as the pummeling meted out by Boston: 7 hits, 7 earned runs, 2 walks, and 1 strikeout. All the damage was done in two innings worth of outs; Scherzer also pitched in the third and was pulled after Carl Crawford tripled to plate Kevin Youkilis and David Ortiz.
The difference in Scherzer's eyes may be caused by mosaicism, which is the presence of two different sets of genes in a single person. Or it may have been a congenital condition. Whatever the cause, his oddly paired peepers were the only thing Red Sox batters were having trouble with when opposing the Tigers starter.
Today I relearned a detail about Canadian football that I always forget, like flossing. On gridirons north of the border, when there is any non-scoring legal kick into the end zone and the receiving team fails to return or kick the ball out of the end zone a point is award to the kicking team. Called a single or rouge, the Canadian Football League has considered doing away with this feature, but that would be like taking down the ladder at Fenway. Its has outgrown its purpose, but it is still nice to have around as a quirky characteristic of their sport. I might have to get familiar with this football flavor given the NFL lockout.
Daily Don Orsillo proves you can own a myriad of tie designs but in the end they all start blurring together into one silken blur. I could have sworn Orsillo sported this particular tie before but this woven basket of gray made its debut today.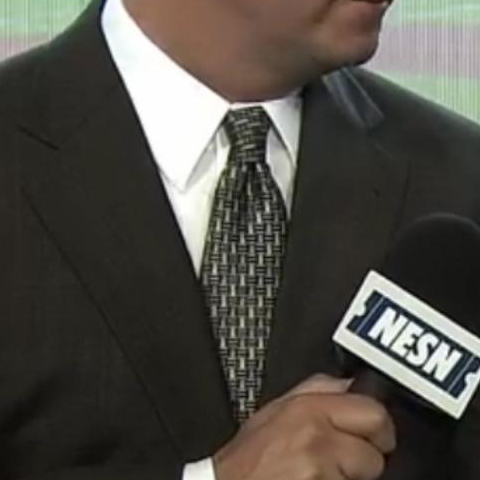 Game 50: May 26, 2011

Boston Red Sox
28-22
14

W: Alfredo Aceves (2-0)

2B: Drew Sutton – 2 (4), David Ortiz (12), Dustin Pedroia (7)
3B Carl Crawford – 2 (3)
HR: Jacoby Ellsbury (5)

Detroit Tigers
25-24

1

L: Max Scherzer (6-2)

2B: Don Kelly (5)