Osmotic pressure: the selective diffusion process driven by the internal energy of the solvent molecules across a permeable membrane.
Ozmotic pressure: the amount of force Ozzie Guillen exerts on a given input device (e.g. Blackberry or keyboard) when tweeting.
Prior to this evening's victory Guillen's squad were mired in a three-game losing streak. They are still looking up at every team but the Twins in their division, but if Jake Peavy's seeming return to Cy Young form holds they may find themselves back above .500 and in a position to threaten Cleveland's supremacy (a phrase no one thought they would be typing this season).
When Peavy's latissimus dorsi detached on July 6, 2010 it wasn't unreasonable to think his career was over. A day after the injury Will Carroll commented that other pitchers had strained that muscle but no one had ever had it completely tear from the bone. Less than a year later Peavy plowed through the packed Red Sox lineup with an impressive line: 7 innings pitched, 6 hits, 3 earned runs, no walks, and 2 strikeouts.
In his six starts this month Jon Lester has had only two quality starts. He relinquished a season-high seven earned runs, but two of those were runs were by runners Dan Wheeler inherited and allowed to score. Not that Lester would use that as an excuse; the southpaw was clearly disappointed with his performance of late.
The K-Men don't make signs for every player or letter, but of course Adrian Gonzalez warrants one. They cleverly turn the "I" from "PAPI" to make a hyphen for "A-GON" and tacked on an "ER" when the first baseman slammed the ball into the White Sox bullpen in the bottom of the first.
Dustin Pedroia also warrants a custom sign for his Fenway feats. "LASER SHOW" was hoisted in the bottom of the third for his two-RBI liner to center that tied the game. That was the closest the local nine came to defeating the Pale Hose.
Don Orsillo has a proclivity towards geometric blue patterns on his ties. I thought tonight's tie might have been a repeat but in looking over the archives he actually just has a number of abstract blue ties.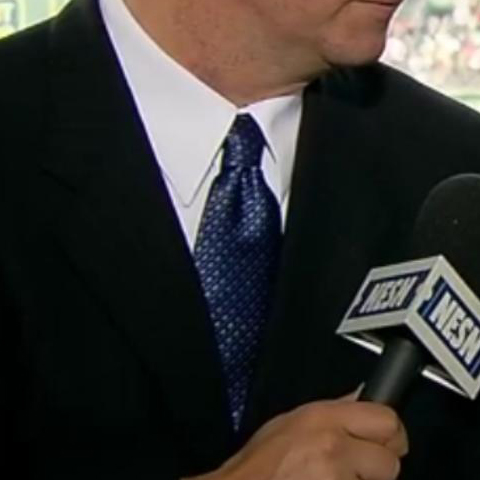 Game 54: May 30, 2011

Chicago White Sox
25-31

7

W: Jake Peavy (2-0)

2B: Alexei Ramirez (15)
HR: Paul Konerko (11)

Boston Red Sox
30-24
3

L: Jon Lester (7-2)

2B: Jacoby Ellsbury (17)
HR: Adrian Gonzalez (10)