Joba Chamberlain might want to visit Bartolo Colon's physician, Joseph Purita, and get stem cells from his abundance of fat injected… somewhere to halt his precipitous decline. Colon, who held the Red Sox to two runs over six innings, has revitalized his career with Purita's stem cell therapy, but it is worth noting that this doctor has used human growth hormone in his procedures on non-athletes.
Colon qualifies as a non-athlete, I would think. Three years ago he compiled a 4-2 record over 39 innings pitch with a 119 ERA+, a touch above average. While the Red Sox rolled into the playoffs Colon was placed on the suspended list in September of 2008 because he declined to leave the Dominican Republic after he went there to attend to personal matters. After the Purita procedure he is amongst his team's better starters: second to CC Sabathia in strikeouts (44 to 41), second to A.J. Burnett in WHIP (1.25 to 1.13), and first in K/BB (4.10, with Sabathia trailing at 2.44). Colon was supposed to address questions about MLB's investigation into his off-season surgery after the game, but he referred reporters to the Players' Association.
I would rather have the Great Shave Debate enacted by Chamberlain and Kevin Youkilis, two players with true animosity between each other. The advertising company probably realized that closeup shots of Chamberlain and Youkilis wouldn't be as appealing as images of Jonathan Papelbon and Nick Swisher (not exactly a high bar). In the seventh inning Youkilis added to his team's lead with a two-run homer off Chamberlain, an opposite field shot that benefited from the short porch. The Red Sox third baseman yelled something as he approached second base on his home run trot; hopefully Chamberlain heard it over the groans of the subjects of the empire.
Although there was much angst in the past two seasons over the Yankees' successful wooing of Mark Teixeira, the fluid swing of Adrian Gonzalez is consolation enough. Particularly when he slams a home run as he did to lead off the fourth inning. Gonzalez gave his team a lead they wouldn't relinquish, although Daniel Bard and Papelbon allowed a run apiece in the eighth and ninth innings respectively.
Most surprising was that Derek Jeter's two-out single in the ninth wasn't an infield hit. As Joe Posnanski has pointed out the shortstop's power and production has degenerated. Colon can refer the infielder to a great doctor that he knows.
Appropriately for a game at the toilet, Don Orsillo's tie was yellow.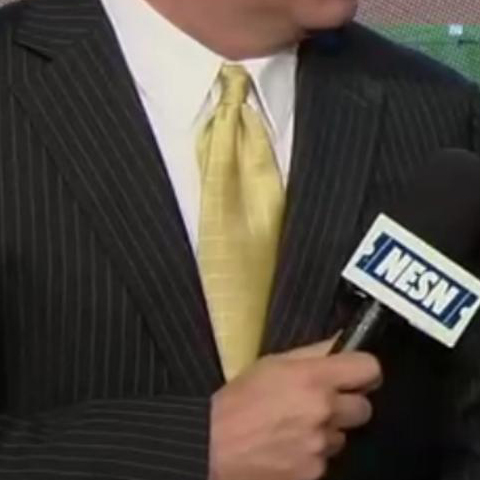 Game 38: May 13, 2011

Boston Red Sox
18-20
5

W: Clay Buchholz (4-3)
H: Daniel Bard (7)
S: Jonathan Papelbon (6)

HR: Adrian Gonzalez (8), Kevin Youkilis (6)

New York Yankees
20-16

4

L: Bartolo Colon (2-2)

2B: Nick Swisher (5)
3B: Curtis Granderson (3)
HR: Russell Martin (7)