Game 50: May 22, 2008

Royals
8

L: Brian Bannister (4-6)
21-26, 4 game losing streak
Red Sox
11

W: Daisuke Matsuzaka (8-0)
H: Javier Lopez (7)
S: Jonathan Papelbon (14)

31-19, 7 game winning streak
Highlights: Just as the denizens of NYYFans.com debased the value of Jon Lester's no-hitter because it came against the Royals I am sure they are belittling J.D. Drew and Mike Lowell's grand slams. For that is how cellar dwellers maintain their esteem, which would otherwise match the level of their position in the division. Tanjōbi isn't a term related to baseball; it means birthday. Mine is today, so I took yesterday off to go to the game and celebrate. The Red Sox made it memorable.

I had a seat in Section 26 of the left field grandstand that was near-perfect. Just the barest slice of my field of view was sacrificed to a post, but I didn't need to see the calls of home plate umpire Hunter Wendelstedt as the new fascia scoreboard were in plain view.
It had been a while since I was at an almost completely sun-drenched day game. Even though the lights were on because of looming clouds and there was a momentary rain burst, it was nothing like those dreary April games that were only brightened by a Red Sox victory.
The way Daisuke Matsuzaka pitched every daylight moment was needed. He struck out seven over five and two-third innings but also walked six. He allowed an early run to Jose Guillen in the first but shutout the visiting team until the fifth. I was surprised Matsuzaka took the mound in the sixth, but it seems that he and his coaches have come to agreement that his pitch count will be somewhat above their expectation of 100 but far less than Matsuzaka's calculation of "until the job is done and/or his arm falls off."
J.D. Drew's longball swing in the second inning was lithe yet powerful. It came after the right fielder had fouled off a pitch low and down the middle. Brian Bannister tried to pitch away but Drew flourished his bat authority and finished with an uppercut worthy of Ted Williams. How can something that looks so effortless be so devastating?
Mike Lowell's grand slam shouldn't have even come to pass. Trey Hillman gave Manny Ramirez the four-fingered salute to load the bases in the sixth, eliciting the derision of the crowd. The Royals manager then left southpaw Jimmy Gobble in to face Lowell, even as right-handed Yasuhiko Yabuta was ready to go in the pen.
In response to my friend Matt's Joannakin™ from last year, I created Matt-tion Figure™. We had a great time at the game. He was so excited by the authentic Matsuzaka jersey I got him, he insisted I take pictures of him around the park.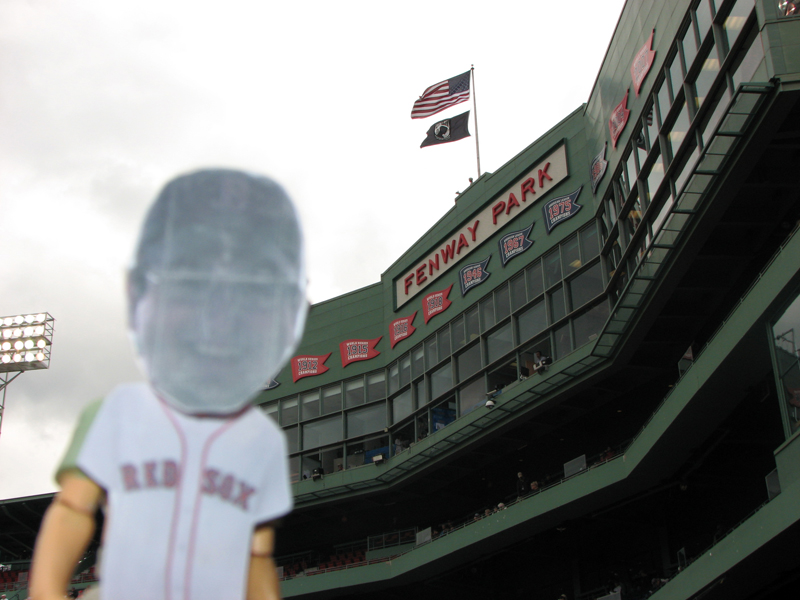 And of course he got the requisite portrait with the 2007 World Series ring.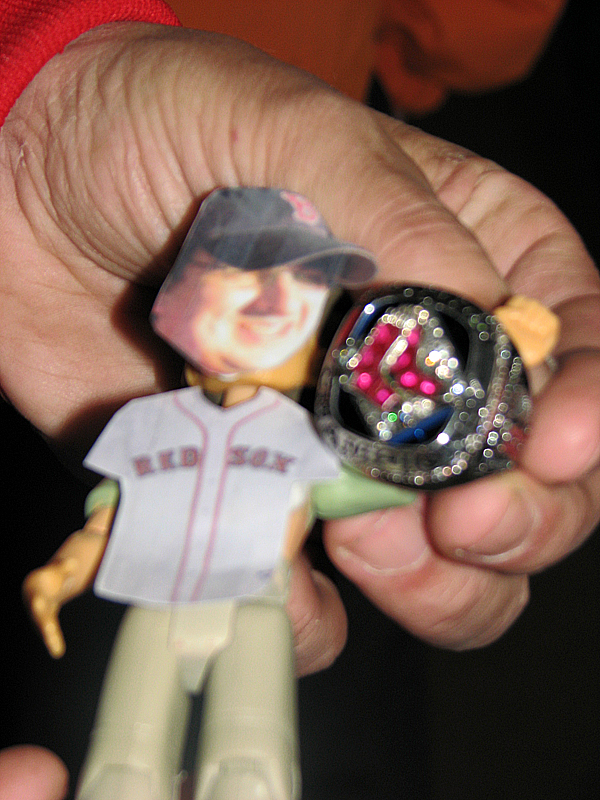 As the years wear on and each birthday weighs upon me, a day at Fenway lightens my spirit and lifts away worries. I turn back into a child, like the kid behind the Red Sox dugout cheering Lowell.