Game 93: July 17, 2007

Royals
9
W: Jimmy Gobble (4-1)
H: Zach Greinke (7)
40-53, 1 game winning streak
10-17-3 series record
Red Sox
3
L: Tim Wakefield (10-9)
56-37, 1 game losing streak
19-8-4 series record
Highlights: Well, nobody died.
Unfortunately, my friend Matt's NU50 mojo blog is all but defunct. If he were still active, you'd get to see things like this. Originally posted in the Royal Rooters members-only section, Matt exacts his revenge on me since I had to cancel last night because of my business trip. The pictures and captions are all by him, but my responses are in italics.
So I just got back from the ball park. Oh, what a day Empyreal and I had!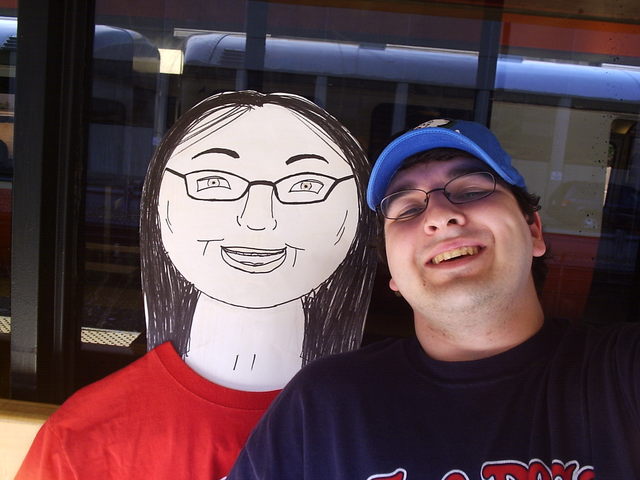 Does he really think I have an Adam's apple?
Of course, we were nearly late, she had to primp so much in the mirror before hand!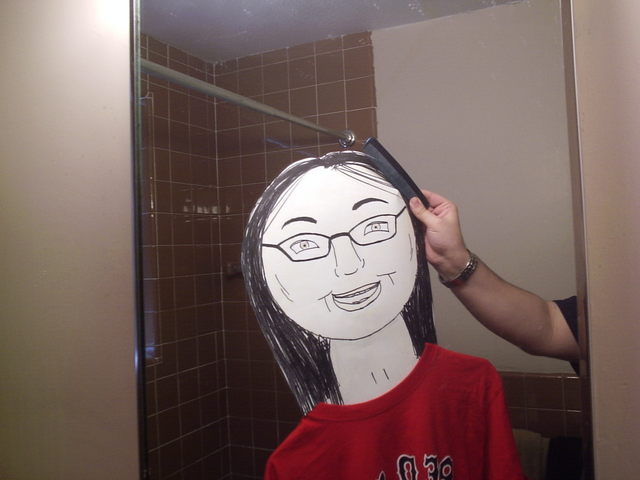 In truth, I take ten minutes tops to get ready for anything.
But eventually we got to the T and off we went to Fenway.


Can you imagine what people on the T thought? Parents were hiding their children, I'm certain.
When we got to the park, we got to take our picture with the Wally statue.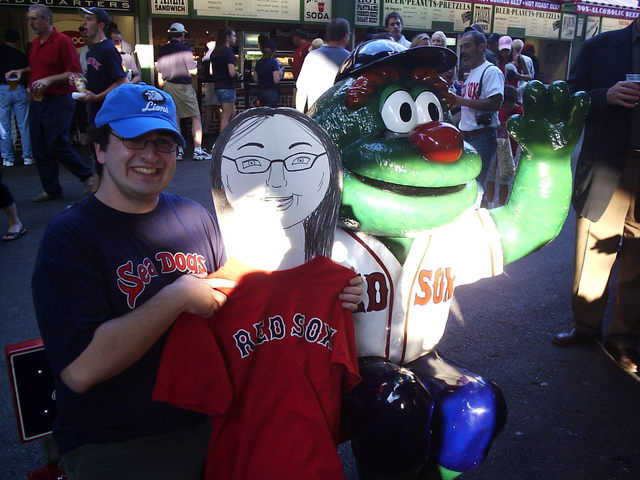 I would have been more impressed if this photo was taken with the real Wally. Doubly so if it were Remy's Wally.
We eventually got to our seats. It was weird though, the normally friendly Fenway crowd didn't want to hang out with us! I wonder why? I blame Empy.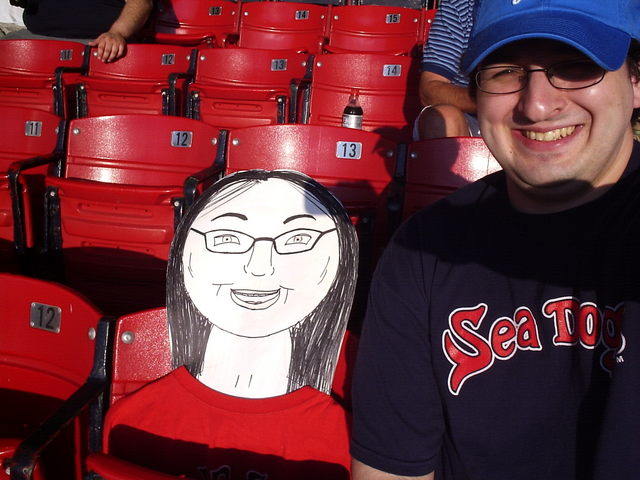 Blame me for what? My badly-drawn hair? You should know I part my hair on the left.
Empy decided we should get hot dogs.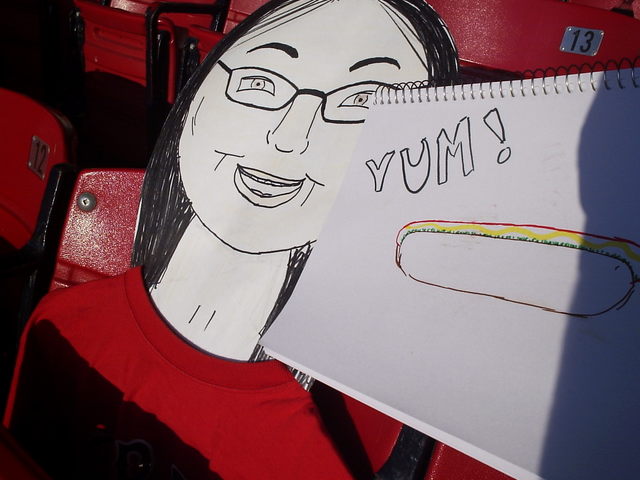 Wrong again! I get kosher dogs or polish sausages.
I thought that was a great idea. Look out ladies, this strapping young lad is single!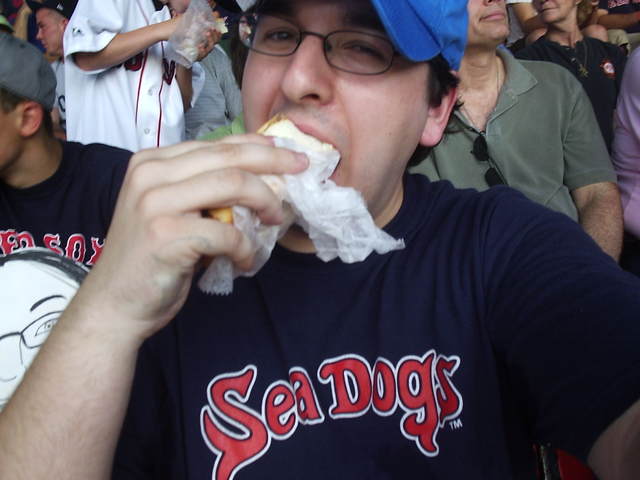 Usually when you eat hot dogs Manny hits homers. Guess that mojo is dead, too.
We had fun joking around at the game, as I was my normal, incredibly witty self.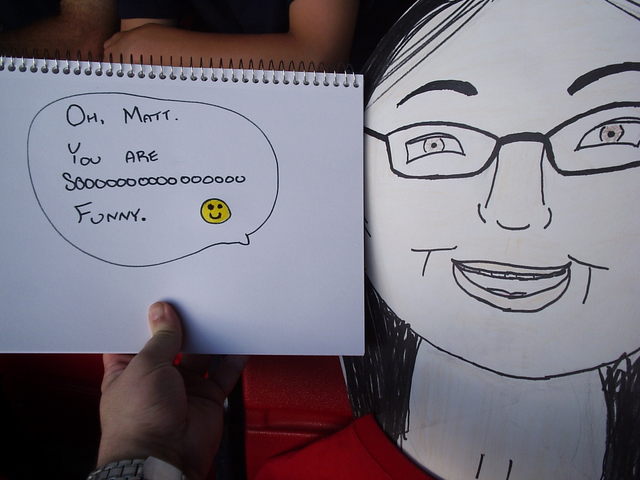 There are many varieties of delusion.
That better not be sarcasm! But eventually we got down to business as our fantasy trade talks for our respective WAUggla franchises started heating up.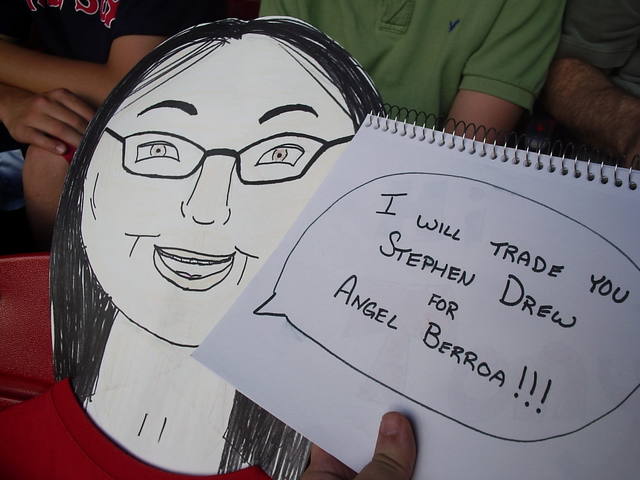 DEAL!
That would just be unfair. Please, allow me to throw in Justin Upton.
Around the 5th, my friend Ben showed up to spend time with us.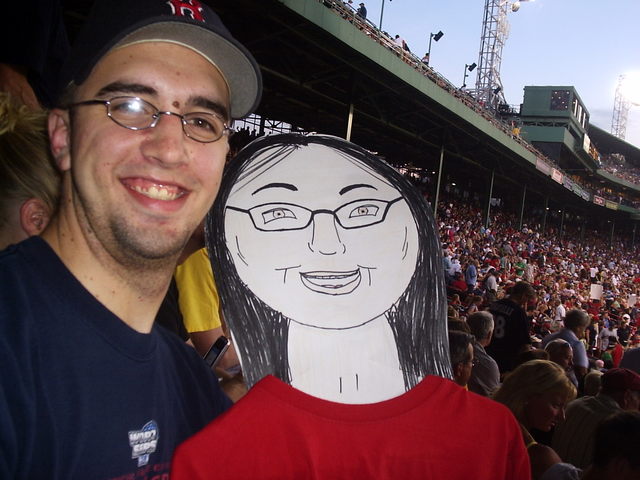 Hi Ben!
Hi... Ben? Never met Ben.
And then we ran in to my friend Tony! We sure had a lot of friends at the ball park!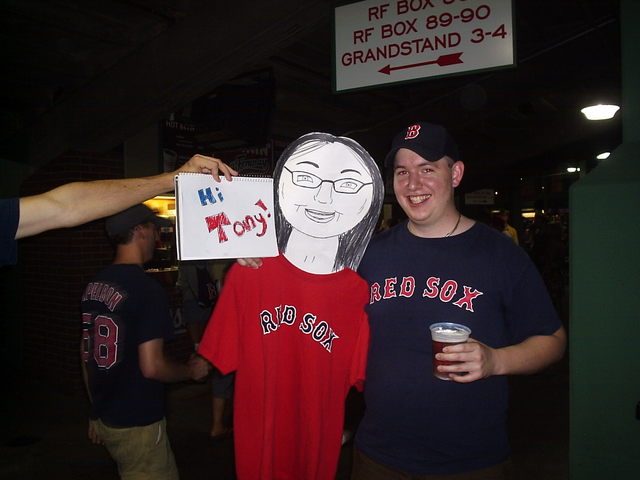 I remember Tony. A kind gentleman, unlike someone I could mention.
We saw quite a few characters. Like this gentleman being escorted out by security for waving around a particularly ribald sign.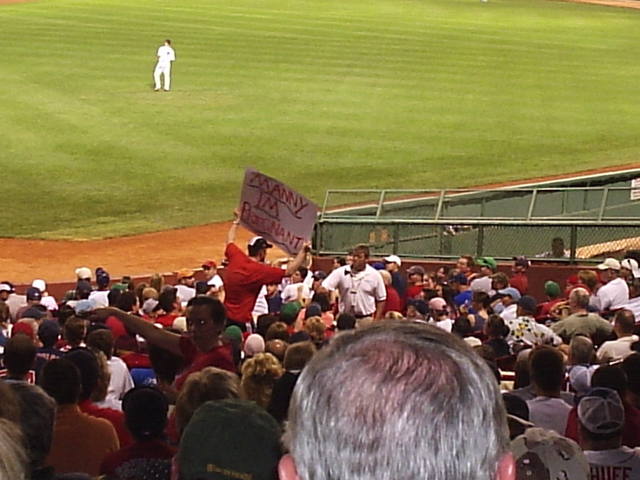 Speaking of, what if Manny impregnated Gisele? Poetic justice.
I like to think this guy isn't wearing a shirt with his own name on it, but rather is such a huge Aubrey Huff fan that he jumped the gun a bit when those rumors swirled a few years ago.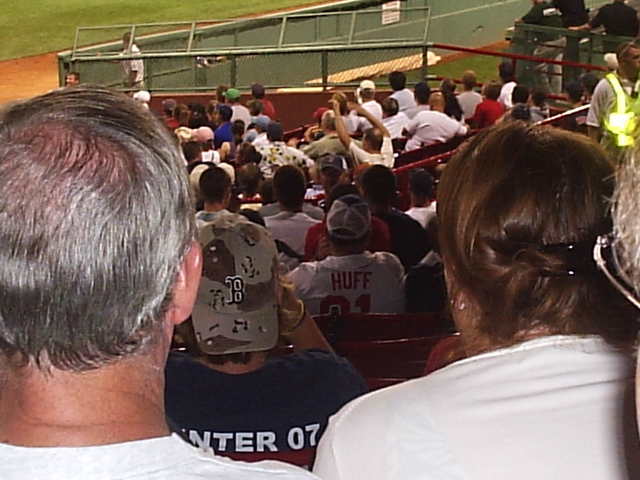 People rarely meet your sartorial standards. By the way, what a terrific Seibu Lions hat you're wearing. I wonder who gave it to you?
Empy and I still had fun though. We got to sing along with "Sweet Caroline."


You didn't even allude to our Jordan's Furniture alternate lyrics.
And have fun with the multiple choice Attendance Quiz.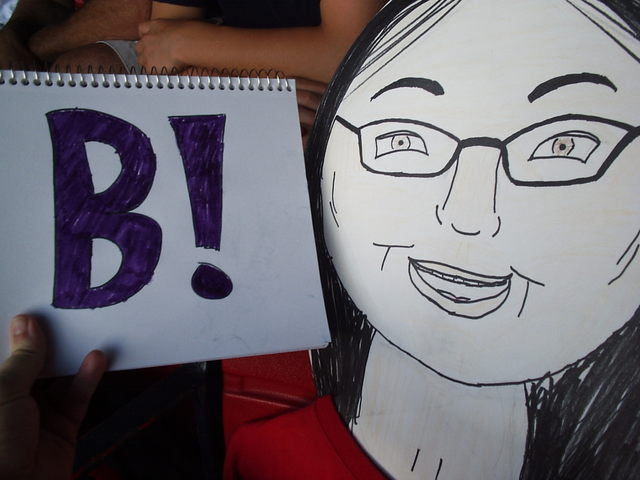 What, was B 35-something? I would know better than to choose that.
Uh oh.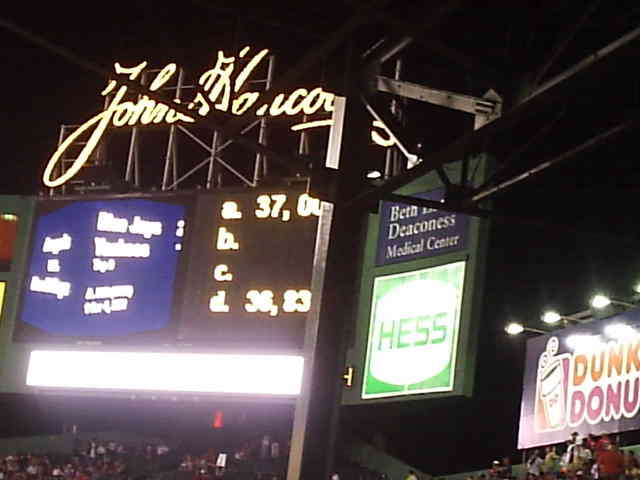 I'm fairly sure I'm beating you in the our Attendance Quiz showdowns. Also, I'm disappointed you didn't catch the Trivia Question.
You said it, ol' chum.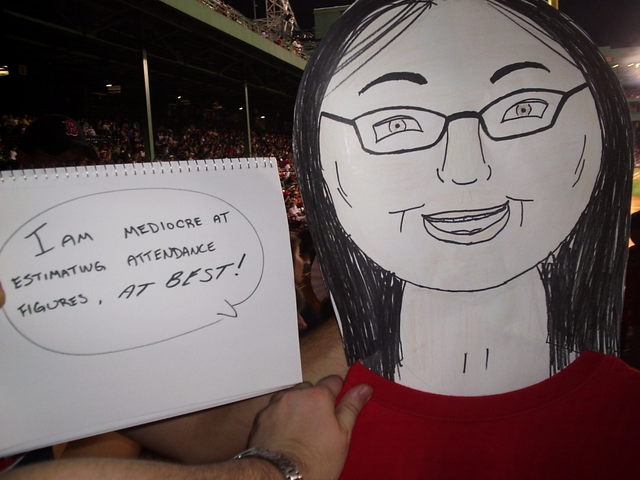 Here you are putting words in my mouth. That is your speech and heckle pattern and everyone knows it.
With the park slimming out due to the lopsided score, we made a break for better seats with Tony on the other side of the park.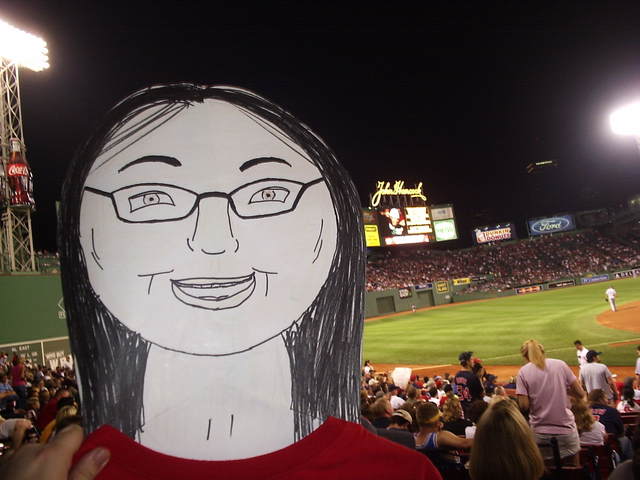 I would never change seats. That's akin to stealing.
But all that running around sure made Empy tired.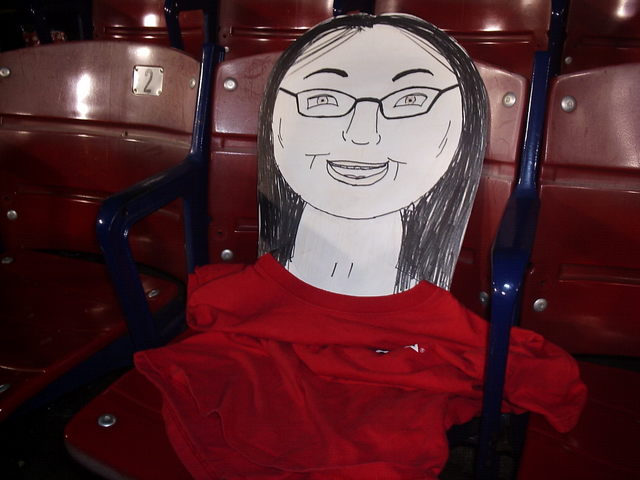 Responding to each one of your slanders is tiring.
She had just enough energy left though for one last pose at the park

It was the perfect end to the perfect evening.
Couldn't you have scaled me properly? My head looks like Kevin Mench's here.
....or at least it would have been, had Empy not had too much to drink, again!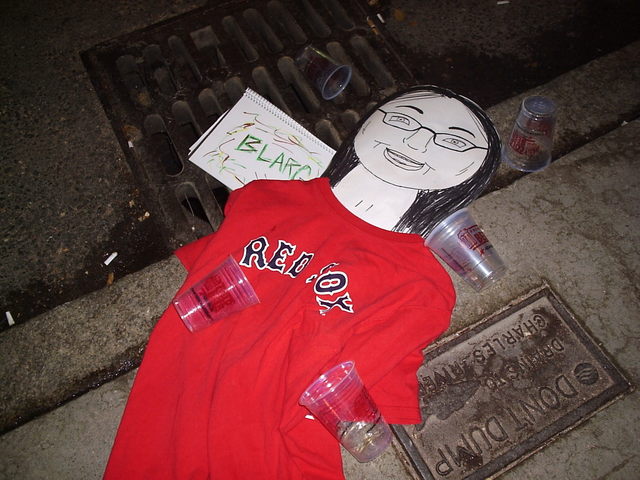 Again, everyone knows I wouldn't merely be sick if I drank alcohol, but probably comatose. I don't have sufficient quantities of aldehyde dehydrogenase!
When I talked to Matt after seeing these he said, "Fake you was more fun than real you."