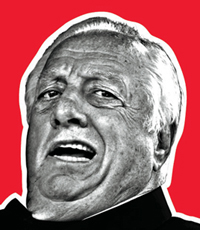 SCENE I: In a dark room in an apartment in Brooklyn there is a hunched silhouette in front of a computer monitor.
LASORDA: Vinnie? What are you doing hiding in here? It's baseball playoff season!
VINNIE: But, the Yankees are eliminated.
LASORDA: Vinnie, you're a baseball fan.
VINNIE: I'm looking up front-runners to cheer for. There's Chelsea or Manchester United for soccer... Ohio State for college football. I've ordered my retro Montreal Canadiens jersey, as you can't argue with 24 championships, and I've got a Lakers cap being FedExed to me.
LASORDA: Don't bother with those other sports and go watch some quality baseball!
VINNIE: I'm not a baseball fan. I'm a fan of winning.
LASORDA: Quit mouthing off and watch some postseason baseball, you wuss!
SCENE II: A young woman with overly-coiffed hair peruses magazines at a newspaper stand while loudly cracking gum.
LASORDA: Maria, what are you doing here? You should be watching playoff baseball. You've been watching the Yankees all season, why stop now?
MARIA: Well, now that Derek and Alex aren't playing, there's no more hot guys to root for. So why bother?
LASORDA: What are you talking about? There's still scads of young men to watch! Beltran! Verlander! Zito!
MARIA: Oh, yeah! I heard of that last guy. He's pretty cute. But the first guy, he's not Italian, is he?
LASORDA: He's Catholic, though.
MARIA: Oh, okay!
LASORDA: Get your butt in front of a television now and watch some playoff baseball!
SCENE III: A Lids store in Manhattan mobbed with teen-aged boys.
LASORDA: Why aren't you guys watching baseball? It's the playoffs!
DEION: We're buying some Mets stuff to replace the Yankees lids we own. Gots to represent.
LATROY: This Mets gear is the ish!
LASORDA: Well, now that you've bought the hats, you should root for the team.
DEION: What, watch baseball? That shit is boring. We bought this as a fashion statement.
LASORDA: You preening punks stop gawking at yourselves in mirrors and go watch playoff baseball!