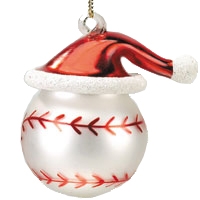 As in, I'm in the red from buying tickets at this year's Christmas at Fenway event. From what I saw, this year's event was run much better than last year's. Attendance was limited due to the renovation of the .406 Club, so there wasn't the free-for-all rush for the entrance that marred the 2004 event.
I didn't get an invite myself but my friend did. I bought her some Sox Pax last year and she returned the favor. I'm eternally grateful she did because I would likely not get as good a set as I did. The Virtual Waiting Room ticks away in another browser window and I have yet to sniff the purchase tickets page. I have infield grandstand seats for the Big Apple Pack. I'll try for the Beltway Pack online so I can secure Yankee tickets for my birthday.
Since we were in the first group, the Red Sox ticketing staff had not completely worked out the kinks of how to process the fans. The new concessions area at Gate E was festooned with decorations and both Game On! and the Crown Royal Club were open to fans. The Fenway Ambassadors were strict but friendly enforcers, checking picture identification and invitation against a list. Each regular attendee got an orange bracelet with a number while Red Sox Nation members got a green bracelet. There was a sign for these numbers above the door to the ticketing area down the concourse towards Gate A, but it wasn't being used during the time I was there.
Aside from getting tickets, the next biggest thrill was seeing the Fenway Park Lego model in person. There's a little red piece for Seat 21, Row 37, Section 42. There was also a foamcore model of the Fenway-to-be with the .406 Club opened up. I talked to the two men minding that model about the various additional cameras the ESPN brings in when they do Sunday Night games. They told me the story of how the line for a special camera rigged to run from Pesky Pole to home plate broke and that they had to bring in a minicrane to fix it. I believe I was at that game, which happened to be a Yankees game, and I wondered about that piece of equipment. I'll have to go back and look in the backgrounds of my pictures.
For those who obsess over her, Kelly Barons was there in a green elf costume. Carl Beane, the voice of Fenway Park, was in the Crown Royal Room announcing the bracelet numbers. "Orange bracelets, numbers up to 040100." In my head I completed his phrase with his patented "Derek. [Pause] Jeter."
There were even freebies. There was a green t-shirt pimping "redsox.com" and a Game On! logo hat (available in navy or tan). The logo on my hat looks as if the silhouetted man has one finger flippping the bird and the other showing the "number one" sign.
Another highlight is seeing the Red Sox montage featuring Keane's "Somewhere Only We Know," a video played throughout last season before games. For the longest time I didn't know who did this song, but discovered their identity serendipitously just recently. NU50 had their songs and shared them with me, and I now have a new favorite band.
Is this the place we used to love?
Is this the place that I've been dreaming of?

And if you have a minute why don't we go
Talk about it somewhere only we know
This could be the end of everything
So why don't we go somewhere only we know?
Somewhere only we know