I had started writing a post about the co-GM structure the Red Sox are exploring. The reorganization features Ben Cherington and Jed Hoyer splitting baseball operations leadership. But as soon as I put fingers to keyboard, Gordon Edes and Chris Snow revealed that the club is trying to bring back Theo Epstein in an advisory capacity. Dan Shaughnessy followed the next day with his take on the "scoop," or should we say "leak"? Another piece to the befuddling puzzle is the briefest of mentions in Edes's December 11th article of Larry Lucchino going to the Washington Nationals' front office as not being an entirely outlandish notion. The organization chart below may or may not represent the final composition of the front office, which should be announced "within the next several days." Note: Jeremy Kapstein is missing because he does not appear in the Baseball Operations team proper.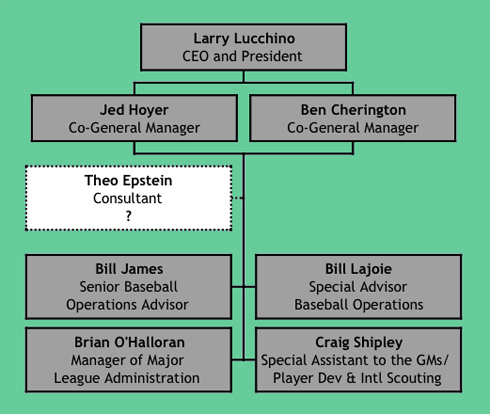 Ben Cherington was interviewed twice by David Laurila for the Royal Rooters; first in November 2004 and then in September 2005. In these interviews Cherington showed that he had already learned the valuable lesson of playing his cards close. I didn't find any similar interviews featuring Hoyer.
Given the stellar performance of the front office before and during the winter meetings, who holds the titles and whether Epstein returns is less of an issue than it was in the immediate aftermath of his departure. The baseball operations staff proved that it is perfectly capable of managing the evaluation and signing of talent. The Manny Ramirez trade issue looms, but I'd prefer the ownership group permit Lucchino to bring to the negotiations his particular expertise for fouling up megadeals. As for the overtures to Roger Clemens, the chances are so slim and the necessary expertise to land the pitcher already exists on staff. Acquiring Clemens even at this age would probably bring the payroll over the luxury tax limit, so this is another deal that I don't think needs to get done.
What I'm most looking forward to is Seth Mnookin's book on the Red Sox ownership group, which was mentioned in Rob Bradford's December 11th Eagle-Tribune column. Mnookin is the author of the well-received exposé of the New York Times, Hard News. If he was able to uncover the Gray Lady's dirty laundry, one can only marvel what he found in the Red Sox's hampers.