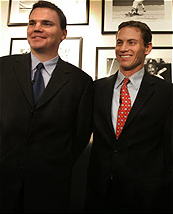 The nexus of popular culture and the Red Sox, so ably started by players starring in "Queer Eye for the Straight Guy" and Curt Schilling's appearance on "Celebrity Poker," has now culminated in the unveiling of co-GMs Ben Cherington and Jed Hoyer. The offices at 4 Yawkey Way should be called the "baseball soap opera-tions department." In a media event rivaling A.J. Pierzynski's TNA (Total Nonstop Action, or so I'm told) Wrestling appearance, the New Hampshire pair was announced as the new joint leaders of the Boston club yesterday.
These days, each and every media couple must have a fused moniker, alà "Brangelina" and "Bennifer II." Obviously, the new Red Sox baseball operations duo should be referred to as "Benjedmin" henceforth. The Patriot Ledger is putting forth the "Ben and Jeddy" option, but we're talking show business here, not the snow cone business.
Here's hoping for a long and productive pairing, unlike like most celebrity dyads.