Game 137: September 6, 2005
Angels (77-60), 2
Red Sox (81-56), 3
L: Scot Shields (8-11)
W: Tim Wakefield (15-10)
SW (Supporting Win): David Ortiz (innumerable)
4 games ahead in the division
1 game winning streak
Oh I used to be disgusted
and now I try to be amused.
But since their wings have got rusted,
you know, the angels wanna wear my red shoes.
"(The Angels Wanna Wear My) Red Shoes"
Elvis Costello
Great song choice by the Fenway Park DJ.
Last night was Green Monster Seat night. Good things tend to happen when I sit there; the last and only other time I was up there Pedro Martinez threw a complete game shutout against the Devil Rays. So I'll be starting a petition to the Red Sox ticket office: make sure an EE representative is present in a Monster Seat for every home game going forward. I'm sure you'll all sign.
I arrived in time for batting practice and stalked the first row of GM section 8 for taters. I think it was Doug Mirabelli who offered a few chances for me. One guy with a glove only 10 feet to my right caught one without moving an inch. People further away cheered him, hopefully drowning the epithet I muttered under my breath. Just a few moments later, a ball headed straight towards me, but hit the wall a few feat beneath my grasping hands. Clearly I am no flyhawk.
The all-female a capella group Broad Band opened the evening with an intricately arranged version of the national anthem. It was delightfully textured; one of the best versions of "The Star Spangled Banner" I have heard. I'd describe their sound as a hybrid of Anonymous 4 and Miranda Sex Garden.

John Lackey pitched splendidly albeit slowly for 6 innings. Red Sox offensive outs seemed to last twice as long as Wakefield's innings, as the knuckleballer worked quickly as usual. Lackey squirmed out of multiple jams, the most notably in the 4th inning where Boston would not score despite Manny Ramirez's leadoff double.
But one can only stifle the Red Sox lineup for so long. In the 5th inning, Lackey collapsed into a bases loaded situation. For him, the inning started off harmlessly enough with Tony Graffanino grounding out, but then he yielded a single to Johnny Damon and walked Edgar Renteria and Ortiz in succesion to crowd the corners for Ramirez. Ramirez did not get the right pitch to hit his 21st career grand slam to bring him within 2 of Lou Gehrig's record, but he did walk to plate Damon. With Trot Nixon at the plate, Lackey uncorked a wild pitch to score the Red Sox shortstop. Surprisingly, no other runs were scored as Nixon and Bill Mueller grounded out to quell the uprising.
Wakefield pitched his 2nd and the Red Sox rotation's 5th complete game of the season. He gave up 8 hits, 2 earned runs, 3 walks, 7 strikeouts, and 1 home run. Orlando Cabrera blasted the Angels' only round-tripper in the 6th inning over the Monster, but not towards my section. Given that Garret Anderson and Vladimir Guerrero both have success against Wakefield, if I were Mike Scioscia I would have flip-flopped them in the batting order for this game. Otherwise, you leave Guerrero vulnerable to the intentional base on balls, the exact tactic Terry Francona used to defuse the intimidating bomber in the 1st and 6th innings.
With the score tied, Wakefield gave up a leadoff double to Bengie Molina, who was then pinch run for by Zach Sorensen. It seemed inevitable that a run would score save for the indomitable will of the veteran righty and his infield. Wakefield induced a ground out from designated hitter Casey Kotchman that allowed Sorensen to take third base. Pinch hitting Steve Finley grounded ineffectively to Graffanino, who went straight to home to stop Sorenson from scoring with the aid of Mueller. Wakefield struck out Adam Kennedy to go into the home half of the 9th tied.
With Ramirez and Ortiz in the offing, you knew what would happen. Scioscia knew, Francona knew, 35,060 fans with me knew. The only question was, would it be with Renteria on base? No, he struck out. So Ortiz took the plate with 1 out. Shields went after the designated hitter hesitantly and fell behind in the count 3-0. I felt a brief pang of pity for the Angels reliever, because he would be the latest victim to the ever-growing list of Ortiz's dramatic wins. Ortiz fouled off the next two pitches, maybe giving Shields a brief glimpse of hope that he might actually get an out. Instead, it was Ortiz who got out, straight out of the ballpark and into the gap between the right field grandstand and the bleachers. Hearing it off the bat I knew it was gone despite my skewed viewing angle.
Can you give designated hitters a "W"? There ought to be a rule....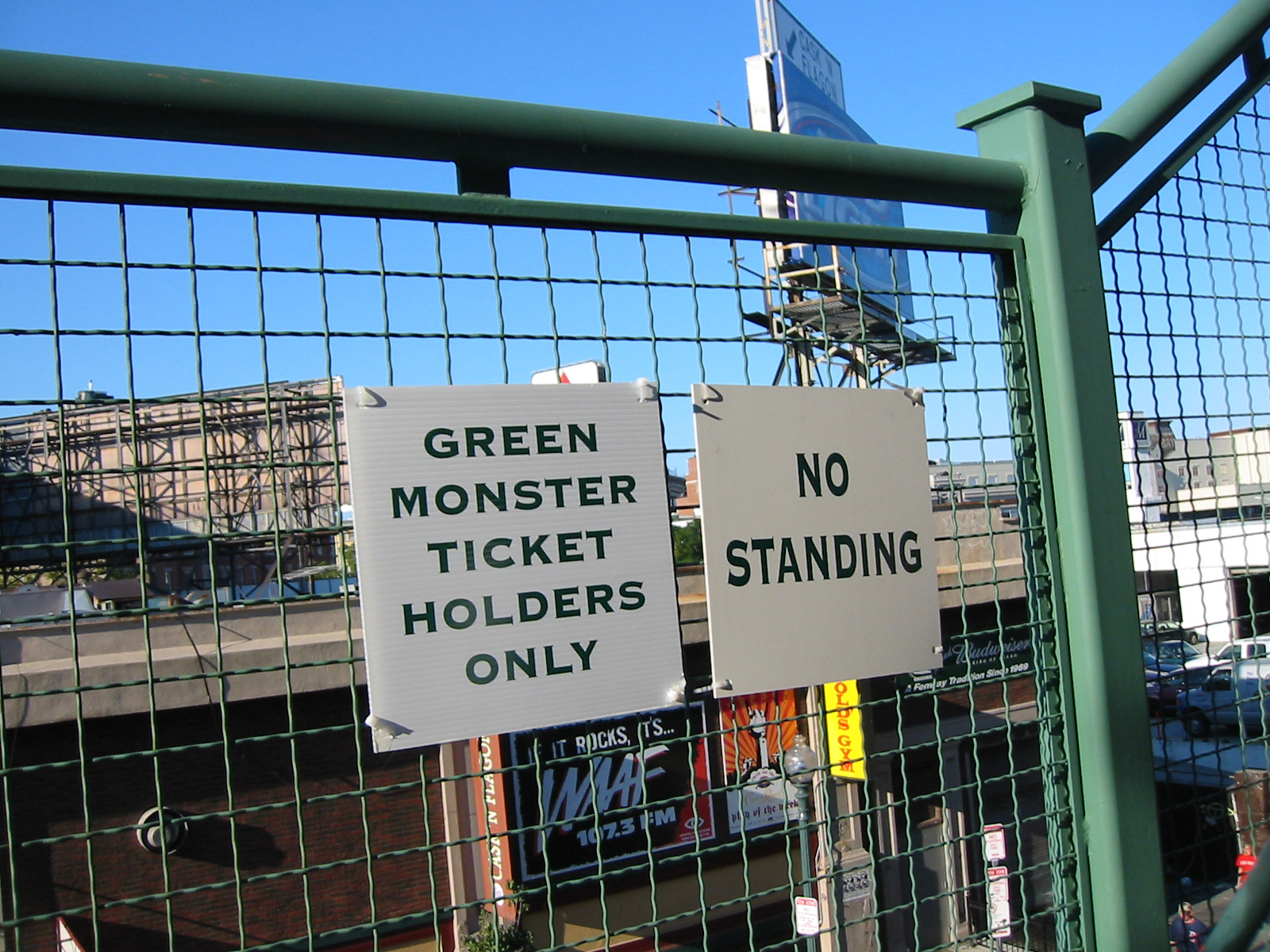 Sort of elitist, but it was nice having an uncrowded restroom. The mood of the Monster Seats is typically subdued.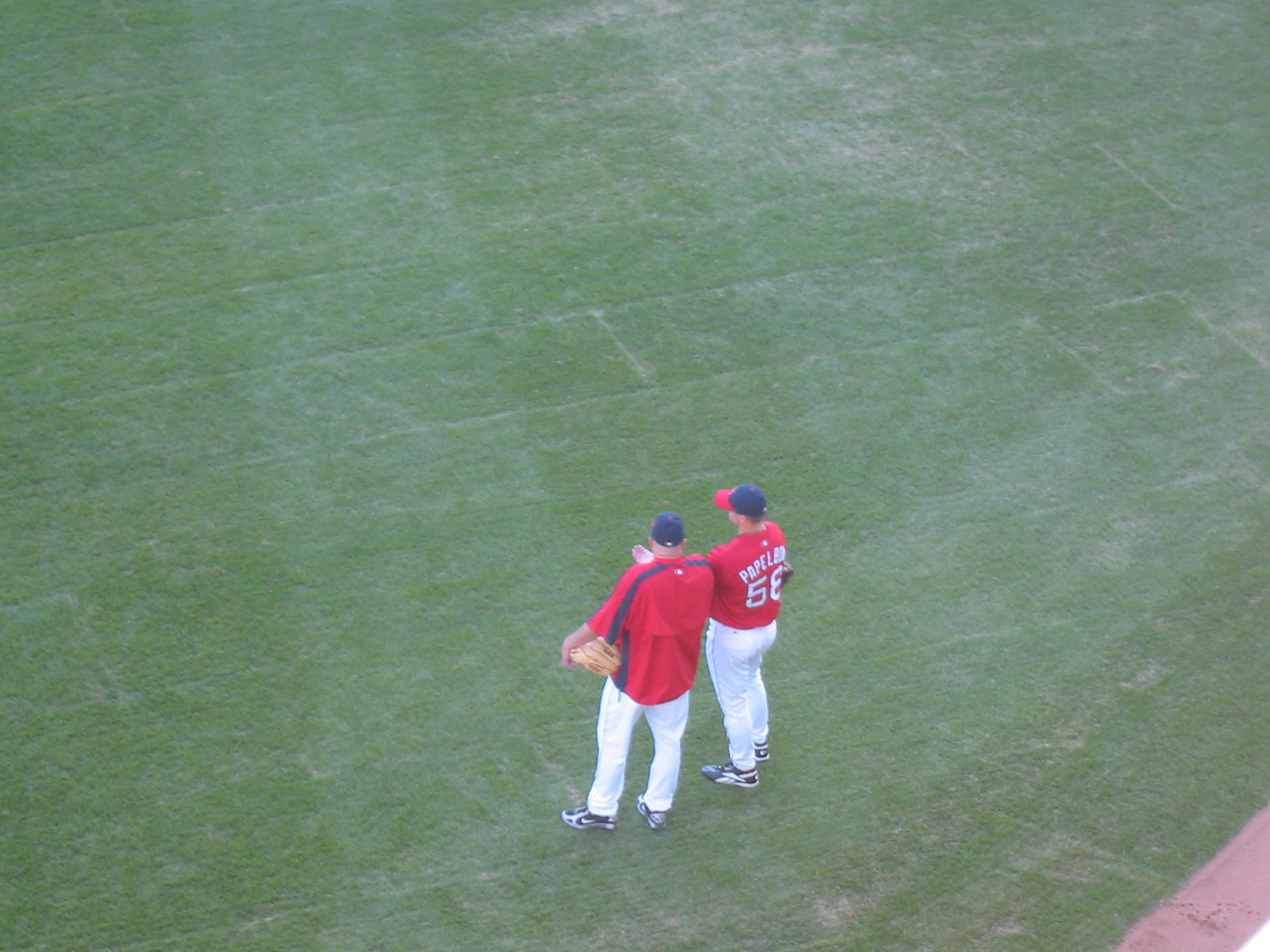 You can learn a lot from David Wells, just not about how to win friends and influence people.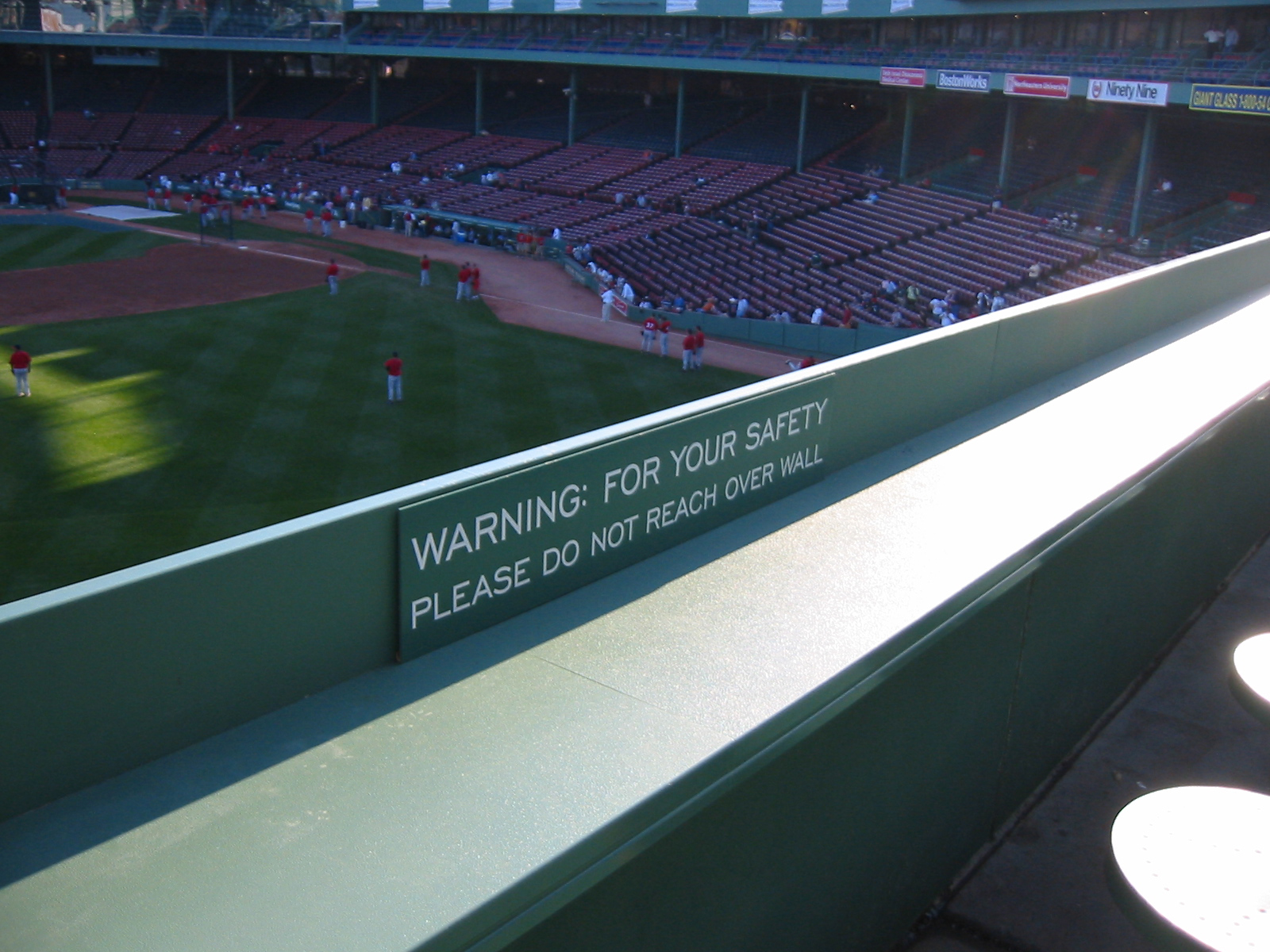 Don't be a Bartman.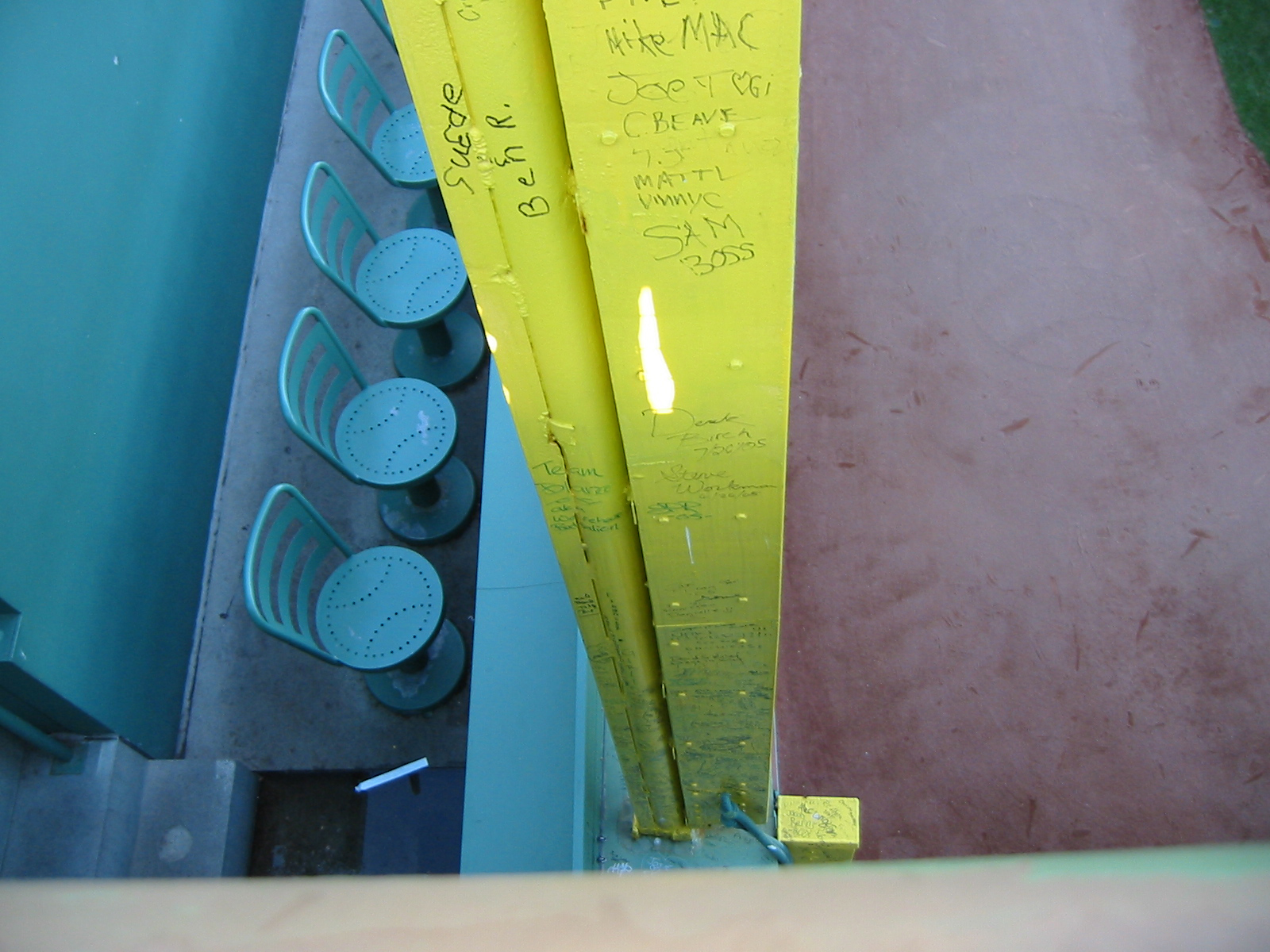 Fisk Pole shot.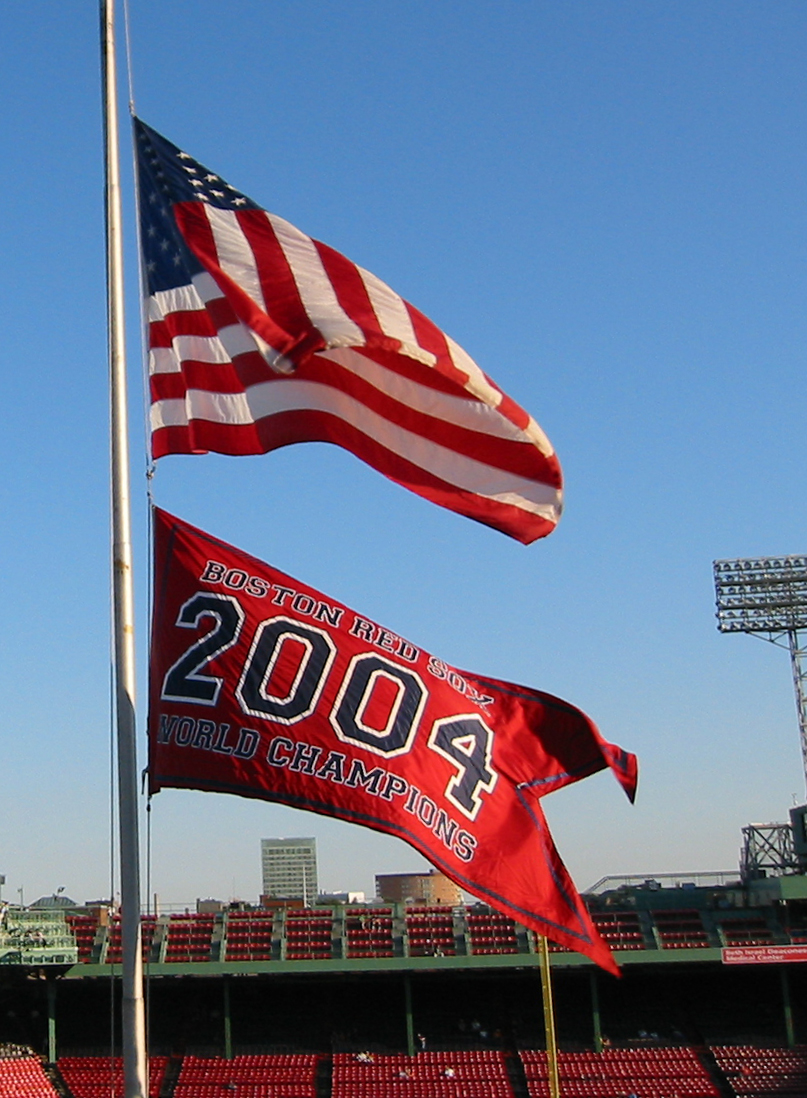 Most of the time this flag was furled. I waited quite a while for it to wave freely in the breeze.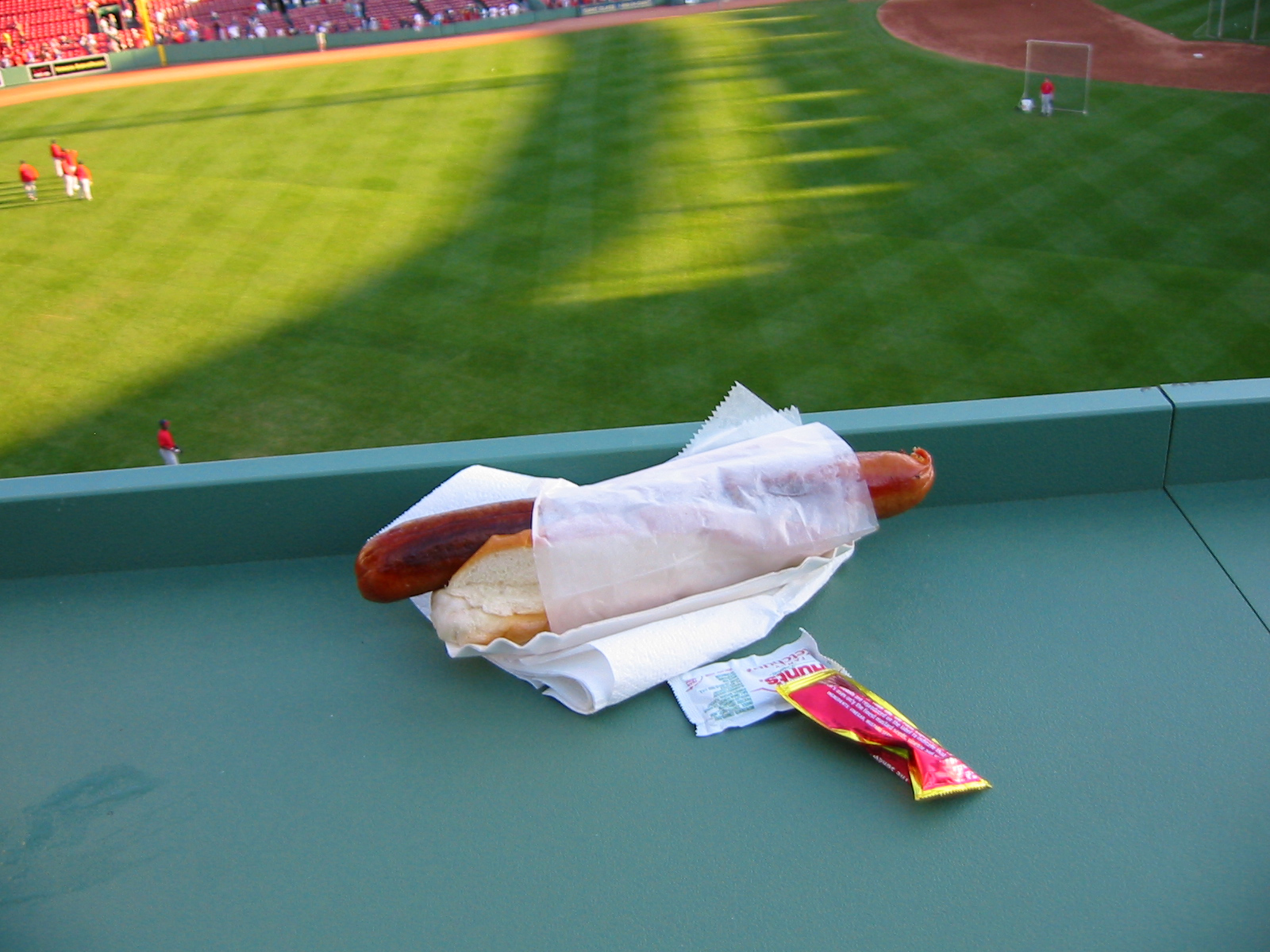 A Monster Dog that even Kobayashi would fear.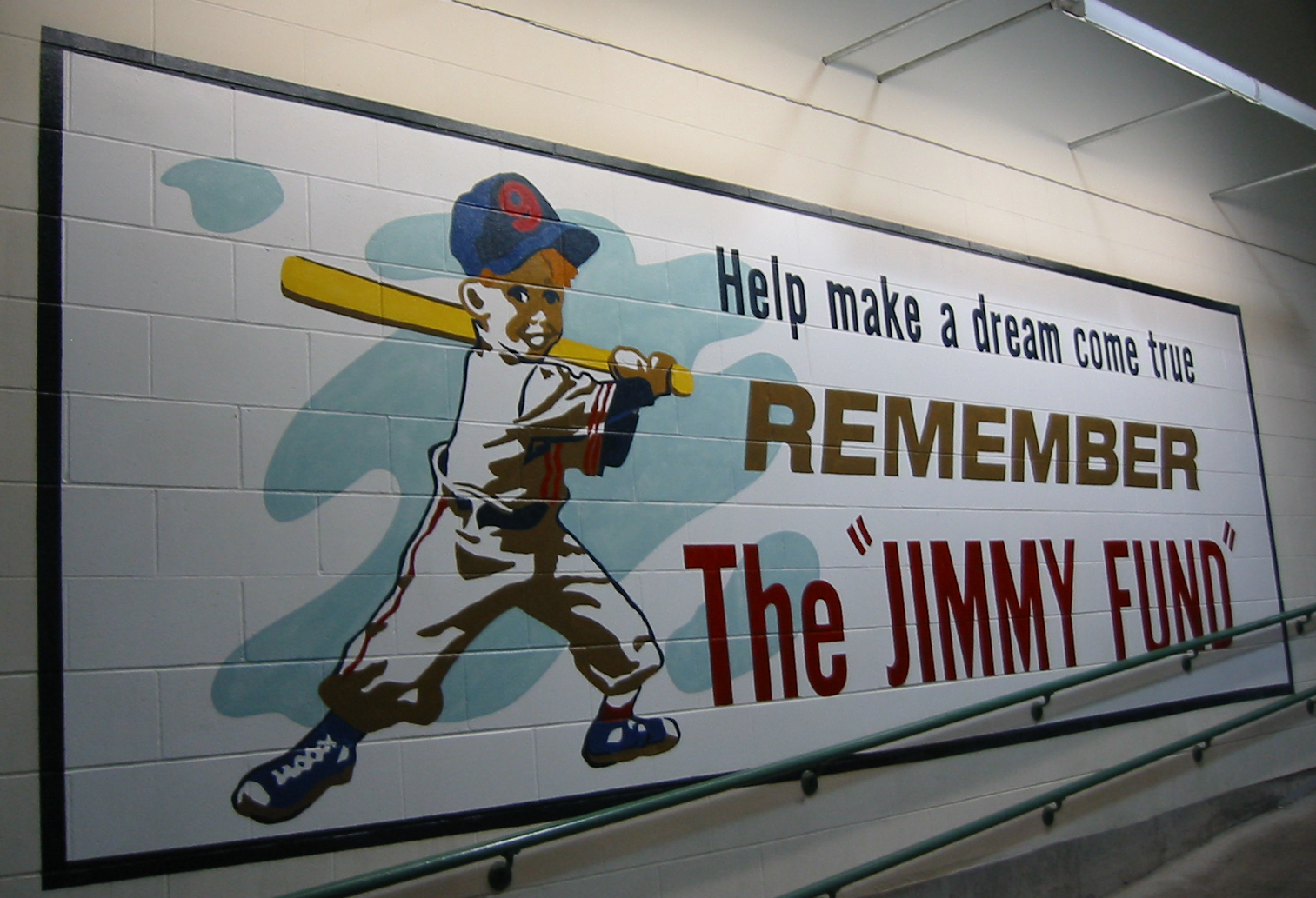 The Jimmy Fund Radio Telethon raised $2.4M.
During warm-ups Ortiz jests with some Angels pitchers. If they only knew what would be happening to them just a few hours from this encounter.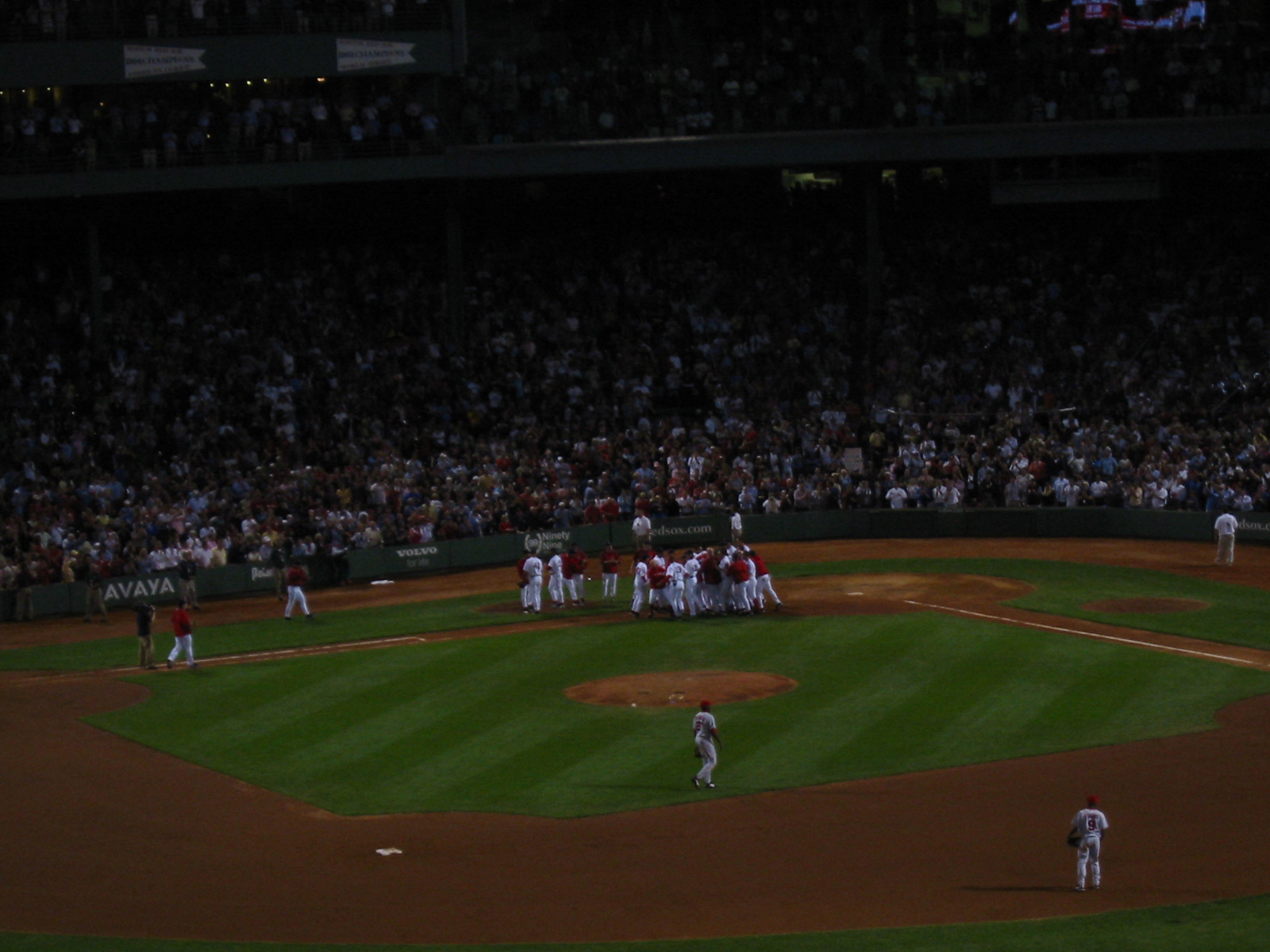 Happy, happy, joy, joy.