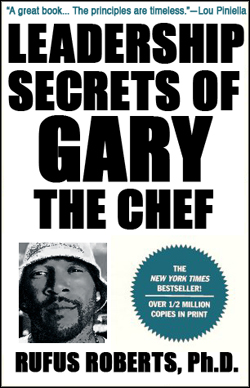 Gary Sheffield, a major league outfielder for six different teams in his 17-year career, recently launched a book tour to promote his new book, Leadership Secrets of Gary the Chef. The book, written with the assistance of Rufus Williams, Ph.D., is a distillation of Sheffield's clubhouse wisdom. The slugger is renown for his candid views on the Yankees organization, their current malaise, and his teammates.
The book succinctly summarizes Sheffield's opinions on a wide range of topics, from the media to respecting the opposition:
On Leadership: "I know who the leader is on the team. I ain't going to say who it is, but I know who it is. I know who the team feeds off. I know who the opposing team comes in knowing they have to defend to stop the Yankees."
On Endorsements: "Why shouldn't I tell the truth? I ain't trying to get no Pepsi commercial."

On Chemistry: "This is the first team I've been on where no one sits at their locker. It's where you build your chemistry from, how you get to know each other, just talking about life. I'm used to having six chairs around me, but here if there are six chairs, then there's going to be 20 reporters around me."
On Sacrifice: "That's not happening. I tore up my shoulder, I tore up a knee. I'm not doing that again."

On the 2004 World Champion Boston Red Sox: "They're a walking disaster. They act like they're tough, how they care so much about winning, but it's all a front. They're just a bunch of characters."

Leadership Secrets of Gary the Chef will be available in bookstores beginning September 9, 2005, the day of the opening game of the last series against the Red Sox at Yankee Stadium this season. He will autographing copies of his book prior to the game. Sheffield's management kindly requests that his fans do not ask for photographs and that they make no sudden movements.