Mark Bellhorn was designated for assignment tonight. The second baseman will probably be best remembered for his pivotal home runs in Games 6 and 7 of the 2004 ALCS, as well as Game 1 of the World Series. He did tend to strikeout frequently, but the impact of this fault was ameliorated somewhat by his ability to get on base.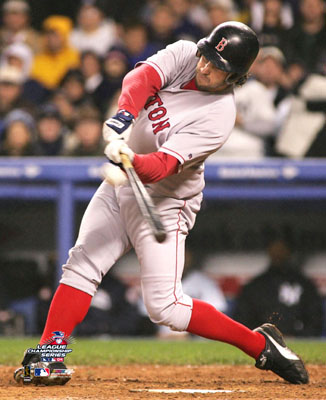 Keith Foulke was hit by a comebacker from Trot Nixon's bat during a simulated game today. As the ever-cheery Edna St. Vincent Millay said, "Life isn't one damn thing after another. It's the same damn thing again and again." Let's just be thankful Nixon didn't mistake Foulke for Ryan Rupe. Despite the seeming setback, Foulke predicts that he'll be back with the major league team by September 1st.
There are whispers of Craig Hansen skipping over triple A and coming straight to the majors. It's a bit of a shame as Kevin Youkilis was all set to show the right-handed reliever his arcane knowledge of Pawtucket. Get realtime updates of Hansen's performance in his prospect tracker thread on the Royal Rooters site.