Since the NFL didn't have any representatives from the 100/442 Regimental Combat Team as part of their tribute to the Greatest Generation for the Superbowl pre-game, I post here to recognize them.
100/442nd RCT became the most decorated unit in U.S. military history for its size and length of service
18,000 individual decorations for bravery
9,500 Purple Hearts
Seven Presidential Distinguished Unit Citations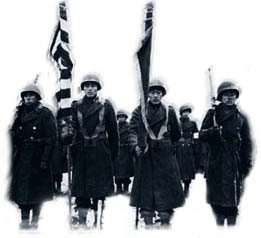 There were so many Purple Hearts because they were sent on the most dangerous missions. These Nisei (second generation Japanese Americans) fought for our country despite the prejudice and civil rights violations they experienced back home.