Bill Parcells has a thing for drews, this much is obvious now. It seems his obsession started off with Drew Bledsoe when he was with the New England Patriots. When Parcells went to the Dallas Cowboys, it wasn't long before he longed for another drew, and he even raided the Yankees' farm system to get Drew 2.0, Henson. Overlooking Brees in San Diego, Parcells has gone retro by bringing Bledsoe back into the fold.
What will be the master strategian's next step? Well, no one can really tell what Bill Belichick will do next, but here are the next drews that Parcells may consider: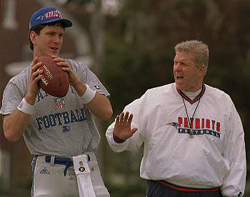 Parcells thinks it's really funny when he yells "Drew!" in the quarterback meetings and both Bledsoe and Henson turn their heads. He thought that up around the same time he was thinking up new racial slurs.