Wally "Comes Out" in Support of Friend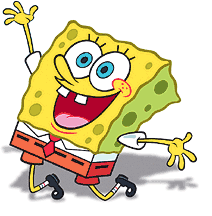 Wally the Green Monster spoke with EE today about the recent controversy involving his beleaguered friend SpongeBob SquarePants. SquarePants has been cited by the religious right group Focus on the Family as promoting the "homosexual agenda." The character was in seen in a We Are Family Foundation video supporting diversity and tolerance in general, along with other luminaries Arthur, Winnie the Pooh, and Barney. Adding to the confusion, Focus on the Family mistakenly believes that the We Are Family Foundation is an affiliate of WeAreFamily, a South Carolina-based organization that strives to support gay, lesbian, bisexual, and transgendered youth in their struggles.
Wally, currently embroiled in his own media relations uproar, made strong moves to stand by SquarePants, saying "I'm here today to speak out for SpongeBob, and for many others that have been by targeted by conservatives in this country and abroad. I guess the right wingers got tired of trying to vilify Harry Potter's reputation, especially since he has deep pockets with all those galleons at Gringotts. Now they've moved on to their next target.
"Like Tinky Winky before him, SpongeBob will prevail. The issue here isn't whether or not they are gay, or even if they support gay, lesbian, bisexual, and transgendered people, mascots, or fictional characters. The issue here is to respect the rights of mascots and other fictitious beings to speak out and appear in whatever outlet they want about the issues that concern them. And when they do speak out, to not have their opinions dismissed by real people and their realist agendas. Sure, conservative elements publish their screeds on an issue that involves "made-up" characters, and then their liberal opponents bash them by saying that we're not even real. Not real, I ask? My pain as the product of a public relations machine is real, as real as any of you," said Wally.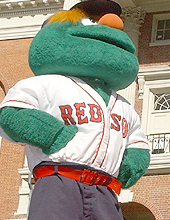 Some see Wally's latest statements as a ploy to garner media attention and heighten his public profile. "Come on, do I really seem that jaded to you? I'm here to support my pal. You can read more about our relationship in the book I have coming out in April 2005, and you'll see what a loyal friend I am. That's April 2005. I'll be doing a signing at Borders Downtown Crossing in Boston on April 11. I'll be joined by my friend the San Diego Chicken, who has a yoga video coming out at the same time."