Anibal Sanchez reminded the Red Sox front office why they signed him as an amateur free agent in 2001. The starter came to Detroit circuitously: Boston traded him to the Marlins as part of the Josh Beckett/Mike Lowell trade on November 24, 2005 and he was later shipped to the Tigers with Omar Infante on July 23, 2012. It's easy to be overshadowed when your rotation mates are Justin Verlander and Max Scherzer, but last night Sanchez stole the show with a gutty six-inning, no-hit performance. Although he walked six batters he also struck out 12.
In the first inning Sanchez added a feat to his resume that Scherzer and Verlander would be hard-pressed to duplicate. He joined Orval "Big Groundhog" Overall as the only pitchers to have struck out four batters in one inning in the postseason.
The Red Sox and Tigers were two outs away from making postseason history by being the first team to be part of a combined no-hitter. But Daniel Nava stood in against Joaquin Benoit and fouled off four pitches before finally straightening one out and sending it to shallow center for Boston's first and only hit of the evening.
Sanchez and the rest of Detroit's twirlers didn't discuss Joe West's strike zone with him but several Red Sox batters and Jon Lester did. After completing his half of the first Lester approached West about a pitch that he thought had Victor Martinez struck out. "I'm not showing you up, I promise you. I just get excited." The strike zone maps from Brooks Baseball show that West wasn't entirely terrible, but it is likely that the calls that he missed came in key situations.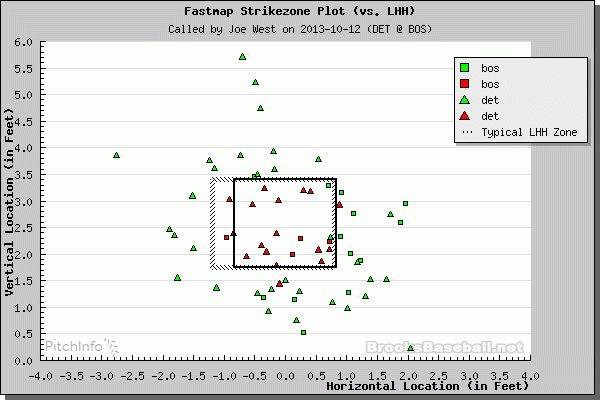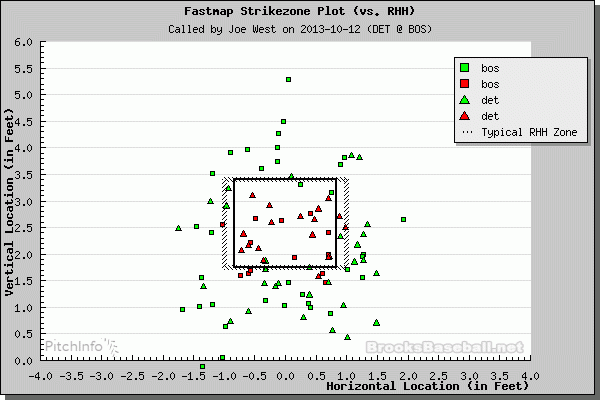 ALCS Game 1: October 12, 2013
Detroit Tigers
1-0
1
W: Anibal Sanchez (1-0)
H: Al Alburquerque (1), Jose Veras (1), Drew Smyly (1)
S: Joaquin Benoit (1)

2B: Jhonny Peralta – 2 (2), Torii Hunter (1)

Boston Red Sox
0-1
0
L: Jon Lester (0-1)
No extra base hits