An unlikely catcher clubbed an improbable home run off an implausible ace closer. Jose Lobaton signed as an amateur free agent with the San Diego Padres in 2002 and toiled in their system until 2009, when he finally made his major league debut on July 5. He was designated for assignment 23 days later and claimed by the Rays. In August of this year he single-handedly defeated the Blue Jays twice with a walk-off triple and home run. Last night's solo shot into the Tropicana Field's fish tank was the catcher's most stunning effort to date.
Koji Uehara spent his prime years with the Yomiuri Giants. He signed with the Baltimore Orioles in 2009 as a starter but by 2010 was converted into a reliever. On July 30, 2011 the Orioles traded Uehara to the Texas Rangers for Chris Davis and Tommy Hunter. He signed a one-year deal with the Boston Red Sox and found himself in the closer's role after Andrew Bailey and Joel Hanrahan had season-ending injuries. Once this list on Stat Geek Baseball is updated to include 2013, Uehara may find himself in the company of Mariano Rivera, Dennis Eckersley, and Dan Quisenberry.
The confluence of implausibilities allowed the Rays to stave off elimination for another day.
But for Evan Longoria's and Lobaton's circuit clouts performance was poor from every quarter; the venue itself, the umpires, and the Red Sox. The appalling structure and its arcane "ground" rules came into play in the fourth frame.
CATWALKS, LIGHTS AND SUSPENDED OBJECTS
Batted ball strikes catwalk, light or suspended object over fair territory:

Batted ball that strikes either of the lower two catwalks, lights or suspended objects in fair territory: HOME RUN.
Batted ball that is not judged a home run and remains on a catwalk, light or suspended object: TWO BASES.
Batted ball that is not judged a home run and strikes a catwalk, light or suspended object in fair territory shall be judged fair or foul in relation to where it strikes the ground or is touched by a fielder. If caught by fielder, batter is out and runners advance at own risk.

Batted ball strikes catwalk, light or suspended object over foul territory: DEAD BALL
Two of Ben Zobrist's pop-ups ended up being dead balls even though Jarrod Saltalamacchia caught the second one. Zobrist ended up walking and Clay Buchholz expended 34 pitches while having to escape a bases-loaded jam.
The umpires missed two calls, although neither led to runs being scored. Quintin Berry appeared to be out on his swipe of second base in the eighth but Mike Winters called him safe. In the ninth Jacoby Ellsbury was called safe at third by Larry Vanover but replays showed that Longoria tagged him. Perhaps the officiating crew was making up for Jerry Meals's blown call back in July.
One of the Red Sox's runs was greatly aided by the Rays' blunders on defense. In the fifth with one down Ellsbury rocketed the ball off James Loney's glove, allowing the speedy center fielder to reach second. Next Yunel Escobar bobbled Shane Victorino's batted ball, setting up runners at the corners. Alex Cobb then uncorked a wild pitch to Dustin Pedroia and Ellsbury scored.
In the bottom of the eighth the defensive unease seemed to transfer to the Red Sox. Loney worked a leadoff base on balls and Sam Fuld pinch ran for him. Franklin Morales charged Desmond Jenning's bunt but so did Mike Napoli. Pedroia was late to cover first so Jennings reached safely. Morales induced Matt Joyce to pop out on a bunt that Saltalamacchia neatly gloved, one bright spot in a stanza of slipups.
Brandon Workman toed the rubber and got Escobar to shoot a grounder to Drew, who could have initiated a double play if Pedroia hadn't also tried to field the ball. Delmon Young grounded out to Napoli, who didn't throw home. The Rays took the lead, 4-3.
Boston battled back to tie the game in the top of the ninth. Rookie Xander Bogaerts notched a postseason run by virtue of pinch running for Will Middlebrooks.
But then Lobaton homered, absolving Joe Maddon of any blame for losing the designated hitter slot.
Rumors that a Red Sox fan threw a live ray onto the field were debunked by Rays officials. But the visiting fans remained resolute. The determination on the face of the woman holding the "Red Sox Wicked Awesome" sign is tangible. I have no doubt the team's perseverance is of at least equal measure.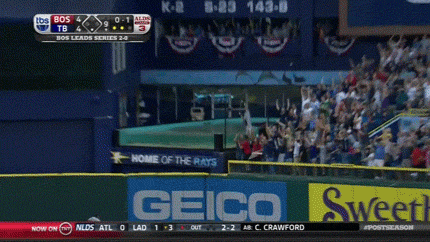 ALDS Game 3: October 7, 2013
Boston Red Sox
2-1
4

L: Koji Uehara (0-1)

2B: Jacoby Ellsbury (2)

Tampa Bay Rays
1-2
5
BS, W: Fernando Rodney (1, 1-0)
2B: James Loney (2), David DeJesus (1)
HR: Evan Longoria (1), Jose Lobaton (1)