Yesterday's game proved Yogi Berra's quote: "Baseball is ninety percent mental and the other half is physical."
Jon Lester took the mound fueled on pure adrenaline. In the first inning he struck out the side with 14 pitches. In the second inning Lester sat the first two batters handily enough, striking out Evan Longoria and inducing a pop out off the bat of Delmon Young. He had Sean Rodriguez struck out but for Chris Guccione calling the third strike a ball. Lester's next pitch turned into a souvenir for a fortunate fan and a 1-0 lead for the visitors.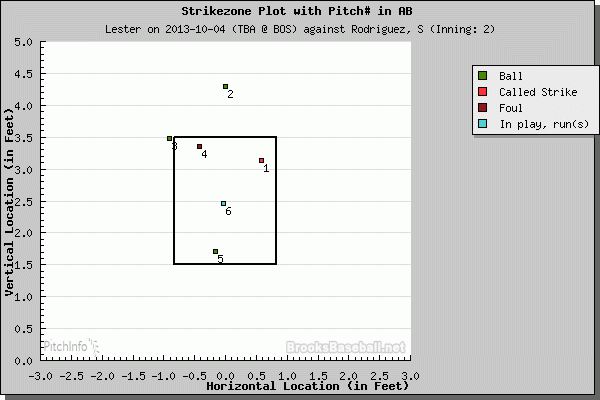 The Rays added to their lead in the top of the fourth with Ben Zobrist's solo home run. Lester then surrendered a base on balls and a single but left the mound with no further damage.
Dustin Pedroia immediately responded to the visitors' attack with a leadoff single up the middle. David Ortiz then lofted what looked to be a can of corn to right field. Wil Myers drifted back and called off Desmond Jennings but peeled off at the last second.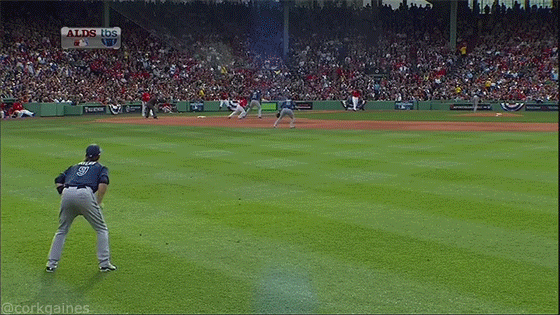 Myers told Buster Olney that no one called him off but that he saw Jennings in his peripheral vision and thought that the center fielder was going to glove the ball. For the remainder of the game Myers was serenaded by the Fenway faithful, who thoughtfully reminded him what his surname is just in case he forgot.
Ortiz's ball bounced into the stands for a ground-rule double. Former Ray Jonny Gomes doubled off the Monster to tie the game.
John Smoltz criticized sophomore pitcher Matt Moore's route to first base on Stephen Drew's tapper to James Loney. The veteran hurler noted that Moore didn't go for the corner of the first base sack, which allowed Drew to reach safely and Gomes to score from second.
The Red Sox ended up batting around in the fourth. Will Middlebrooks doubled off the wall and Rodriguez over-pursued the ball; instead of letting the carom come to him he wasted precious seconds chasing after it, allowing Drew to score. Shane Victorino sent a bounding single to right field to plate Middlebrooks. Pedroia grounded out to his counterpart to end the offensive onslaught.
Every Red Sox batter had at least one hit and one run scored (the first time this has happened in the playoffs since 1936) in what ended as a 12-2 blowout. John Lackey watched on as the score rolled into double-digits and hoped that his teammates would save some for his tilt against David Price in the second game.
ALDS Game 1: October 4, 2013
Tampa Bay Rays
0-1
2
L: Matt Moore (0-1)
3B: Kelly Johnson (1)
HR: Sean Rodriguez (1), Ben Zobrist (1)
Boston Red Sox
1-0
12
W: Jon Lester (1-0)

2B: David Ortiz (1), Jonny Gomes (1), Will Middlebrooks (1), Mike Napoli (1), Jarrod Saltalamacchia (1)