Bobby Valentine turned 62 yesterday and the team presented him with the fourth series win of the season. Not to be ungrateful, but he really could have done with more of these gifts. The team is in the American League East cellar and trails the Baltimore Orioles by 6½ games.
The Onion's horoscope for Taureans said, "Despite your efforts to be a modern-day hero, you will slowly develop into a postmodern-era Internet meme." This suits Valentine better than any current manager in the majors.
There's the fake mustache incident, of course.
A music video of Deen's song "Diamond" that heavily features Valentine.
And who could pass up the Bobby burger garnished with pineapple? It's Magic! It's American! Just like Bobby V himself.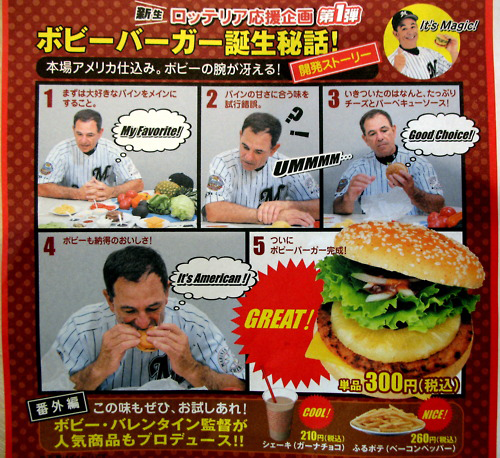 Game 34: May 13, 2012

Cleveland Indians
18-16

1

L: Justin Masterson (1-3)

2B: Michael Brantley – 2 (12)

Boston Red Sox
15-19

12

W: Daniel Bard (3-4)

2B: Adrian Gonzalez – 2 (13), Daniel Nava – 2 (4), Dustin Pedroia (13)
HR: Will Middlebrooks (4), Jarrod Saltalamacchia (5)