Joe Maddon took a cue from grade school teachers and motivational speakers the world over and has his team dress according to a theme for every road trip. For the current journey the accessory of choice is the bow tie.
There are a number of bow tie devotees that make me an admirer of the accent: Bill Nye, Charlie Chaplin, John Paul Stevens, Les Nessman, Mr. Hooper, and several Doctors Who (the second, third, and eleventh embodiments). Other wearers make it less appealing to me, notably Tucker Carlson, George Will, Sigmund Freud, Louis Farrakhan, and Murray Rothbard.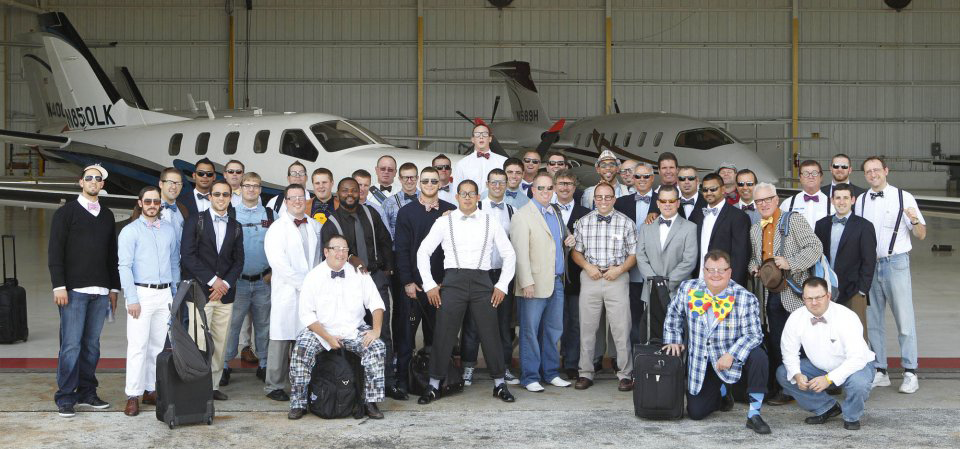 I think Maddon had his team dress like persecuted nerds to give them a physical manifestation of their paranoia. In the recent series in St. Petersburg Adrian Gonzalez was frustrated by Hunter Wendelstedt's strike zone and as part of his rant "guaranteed" that he would hit a home run. When Gonzalez said, "I'll start hitting home runs. I'll hit a home run tomorrow," he obviously meant this as a general statement about how droughts can be turned around quickly.
Maddon twisted the quote into a smear against his pitching staff. Matt Moore hit Gonzalez with a pitch in the next game in his first at bat, but not even Maddon's motivational mumbo jumbo could inspire a player to plunk a player to load the bases, right. The score seemed settled when Felix Doubront hit Luke Scott in the same game.
But in this game with the score 7-4 Burke Badenhop plunked Dustin Pedroia in the sixth inning. In the ninth Franklin Morales threw behind, inside, and finally at Scott. The benches and bullpens cleared, but rather than players throwing punches coaches hurled contumelies.
Like all cowards, Maddon retaliated from the safety of his keyboard. "Very proud of our effort 2nite. What occurred in the 9th reeked of intent. Was ridiculous, absurd, idiotic, incompetent, cowardly behavior," he tweeted. Maddon may not win a World Series, but he wins the internet.
Game 45: May 25, 2012

Tampa Bay Rays
28-18

7

W: Alex Cobb (2-0)
H: Jake McGee (5), Joel Peralta (12)
S: Fernando Rodney (15)

HR: Matt Joyce (9), Elliot Johnson (3), Carlos Pena (7)

Boston Red Sox
22-23

4

L: Jon Lester (3-4)

2B: Adrian Gonzalez (16)