Creeps in this petty pace from day to day,
To the last syllable of recorded time;
And all our yesterdays have lighted fools
The way to dusty death. Out, out, brief candle!
More like out, out, baseballs. Jason Varitek continued to produce in his part-time role by going 2-for-3 with a home run, four runs batted in, and two walks. David Ortiz benefited from his long talks with fellow southpaw Adrian Gonzalez and jolted his 16th longball of the season. His three-run homer in the fifth inning capped off a seven-run onslaught.
If only the 16 runs could be converted into goals somehow to help the Red Sox's cross-town neighbors on Monday night at the Garden for Game 6 of the Stanley Cup Finals. Jerry Remy chided Roberto Luongo for the goalie's comments on Tim Thomas. "It's not hard if you're playing in the paint,'' said Luongo about Thomas. "It's an easy save for me, but if you're wandering out and aggressive like he does that's going to happen."
That's like Derek Jeter saying something like, "If Gonzalez hit less fly balls like me he wouldn't get as many fly ball outs as he does." The only reason that Jeter hasn't been dropped in the batting order is because of his pursuit of the 3,000 hit mark that the Yankee management seems desperately attempting to engineer so that it occurs at Noveau Stade Fasciste.
Luongo gave up eight goals on 38 shots in Game 3 and four goals on 20 shots in Game 4 when he was finally pulled in favor of Cory Schneider. Luongo's save percentage during the Canucks' playoff run is .919. In stark contrast, Thomas's save percentage is .937. Perhaps the Canucks players should stop making so many difficult shots on goal for Thomas to kill.
Mike McCoy was the only other pitcher besides Jon Rauch (who only faced one batter) to not allow a baserunner. McCoy is a second baseman. He received a standing ovation for his perfect inning in the ninth. McCoy, like Luongo, should admonish the Blue Jays pitching staff. "It's not hard if you're getting them to ground out. It's an easy out for me, but if you're going all out and pitching like Brandon Morrow does that's going to happen."
Another tie trend of Don Orsillo's I've noticed besides blue is a recent proclivity towards gold. Perhaps this is to show support for the Bruins since he hasn't grown his playoff beard as Tom Caron has.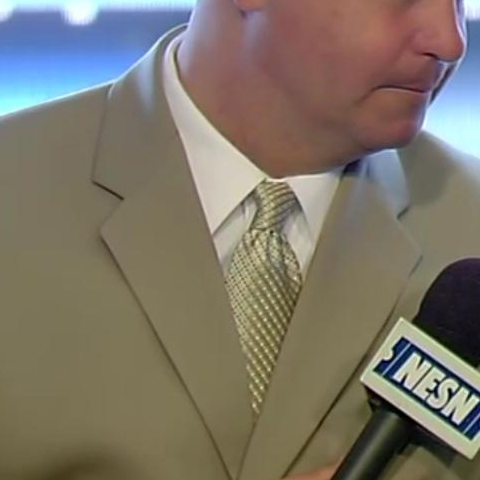 Game 64: June 11, 2011

Boston Red Sox
38-26
16

W: John Lackey (4-5)

2B: Adrian Gonzalez (21), Dustin Pedroia – 2 (11)
HR: Jason Varitek (3), David Ortiz (16)

Toronto Blue Jays
32-33

4

L: Brandon Morrow (2-4)

2B: Adam Lind (6), Rajai Davis (10), Mike McCoy (3)