Fenway Park was infused not only with summer sunshine but also with the gold of Bruins jerseys and the gleam of Lord Stanley's Cup. The Bruins boarded the duckboats again and rolled around the warning track to deafening cheers, much like the Celtics did in 2008. The crowd also got to enjoy the earsplitting horns and Zombie Nation's "Kernkraft 400" with each scoring play.
After circuiting the park the hockey players clambered off the DUKWs and traversed the field with the Stanley Cup, the Conn Smythe Trophy, and the Prince of Wales Trophy in tow. They were in their hockey jerseys but wearing Red Sox caps. The Red Sox players were in their baseball uniforms, of course, but with Bruins caps. That part was slightly cheesy, but cheese can be a glorious thing.
Zdeno Chara threw to Jason Varitek, of course. With the huge arrays of people it was difficult to discern how players were paired, further complicated by the hockey players' unfamiliarity with pitching and in some cases the aftereffects of continual alcohol consumption. I think Mark Recchi's battery mate was Kevin Youkilis. Youkilis also chatted with Tim Thomas in the aftermath of the first pitch; the Red Sox third baseman could easily pass for a hockey player. I didn't see if Brad Marchand met his baseball alter ego Dustin Pedroia. Even if NESN cameras and microphones did capture such an encounter it would probably require heavy editing.
Being in the presence of world champions seemed to put a fire under the baseball squad. Tim Wakefield pitched a dazzling eight innings: 3 hits, 3 earned runs, 1 walk, and 6 strikeouts. He surrendered homers to one improbable hitter (Nyjer Morgan) and a one unsurprising slugger (Cecil, I mean, Prince Fielder), but before the Brewers first baseman clubbed his home run he corkscrewed himself multiple times chasing after Wakefield's butterflies.
The local nine jumped to an early 6-0 lead while batting around in the first inning on Yovani Gallardo, a pitcher who is Cy Young caliber even though Don Orsillo and Jerry Remy didn't quite know how to pronounce his name. Every Red Sox who began the day in the lineup had a hit and all of them but Jarrod Saltalamacchia had a run. Two particularly memorable hits came in the fourth. Dustin Pedroia blasted a four-bagger to the batter's eye to lead off the inning, prompting Remy to conjecture about what it would have been like if Roberto Luongo had the foghorn blast as his wake-up call.
Adrian Gonzalez followed Pedroia's home run with his 1,000th hit. Just as Wade Boggs's 3,000th hit was a home run, a stark contrast to his slap-hitting style, Gonzalez's milestone was a triple to the triangle. Neither of them had their landmark hits with the team that originally drafted him, but I'm happy to have Gonzalez make history in Boston. He saw a glimpse of championship atmosphere that has pervaded the region for a decade now and seems hungry to extend it.
With blowouts Orsillo and Remy got a little giggly. Orsillo's powder blue jacket was reversed and easy trivia questions were answered.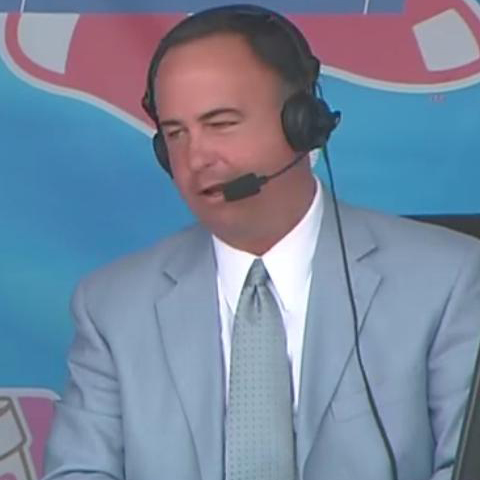 Game 71: June 19, 2011

Milwaukee Brewers
40-33

3

L: Yovani Gallardo (8-4)

2B: Casey McGehee (14)
HR: Nyjer Morgan (2), Prince Fielder (20)

Boston Red Sox
43-28
12

W: Tim Wakefield (4-2)

2B: Jacoby Ellsbury (22), Jarrod Saltalamacchia (10), Josh Reddick (2), Dustin Pedroia (13)
3B: Adrian Gonzalez (3)
HR: Kevin Youkilis (11), Pedroia (6), Marco Scutaro (2)