That wasn't the man on stilts who plays catch with kids on Yawkey Way before games on the mound, that was Andrew Miller. People wondered why Miller, the sixth overall pick in the 2006 draft, had trouble with his mechanics. It's because it takes so long for his brain to send signals to his legs.
Miller kept it together in his Red Sox debut until sixth inning. Chase Headley led off with a bloop single to right and Ryan Ludwick walked on five pitches. Miller bore down to strike out Jesus Guzman but surrendered a game-tying home run to Orlando Hudson. The Padres second baseman didn't signal his own home run, unlike how he indicates his infield singles as safe.
While he didn't earn a win, Miller pitched no worse than a typical John Lackey outing and should see a few more starts with Clay Buchholz on the disabled list. This is a league that has Bruce Chen and Roderigo Lopez pitching regularly at the major league level. Someone with Miller's pedigree may never break through that glass ceiling stopping him from being considered a major league regular precisely because his ceiling as a prospect was so high.
Speaking of prospects brimming with potential, Anthony Rizzo, one of the pieces that was sent to San Diego for Adrian Gonzalez, went 1-for-4. His sixth-inning double off the center field wall would have been a home run most other parks. Like Gonzalez, his power will be stifled in Petco Park.
First base was like a water cooler with Dave Roberts as first base coach. When Gonzalez singled in the first inning he caught up with his former teammate and chatted with Rizzo. Hopefully he wasn't giving the rookie too much advice about how to take advantage of Fenway as a southpaw slugger.
Don Orsillo's ensemble called to mind the Padres' sand-colored road uniforms that were replaced this season by more traditional road greys. Orsillo could learn from that.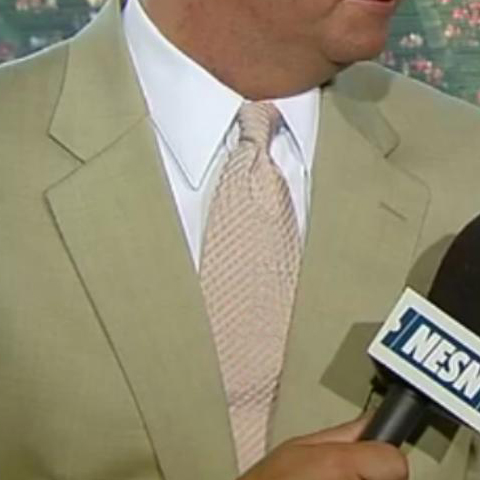 Game 72: June 20, 2011

San Diego Padres
30-44

5

L: Cory Luebke (1-2)

2B: Anthony Rizzo (2), Chase Headley (21)
3B: Jesus Guzman (1)
HR: Orlando Hudson (1)

Boston Red Sox
44-28
14

W: Matt Albers (2-3)

2B: Dustin Pedroia (14), David Ortiz (20), Adrian Gonzalez (25), Kevin Youkilis (20)
3B: Adrian Gonzalez (3)