The Red Sox could ill afford a short outing by John Lackey given Saturday's 14-inning marathon. Lackey's pitch limit was 90 pitches and he was able to stretch himself to 5⅔ innings with a line of a 3 hits, 3 earned runs, 2 walks, and 2 strikeouts. The Red Sox lineup came through for the returning starter. In the power department Carl Crawford clouted a three-run homer into the Red Sox bullpen in the second and Adrian Gonzalez lofted a two-run longball into the Monster seats in the fourth. From the speed side Jacoby Ellsbury singled in the sixth, advanced on two wild pitches, and crossed home on Dustin Pedroia's single.

Kevin Kouzmanoff's third inning blast to dead center had cameraman Mike Porta momentarily abandoning his equipment as the ball ricocheted about the camera hut. The resulting footage of Gonzalez's feet wasn't as stirring as Lou Gerard's shot of Carlton Fisk in Game Six of the 1975 World Series, but it did provide a moment of levity in what could have been an augury of Lackey's devolution.
But if there's any team a pitcher would choose to face after coming off the disabled list it would be the Athletics. Their offensive production is paltry: last in the majors with 33 home runs, 27th in runs batted in, and 25th in on-base percentage. Oakland didn't score without Lackey's help. With two down in the fourth Lackey hit Kurt Suzuki. Lackey wasn't thrown out despite home plate Larry Vanover's dugout warning in the previous inning, issued after Brett Anderson plunked Crawford in the upper arm. Suzuki swiped second and scored on Daric Barton's line drive single to right.
The third and last run in the sixth also came as the result of a hit by pitch. Conor Jackson's uniform was barely grazed by Lackey's cutter inside so again Vanover didn't eject the Red Sox starter. And like déjà vu all over again Barton made contact and drove in the hit batsman. So this weekend we learned that MLB officials take actions that are in the end inconsequential while NHL officials fail to take action resulting in game-changing consequences in their championship series.
If Jerry Remy ever wanted to take a break from baseball and chime in on a hockey game it would be endlessly amusing. Remy named Vancouver Canuck Alexandre Burrows "Mr. Bitefinger." Don Orsillo's jacket should be named "Mr. Test Pattern."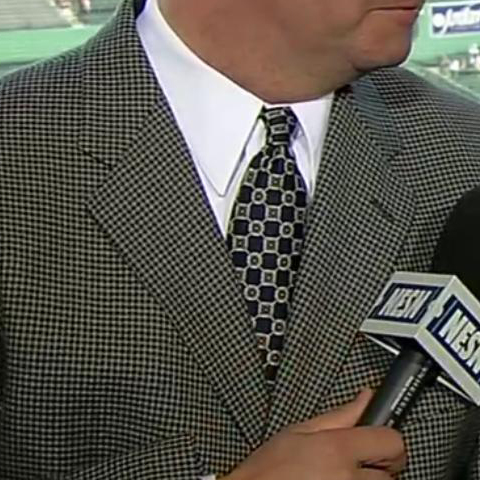 Game 59: June 5, 2011

Oakland Athletics
27-33

3

L: Brett Anderson (3-6)

2B: Daric Barton (12)
HR: Kevin Kouzmanoff (4)

Boston Red Sox
33-26
6

W: John Lackey (3-5)
H: Matt Albers (5)
H: Tommy Hottovy (2)
H: Dan Wheeler (2)
S: Daniel Bard (1)

2B: Dustin Pedroia (8), David Ortiz (16)
3B: Jarrod Saltalamacchia (1)
HR: Carl Crawford (5), Adrian Gonzalez (12)