Oh no, my love's at an end
Oh no, it's raining again
And you know it's hard to pretend
Oh no, it's raining again
Too bad I'm losing a friend
Oh no, it's raining again
Oh, will my heart never mend

You're old enough some people say
To read the signs and walk away
It's only time that heals the pain
And makes the sun come out again

"It's Raining Again," Supertramp

As the weather turned so did the Red Sox hitters' fortunes. In dramatic contrast to the series opening beatdown in this game the local nine failed to tally a single extra base hit.
Baseball Reference's win probability estimates indicated that David Ortiz's inning-ending double play with the bases loaded in the first was a crucial event that could have tipped the odds in the home team's court early. When the Padres went around the horn on Kevin Youkilis's grounder with two on and one out in the seventh the game was all but done.
Bud Black thought it should have been called much earlier, like after the last out of the fifth inning was notched. His right fielder Will Venable hit his first home run of the season to lead off the first inning. Then the Padres scored a quartet of runs in the fourth as John Lackey unraveled. San Diego scored when Lackey walked Will Venable with the bases loaded, hit Jason Bartlett with a pitch (a Pyrrhic victory given how irksome Bartlett can be), uncorked a wild pitch to Chase Headley (a name I'm sure didn't come without some degree of aggravation), and then surrendered a single to the unfortunately named third baseman.

The MLB rule book is as poetic as Roger Hodgson when it comes to shortened games:
(c) If a game is called, it is a regulation game:
(1) If five innings have been completed;
(2) If the home team has scored more runs in four or four and a fraction half-innings than the visiting team has scored in five completed half-innings;
(3) If the home team scores one or more runs in its half of the fifth inning to tie the score
Can you imagine if another sport had such a rule? "If in an outdoor hockey game a game is called on account of cold or inclement weather, it is a regulation game if (1) Brad Marchand hits Daniel Sedin in the face five times. (2) Roberto Luongo's hair product freezes. (3) Alex Burrows has his early evening snack (another player's fingers)."
Don Orsillo's tie resembled graphics from an Atari 2600 game.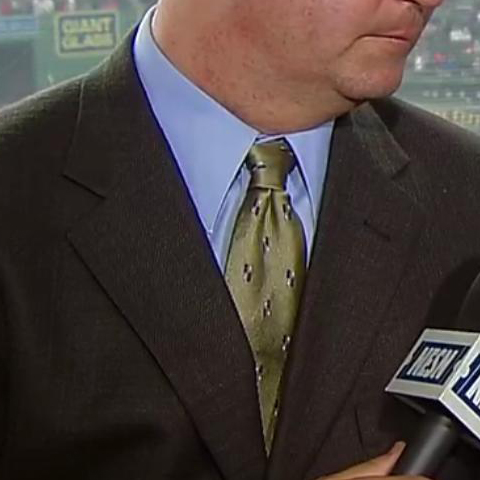 Game 74: June 22, 2011

∙ 8 innings
San Diego Padres
32-44

5

W: Clayton Richard (3-9)

HR: Will Venable (1)

Boston Red Sox
44-30
1

L: John Lackey (5-6)

No extra base hits