Game 52: June 2, 2009



Red Sox
5

W: Daisuke Matsuzaka (1-3)

30-22, 2 game winning streak
Tigers

1

L: Rick Porcello (6-4)

28-22, 1 game losing streak
Highlights: Terry Francona tallied his 500th win as a Red Sox manager, joining Hall of Famer Joe Cronin and Mike "Pinky" Higgins. Aside from this accomplishment, I'd rather not associate Francona with these men as his predecessors were key in keeping the Red Sox segregated. In the wake of initiating a new generation to futile, furious devotion to the Boston club with the 2003 ALCS debacle, the owners and Theo Epstein rid themselves of Grady Little and hired Francona. That the spectacled skipper would helm not one but two World Championship teams is the hushed prayers and half-remembered fever dreams. And yet it happened. Congratulations, Tito.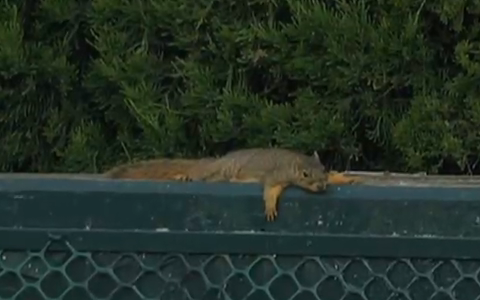 Risu [栗鼠] means "squirrel" in Japanese.
All right, everyone got their chuckles at my expense last night. "Look at that fat squirrel get run ragged by the grounds crew," everyone said. Video of me made theh highlight reels on "MLB Tonight" and "SportsCenter."
Well, what tens of thousands of fans mocking me and the television audience didn't know is that you can thank me for Justin Verlander's renaissance. That's right.
You think I'm out there in the center field hedges thinking simple squirrelly thoughts, right? Yeah, I know what you two-leggers say about my visually-impared brethren and I see all the feeble devices of torture contrived to mutilate or murder me. (YouTube is quick to pull videos infringing on copyrights but heaven forbid they ban videos of rodent torment.) You think our kind's sole focus is to pillage your birdfeeders and rampage through your garbage. Okay, maybe 65% to 80% of squirrels are out to do just that. But I set my sights higher. Much higher.
I hang out near the bullpens absorbing vast amounts of pitching knowledge. Every game, every bullpen session, every in-game warm-up bustle. And not just for the Tigers, but every visiting team, too.
I noticed that Verlander was having an issue with his delivery throughout 2008. I mentioned it to Rick Knapp, and I tell him, "Knappy, what that kid has gotta do is lower his arm slot." Rick mulled it over and after a few days mentioned it to Justin.
Soon Justin turned it around and was looking like his former Rookie of the Year self. The club was so thankful they made me part of their pitching staff. Which means access to the post-game spreads.
Do you think I got this waistline eating baseball fans' sloppy seconds?
Yup, I was a rising star in the Detroit organization. How do you think Edwin Jackson turned into a legit pitcher? There were rumblings that maybe I should be the pitching coach, not Knappy. I had just started to help D-Train with his issues when, boom, I was shut out. My so-called friend Rick knee-capped me, said I was bad for the pitching crew, that I was taking all the credit for his work.
Kicked out of the clubhouse, I found myself wandering around the outfield last night. I'm not proud, okay? Before the game, I may have tied one on. Maybe more. Maybe a lot more.
Next thing you know I'm out there in right field stark naked ranting about Knappy, Dombrowski, and the tail-less ones' conspiracy to keep the rodents down. They may say the right things to my face, but I know when I'm out of the room they talk about buckteeth and tail. One minute I'm chomping on stogies with the Tigers elite and the next I'm getting rundown by rent-a-cops, treated like a lowlife. Good think Eck can't read squirrel lips, because I was going off!
Can you blame me for being bitter? I'd show them, I promised myself.
How do you think Daisuke got his first win? Do you think a little birdie told him what to do? Yeah, right. I've seen those moronic gulls loitering in the outfield at Cleveland, crapping all over the turf. No respect for the game, you know?
I may have been hammered, but I dropped a few pointers to the kid. Feel bad for the guy, you know? Thousands of miles away from home, big contract to live up to, outrageous expectations, rabid fans, and all that.
So he wasn't brilliant, but he got the job done. 5 IP, 6 H, 1 ER, 3 BB, 6 K. Look, I only had a few minutes and I don't know how well slurred squirrel speech translates to Japanese.
That's a bunch a great arms they got there in Boston. Kinda glad Timlin isn't in there any more. Not because he's not a nice guy and all, but he could basically kill me, skin me, and turn me into a glove in the course of a game. All the pen guys were all, "Come back with us to Boston! We like Farrell and and all, but you've taught us a lot even though you're drunk off your ass."
Tempting, you know? And that Pedroia kid cracks me up. Really enjoyed beating him at cribbage after Tito had his way with him.
I'm sort of like Ilitch. Love this city, no matter what. People think he kept Tiger Stadium up for the money. Well, okay, there were 400,000 reasons a year for him to do that, but he didn't redevelop it because it was a home for the little guys like me.