Game 11: April 18, 2009

Orioles
4
L: Adam Eaton (0-2)
6-5, 3 game losing streak
Red Sox
6
W: Josh Beckett (2-1)
H: Hideki Okajima (2)
H: Takashi Saito (1)
S: Jonathan Papelbon (4)
5-6, 3 game winning streak
Highlights: Written in Japanese, "Saito" is comprised of two kanji. The first symbol, 斎, is pronounced "sai" and means "purification." The second part of his name, 藤, is pronounced "tō" and symbolizes "wisteria." His give name, Takashi, is written with a single ideogram, 隆. This symbol has several meanings: hump (as in something elevated, like a baseball mound), high, noble, or prosperity. Saito took the mound in the eighth and allowed a leadoff single to Ty Wigginton but quickly buckled down. He whiffed the next two batters and induced a fly ball out for the final out. Saito seemed to be annoyed by the bullpen drumming; perhaps he played out his chagrin on the mound.
Doug Eddings, the home plate umpire last night, is every pitchers' best friend. He tends to give hurlers the outside edge and more, at least according to Brian Roberts and Dustin Pedroia. Those two second basemen would know, as they can barely reach across home plate with their bats as it is.
The new look Orioles seem to be much the same to me. Of course, the bird image they use is now slightly different, but don't overlook the change to the alternate batting practice cap logo.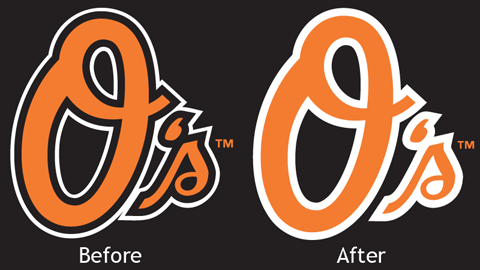 In 2010 they should issue a correction to make the opening single quote mark they have (') an actual apostrophe (').
The Orioles also have a sleeve patch that incorporates the Maryland state flag. Maryland's flag is the only state flag that incorporates British heraldry. Its quarters alternate between the Calvert and Crossland coasts of arms, a jarring assemblage of black and yellow spliced with red and white. The Ravens also include the flag in one of their alternate graphics. I question the aptitude of the graphic designers that would include orange or purple with the already gaudy state flag colors.
The Baltimore baseball club's construction reminds me of the haphazard way its new devices: a slapdash collection of players whose individual talents do not combine for a harmonious whole. Nick Markakis and Adam Jones will drive the team's offense in the years to come. Will they mature before Roberts's eventual age-related decline begins? When will uberprospect Matt Wieters finally take his hacks against major league pitching?
Inconsistent pitching is the Orioles' key deficiency. A trio of pitching prospects, Chris Tillman, Brian Matusz, and Jake Arrieta, are assumed to eventually become top of the rotation starters. From Clay Buchholz we all know the vagaries of projecting pitchers.
Boston's American League East opponents may have a future as bright as their new insignias, but in the present day they will likely not maintain the tenuous division lead they established.
Kevin Youkilis feasted on Orioles pitching. The first baseman went 4-for-5 with a three-run homer in the third that dropped into the lap of a lucky fan in the Monster seats.
Just when you thought Dustin Pedroia couldn't be more hilarious, in the sixth he tried to pull the "oh I hurt my leg so bad I probably can't run that well — psych! — here I go stealing on the very next play and you didn't even suspect it" maneuver. It didn't fool Gregg Zaun, however, who threw out the Red Sox keystone bagger with ease.
With last night's win the local nine ensured at least a series split and brought them one step closer in their slog to a winning record. Although Boston's record isn't as good as the Yankees, the Red Sox have been playing much better baseball. The Indians beat the New York American League ball club in historic fashion yesterday, 22-4.