Game 15: April 22, 2009

Twins
3
L: Francisco Liriano (0-4)
7-9, 2 game losing streak
Red Sox
7

W: Brad Penny (2-0)
9-6, 7 game winning streak
Highlights: Dave Roberts brings happiness and and good fortune wherever he goes. He visited Fenway yesterday, Terry Francona's birthday, to throw out the ceremonial first pitch. His stopover coincided with the Red Sox's second series sweep of the season and the team's 16th sweep of doubleheader since its inception. Francona so clearly adores Roberts, as do we all. He is so loved he didn't even have to don the minty green Earth Day uniforms.
That uniform looks familiar.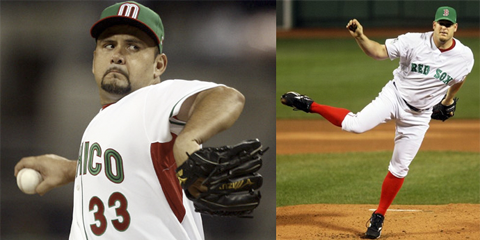 Ah yes, we saw those uniforms in the World Baseball Classic worn by our neighbors to the south. Boston's version had a recycling logo on the right sleeve and clover emblem on the left. Even Jason Varitek's armor was green.
Kevin Youkilis covers both corner infield positions with ease. He spelled Mike Lowell at third while the recently recalled Jeff Bailey played first. Nick Punto thought he led off the third with a line shot double, but Youkilis's glove had other ideas. There is no one else in the league who can transfer Gold Glove skills across the diamond like Youkilis. Most players grow out of third and are shuttled over to first by default, like Miguel Cabrera.
Bailey made the most of his opportunity with a three-run blast in the second inning off former phenom Francisco Liriano. The Twins pitcher didn't notch a victory, but when his stuff was on he had Red Sox batters flailing. Should he ever return 2006 form we will all be thankful he pitches in the AL Central.
Twins hitters got to Brad Penny by the fourth inning. Justin Morneau led off with a homer to the short bleachers in center and Jason Kubel followed up with a ground-rule double that took a path out of the park at angles only possible in Fenway.
But the local nine provided unparalleled run support. In six games in this seven-game winning streak the Red Sox have scored six runs or more. That's almost enough runs to help get a pitcher like Chien-Ming Wang a win.
Speaking of, the Bronx Bromides will be in town for a weekend series. They represent another kind of green: $.