The best part of last night's game was Craig Sager's lecture on how the eye works. He talked about how light passes through the cornea, is then is cast upon the retina, which then sends this information through the optic nerve to be processed by the brain. His extensive knowledge on the subject is not surprising given his ability to best assault our peepers. His navy and blue striped blazer as rather sedate given his past ensembles. His tie had the appearance of oil on water; irisdescent swirls of blue surrounded lighter azure blotches.
TBS televised Carl Beane's announcements to introduce the lineups. Surprisingly there weren't many catcalls during the visitors' introduction. My friend said it was intentional, an indication of the disdain in which the home crowd held the upstart Rays. I thought it might be because admittance to the game could only be had by the fat cats of the world.
Jon Lester, like Josh Beckett before him, was out of sorts. He surrendered a three-run homer to B.J. Upton in the third. With the bases mercifully empty, Evan Longoria also sent a ball out of the park. Unlike Upton's, however, his dropped into the Monster seats. Upton's shot ended up in Manny Ramirez Memorial Parking Lot across Lansdowne Street.
Rhode Island native Rocco Baldelli had a three-run longball of his own. When his name was announced there was a smattering of cheers, but in the eighth inning the only sound that could be heard was that of his homer slapping off of the Sports Authority sign.
Another player with local ties, Carlos Peña, made a deposit into the First Savings Bank of Souvenir City. The federal government wasn't there to offer a bailout package to the Red Sox.
It took two of the most anemic Boston bats to team up for a run. Jacoby Ellsbury slashed a ball into right field for a sacrifice fly that plated Jason Varitek. In this ALCS, Ellsbury is 0-for-14 and Varitek is 0-for-10. Both of them are out of the lineup tonight.
The fate of this evening's game, and perhaps the series, is clutched in Tim Wakefield's powerful grip.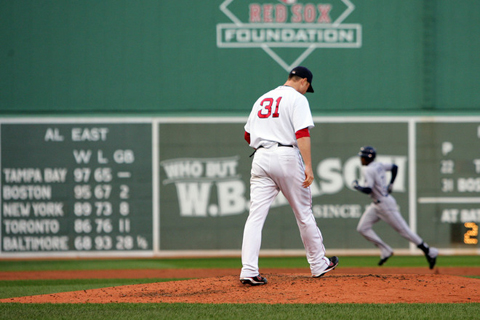 Jon the Lesser.
Photo courtesy Elsa/Getty Images