Game 155: September 21, 2008

Red Sox
3
W: Daisuke Matsuzaka (18-2)
H: Hideki Okajima (22)
S: Jonathan Papelbon (40)
91-64, 1 game winning streak
Blue Jays
0
L: Scott Richmond (0-3)
83-73, 1 game losing streak
Highlights: Matsuzaka said that he wished to have as many wins as his jersey number 18. The Japanese world for eighteen is jūhachiban; the symbols translate literally as ten-eight-number, but the word also has another meaning as as one's hobby, specialty, or shtick, which has its origins in the canon of 18 kabuki classics. After finally reaching his goal after ten years he said "it just feels like any other win." I wonder if Matsuzaka used a daruma to track his progress; many Japanese purchase a daruma doll when undertaking a quest (or at the beginning of the new year for a resolution) and fill in one eye. When they have achieved their aim, the other eye is completed. Darumas are shaped so that when they are pushed over they right themselves, like a Weeble. It perfectly symbolizes Matsuzaka's "bend but not break" mound approach.
When commenting on how one's individual ambition means little when one is part of a team, Daisuke Matsuzaka echoed Dustin Pedroia's sentiments from a recent USA Today feature by Bob Nightengale. "Who wants to put up big numbers on a lousy team? That's got to be the worst feeling. I never want to experience that. Really, I don't think I ever will." With someone like Pedroia on a team, it's hard to see how any team he's on could underachieve. Pedroia's bluster not only motivates himself but buoys his teammates.
Multiple-MVP awardee Alex "Never Been to the World Series" Rodriguez seems to have the opposite affect.
Yesterday the Red Sox sealed the series win and reduced their magic number for a playoff berth to one. They got on the board first, just as they did in the middle game of the series. Jacoby Ellsbury burned around the basepaths for a leadoff triple and was plated by Pedroia on a sac fly to left.
This time the visitors' starting pitcher was up to the task of keeping the home team at bay. Over seven innings the Blue Jays had just four baserunners; Matsuzaka allowed a mere two hits and two walks. Toronto's batters were kept off-balance, whiffing on the elusive pitches that kissed the edges of the black or buckled the knees of the unsuspecting for six strikeouts.
There are only a few men who can reach across the plate for a breaking pitch outside and with their own strength propel a ball over the fences for a home run to the opposite field. I saw Carlos Quentin take just such a swing earlier this season; David Ortiz duplicated the feat from the other side of the plate in the third inning.
If playoff success were based on brawn alone, Ortiz's might could take his team to a consecutive title. But luck also is involved, and the inauspicious absence of both J.D. Drew and Mike Lowell from the lineup will make for an arduous slog through the last few games of the season needed to clinch a berth.
Tonight I'll be at the game in Section 4 of the Right Field Grandstand. Perhaps by evening's end we'll be able to paint in daruma's second eye.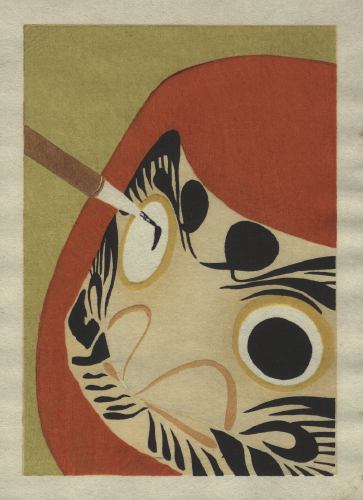 Daruma doll image from David Bull's modern woodblock print collection.