I got to the park too late to be greeted by a Red Sox player, but I was handed a nifty over-sized ticket commemorating the breaking of the MLB record for consecutive sellouts by a Fenway Ambassador. Before heading up to my designated standing room only space in the left field pavilion I hung around the left field boxes hoping for a foul ball.
When Josh Kantor played "Day After Day," a song that means a lot to me, I had a feeling that it was going to special day, not just for the history books but for the AL East standings. Jere came by and we chatted about the upcoming book he wrote with his mom, Mary-Ann Tirone Smith (Dirty Water), his birthday, and the horror of the John MacCain/Sarah Palin ticket.
As first pitch time drew near, I made my way up the many stairways to the top of the park. I think the staircases alternate between Fenway proper and the neighboring Gino building; they are a mishmash of brick and green steel that could only be a feature of our idiosyncratic park.
Every moment of the evening was near perfect, from the tributes to the game to the weather. If anyone wonders how a venue can fill to capacity for every ballgame it hosts, one only needed to be there last night. Thank you, Red Sox.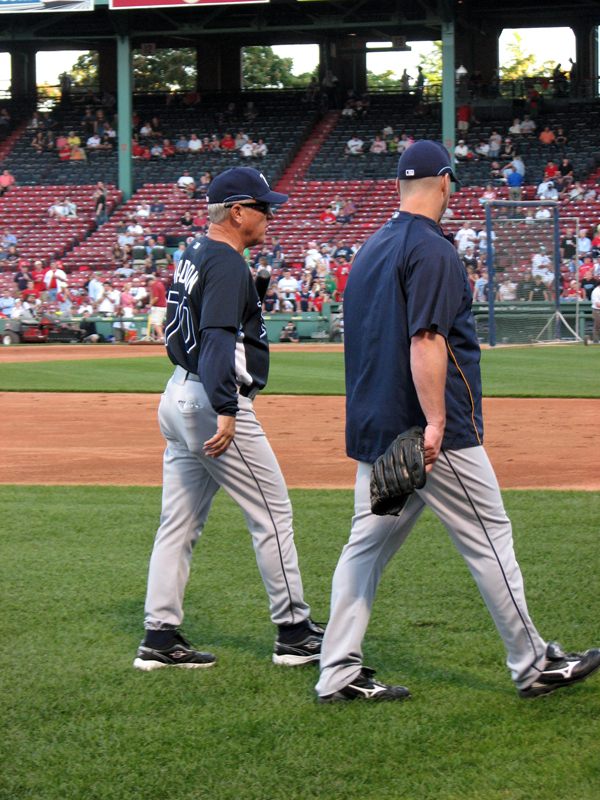 Now that Joe Maddon is a big time manager with a winning record he can afford (ugly) prescription sunglasses rather than fit-overs.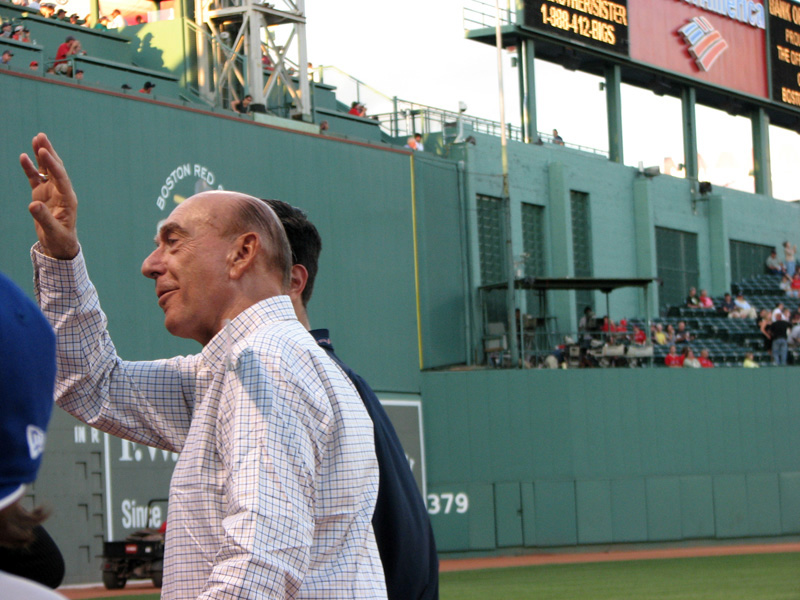 Newest member of the Basketball Hall of Fame and Rays fan, Dick Vitale.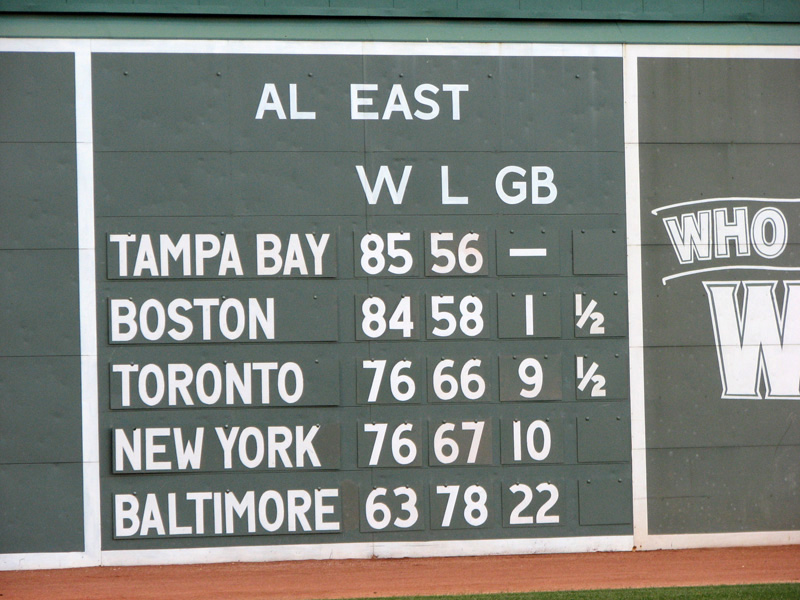 The gap narrows.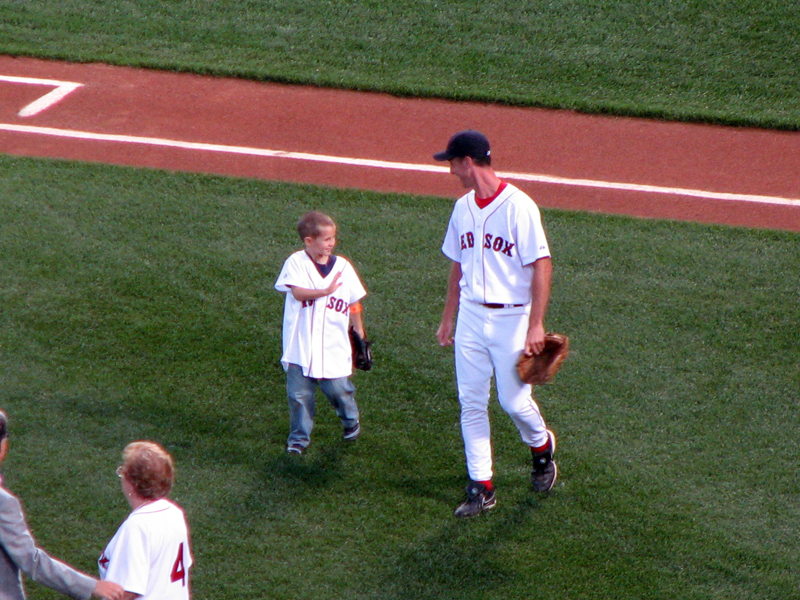 Born on the day of the beginning of the streak, May 15, 2003, Kevin Pierro was one of the three fans that threw out the ceremonial first pitch.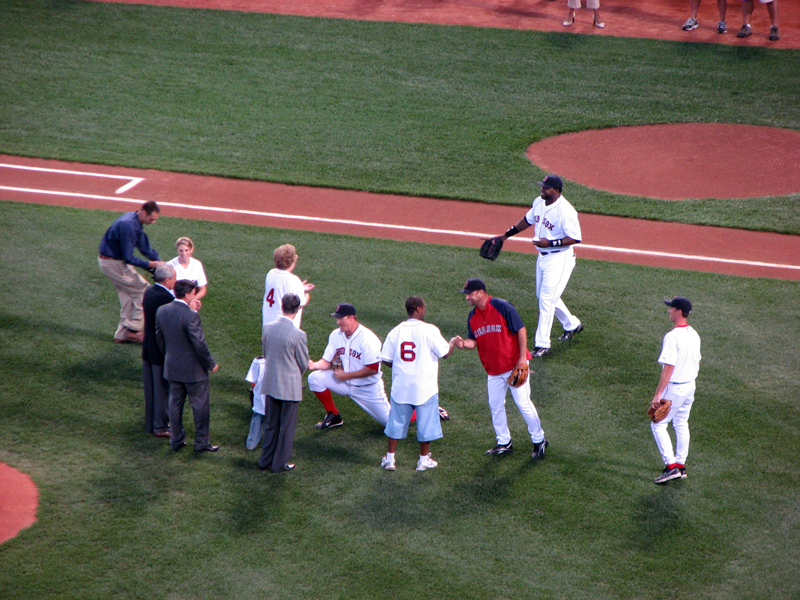 Kevin and the two other fans, Dora Giglio and Maurice Polite, mingle with David Ortiz, Mike Timlin, and Tim Wakefield after they made their pitches.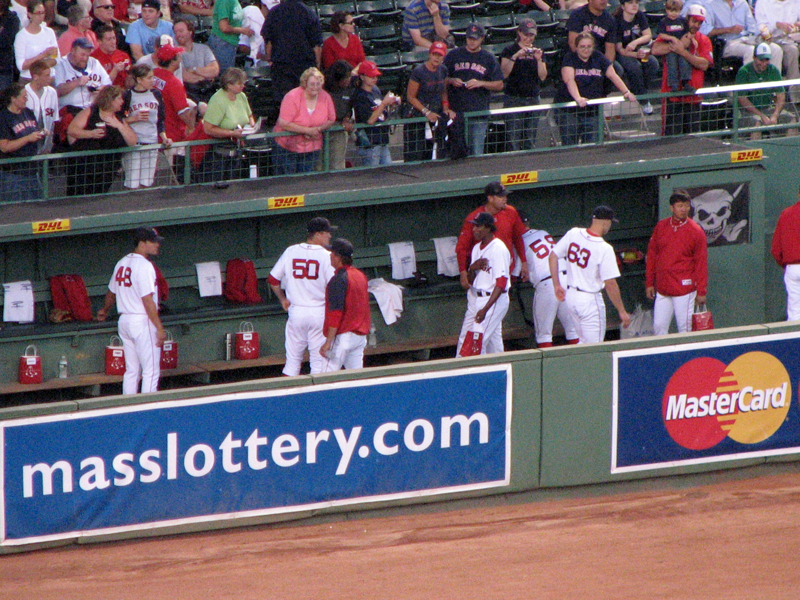 Most of the bullpen had the night off.

Jon Lester takes the mound.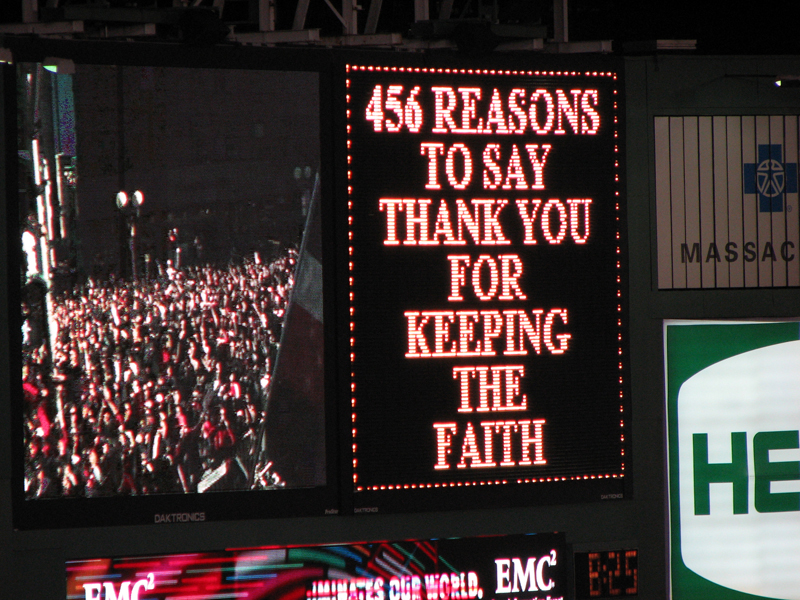 One of the many notes of gratitude flashed on the Jumbotron.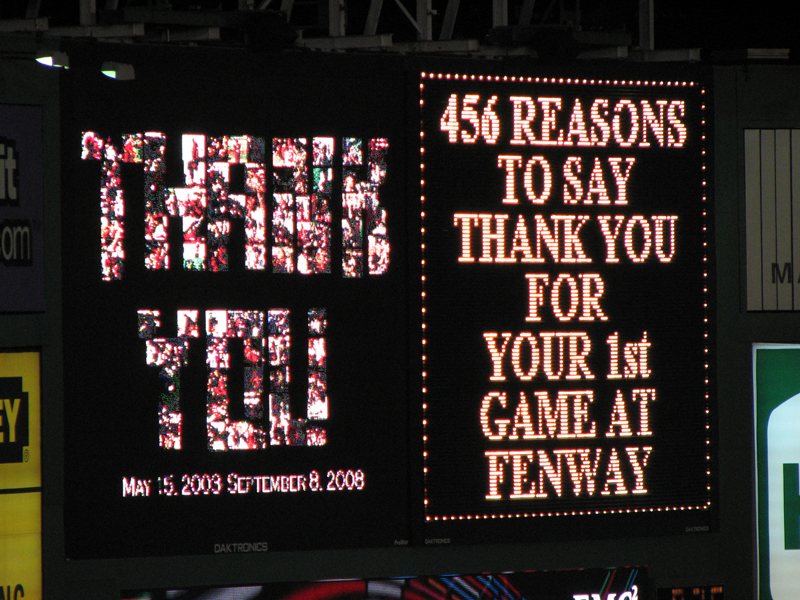 If you attended any game in the streak and the Red Sox have your name, you will be enshrined in the National Baseball Hall of Fame and Museum.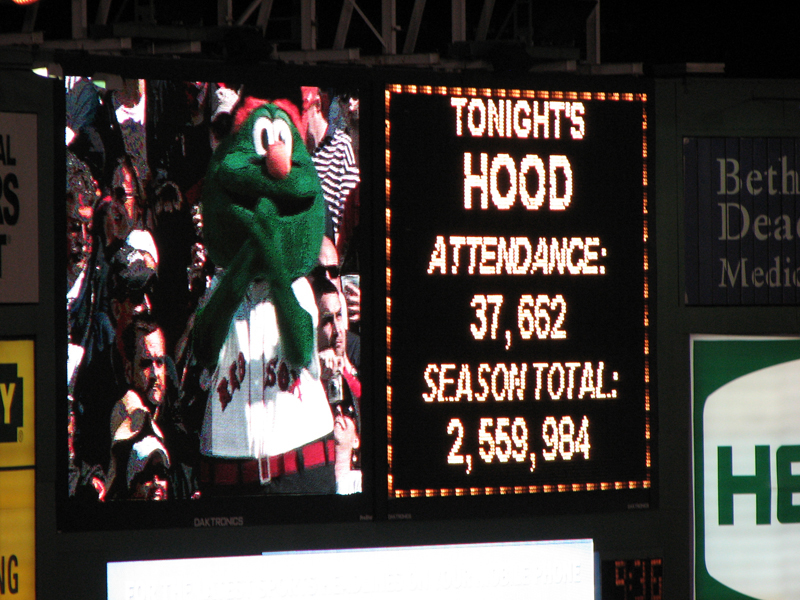 Together we made history.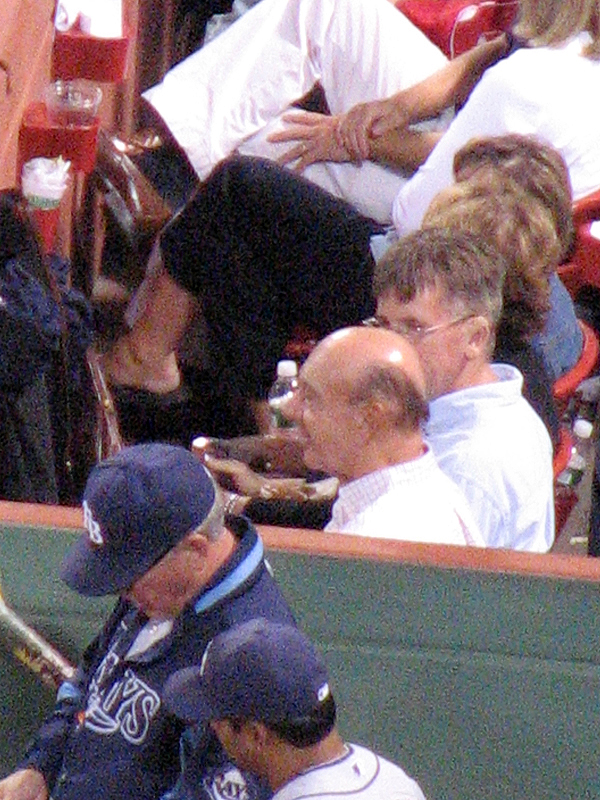 Maddon tries to ignore Vitale's incessant yammering.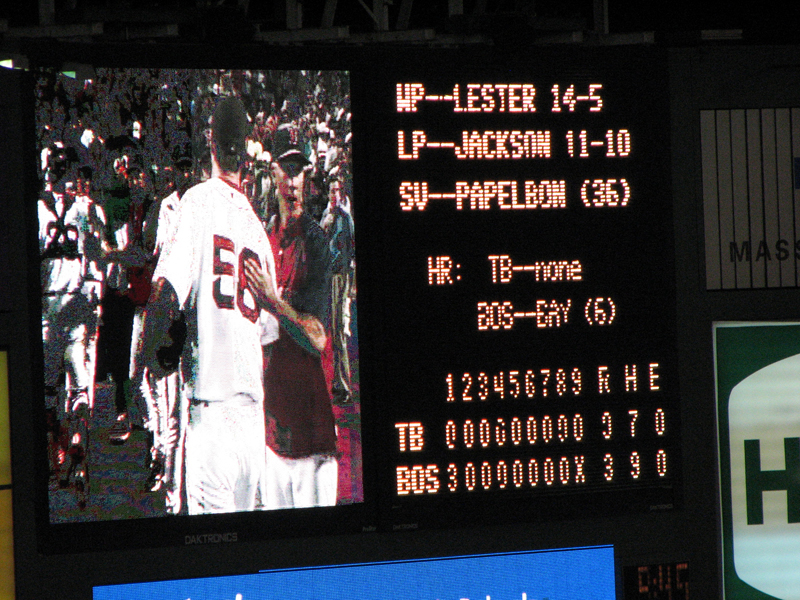 A much-needed win.

Speaking of sellouts....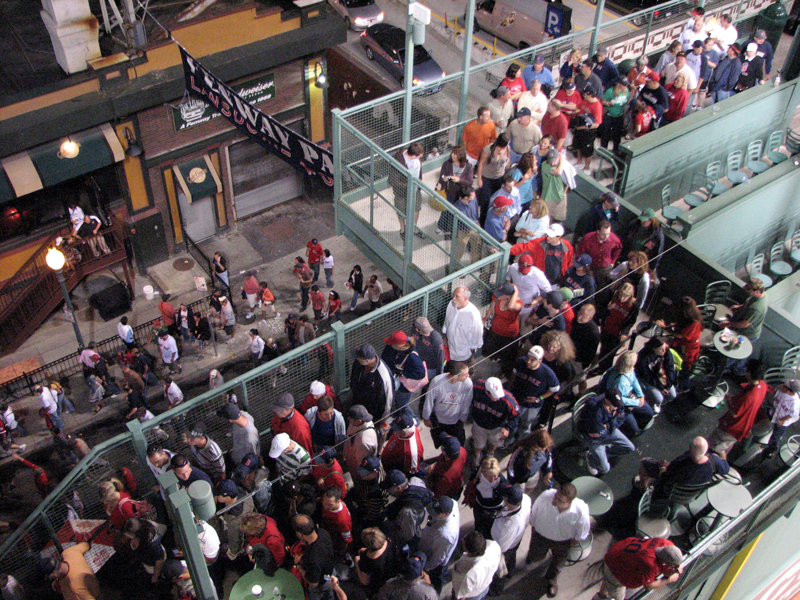 The largest gathering of living Hall of Famers in history happened at Fenway, not at Yankee Stadium.