Game 72: June 15, 2008

Red Sox
9
W: Josh Beckett (7-4)
44-28, 2 game winning streak
Reds
0
L: Homer Bailey (0-3)
33-38, 2 game losing streak
Highlights: A pitcher named Homer. A maid named Dusty. An election supervisor named Chad. A plastic surgeon named Nick. An therapist specializing in anorexia named Slim.
In the first inning Jacoby Ellsbury broke the rookie Red Sox stolen base record held by Ambrose ("Amby") Moses McConnell. The record had stood since 1908. It is almost inevitable that Ellsbury will eclipse Tommy Harper's 1973 mark of 54 swipes sometime this season.
McConnell was also the first player to ever ground into an unassisted triple play in a regular season major league game. The description from SABR's site on triple plays described the events of July 19, 1909 succinctly:
Amby McConnell (BOS) is the batter with a ?-? count. On a hit-and-run play he hit a liner to the SS, Neal Ball (OUT 1)

SS then touched second to double up the runner from that base, Heinie Wagner, who had almost reached third on the play (OUT 2)

SS then tagged the runner from first, Jake Stahl, who was running toward him and had no chance to return to first (OUT 3)

NOTE: UNASSISTED TRIPLE PLAY - FIRST REGULAR SEASON TRIPLE PLAY IN MLB HISTORY
Perhaps the greatest impact the second baseman from yesteryear had was in his life after his playing career. He brought professional baseball back to Utica, New York, exciting and delighting thousands of fans.
By the end of the day yesterday not many of the remaining Cincinnati fans were enticed by their team's performance. The bloom continued to fade off the rose of Homer Bailey, the once promising prospect who has yet to impress in the majors unlike his counterparts Johnny Cueto and Edinson Volquez. Bailey served up three home runs: Coco Crisp, Ellsbury, and J.D. Drew. Dustin Pedroia also homered, but reliever Val Majewski was the victim.
The Queen City nine mustered nine baserunners total, but none crossed home plate.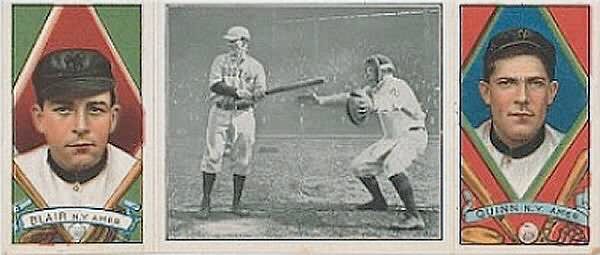 Ambrose McConnell at Bat, 1909 T202 Hassan Triple Folders Card 6, courtesy of Vintage Card Traders.