Game 43: May 14, 2008

Red Sox
3
H: Javier Lopez (3)
L: Craig Hansen (0-2)
BS: Hideki Okajima (4)
24-19, 4 game losing streak
Orioles
6
W: Daniel Cabrera (4-1)
H: Matt Albers (2)
S: George Sherrill (15)
21-19, 2 game winning streak
Highlights: Jon Lester pitched admirably through six innings, striking out four while walking two and allowing two runs. But somehow Daniel Cabrera lasted an inning longer, didn't give up any bases on balls, struck out three, and notched his fourth win despite giving up home runs to Jason Varitek and Mike Lowell in the fifth and sixth innings, respectively.
Daniel Cabrera's bullpen came through for him by shutting down the slumping Boston club in the last two frames. Red Sox relievers Javier Lopez, Craig Hansen, and Hideki Okajima failed to do the same in the seventh, with Hansen turning in a particularly wretched outing. The first round draft pick didn't record an out, allowing a single to the nine-hole occupant Guillermo Quiroz and then walking Brian Roberts after a nine-pitch showdown to jam the bases with birds.
Okajima left the ball low and inside for Jay Payton who exacted revenge on his former team in the form of his fourth career grand slam. With his shot to left the Orioles' left fielder secured a sweep of the two-game series.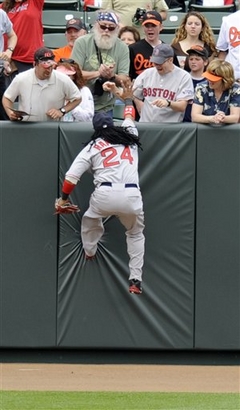 The game was just as memorable for Jonathan Van Every. Called up to shore up the rapidly depleting outfield, in the fifth the 27-year old knocked his first major league single to the very part of the field he patrolled. It was from that spot that he watched a remarkable twin killing in the fourth by none other than Manny Ramirez.
Ramirez bolted towards the wall to collar a fly ball off the bat of Kevin Millar. Ramirez continued apace to the wall and climbed it just high enough to high five the Boston fan who doubled-pointed to the left fielder to acknowledge his catch.
Ramirez turned back towards the field and coiled to relay to Dustin Pedroia. Pedroia completed the circuit to Kevin Youkilis to double off the unwitting Aubrey Huff. Van Every was the first to congratulate Manny on his improbable double play. But unlike the white guy in the stands, Van Every didn't awkwardly fumble during his high five thanks to his seven years of minor league baseball training.
Photo courtesy AP Photo/Nick Wass