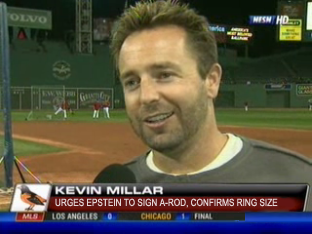 Former Red Sox utility man Kevin Millar still has not accepted that he is no longer part of his beloved Boston club. His return to Fenway Park to throw out the ceremonial first pitch for Game 7 of the American League Championship Series propelled Millar into a fugue state where he believes he is still a member of the Red Sox.
While in this delusional mindset Millar agreed to be part of a "Where Are They Now?" segment on NESN. As the interview unraveled, however, it became clear that Millar had selective amnesia of his whereabouts since becoming a free agent following the 2005 season. NESN reporter Hazel Mae asked him numerous questions about being an ex-Red Sox, befuddling Millar. Instead, Millar opined on his preference for Red Sox general manager Theo Epstein to sign Alex Rodriguez since the exclusive negotiating period with Mike Lowell had lapsed at midnight. It was reminiscent of the brouhaha the player caused in the 2003 postseason where he appeared on SportsCenter stumping for Rodriguez over Nomar Garciaparra.
When Mae attempted to redirect Millar to discuss what life was like in the Baltimore Orioles clubhouse for the past two years. "Now, Hazel honey, I know you got this practical joke thing going with Tito, but this is taking it way too far," laughed Millar. as Mae questioned him "And if I'm the one saying it's gone too far, well, that's really saying something."
"So, where are they?" Millar demanded with grim laugh as he dashed from the interview and tore apart the Boston Red Sox locker room. "Timlin! Schill! Belli! You guys can't hide from me." Cameras followed the boisterous ballplayer as he searched through the training room, Jacuzzi room, and showers.
This was just the latest in a series of incidents where Millar demonstrated his ever-loosening grip on reality. Last month he showed up for the Rolling Rally through Boston celebrating the Red Sox's seventh World Championship requesting his name be added to one of the duck boats. "I know I'm not in the MLBPA, but I still deserve to have my name up there with the rest of y'all. Just as long as I get a matching ring for this baby," he said while displaying his 2004 ring to the police and security personnel who blocked his entry in the parade.
Millar was a replacement player during the 1995 players' strike and was subsequently barred for life from joining the union representing professional baseball players.
Millar's wife Jeanna has urged her husband to seek professional help to no avail. "I've just about given up. He seems so much happier now that believes he helped win their second title in four years. Before his break from reality he would give dates in relation to October 27, 2004. "Happy six months since we won it all!" he yelled after I gave birth to twins."
Millar repeatedly declined to comment on recent events, citing his hectic schedule filled with post-World Series appointments such as a ring sizing session. "Funny how you can add on a few pounds over the years. Just ask my buddy Schill."