Game 66: June 15, 2007

Giants
2
L: Barry Zito (6-5)
30-36, 2 game losing streak
7-11-4 series record
Red Sox
10
W: Julian Tavarez (4-4)
42-24, 1 game winning streak
15-6-2 series record
Highlights: Alive! It's alive! The Red Sox offense notched six runs against old friend Zito. Tavarez went seven for the second time this season with a line of two earned runs, two walks, and three strikeouts. Hideki Okajima and Joel Piñeiro got some low-leverage work in the eighth and ninth; each allowed one hit and walked and struck out none. Manny Ramirez legged out of a double play in the bottom of the third, dreadlocks jouncing in tandem with his rapid strides.
Dustin Pedroia was unstoppable with the bat last night, going 5-for-5 with five RBIs. He fell a triple short of the cycle; if he had Kevin Youkilis's wheels he may have been able to stretch his eight-inning double to the left-center gap into a triple.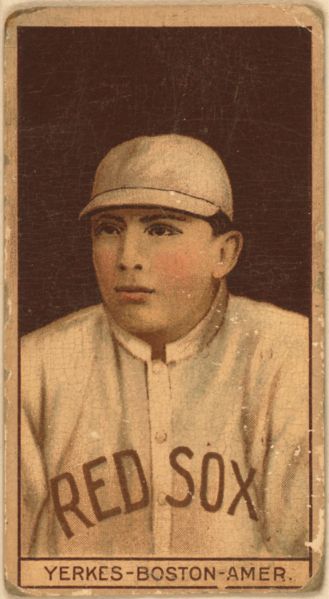 Another second baseman proved pivotal in the last series the Giants played at Fenway. It happened to be the eighth and deciding game of the 1912 World Series. The series stood tied 3-3, as Game 2 was a tie that was called on account of darkness. (I like that this weekend's games are being played in the afternoon, probably because of network contracts and travel obligations more than anything, but it lends a throwback feel to the series.)
Contemporary written accounts of Game 8 are riveting, as this article by John Foster in Spaulding's Official Base Ball Guide - 1913, demonstrates, but the series finale at Fenway was sparsely attended because there were rumors that the fix was on. Foster did not allude to this possible malfeasance, attributing the smaller crowd to fans' displeasure over seating.
Giants ace Christy Mathewson started against Hugh Bedient, who had not won any of his series starts. The game was scoreless until the seventh when Jake Stahl popped a single to center and was driven in by Olaf Henriksen, who batted in place of Bedient.
Smoky Joe Wood and Mathewson matched goose eggs until the 10th. The Giants took the lead with Red Murray's one-out double and Fred Merkle's RBI single. Wood got the final two outs of the frame but not without being injured by Chief Meyers's comebacker.
Clyde Engle batted for Wood, and it was his fly to deep center that Fred Snodgrass would bungle. With Engle on second, Snodgrass would make an outstanding catch of Harry Hooper's shot to center.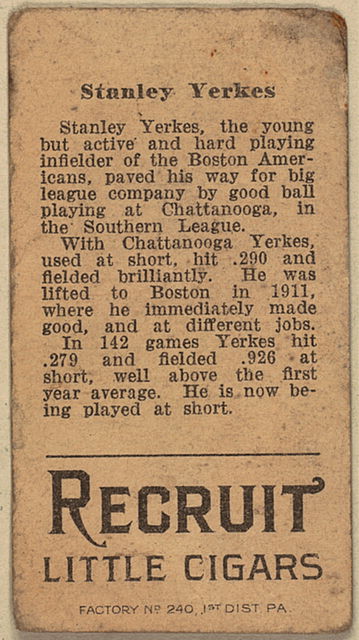 Yerkes, representing the series-winning run, finagled a free pass from the great Mathewson.
Mathewson bent every energy to strike out Yerkes, but the batter would not go after the wide curves which were being served to him by the New York pitcher and finally was given a base on balls.
The Giants could have ended the series but for Merkle, Meyers, and Mathewson failing to come up with Tris Speaker's foul pop. Speaker plated Engle on a single to right which also advanced Yerkes to third. Yerkes scored on Larry Gardner's sacrifice fly.
Yet so keen had been the struggle, so great the excitement, so wonderful the rally of the New York club after having once given the series away, that it was the opinion generally that the defeated were as great in defeat as the victors were great in victory.
Yerkes proved the difference between a $4,024.68 payday compared to $2,566.47. Yerkes jumped to the Federal League in 1914 to earn $6,500, which was $3,000 more than his Red Sox salary.
There was never a golden age of the game except in our own grandiose imaginations. Greed, hubris, vanity, and all the rest of the seven sins are the mainstays of this sport. Any player who says he plays for the love of the game is lying. If that were really the case, he would be on a dirt field in the Dominican, a side street in Kyoto, a field in Missouri, reveling in the ebb and flow of the sport without spectators; in short, anywhere but a perfectly manicured major league playing surface.
Controversy and great baseball are ever entwined. Is this classic series from 1912 any less because of unproven allegations that the series was fixed?
I am not a fan of Barry Bonds. But would he have done those things he is alleged to have done had fans like us conjured glamor in the longball? An infatuation aided and abetted by the commissioner's office, who turned a blind eye to wrongdoings because money overflowed the league's coffers.
Bonds is a perfect confluence of personality and circumstance to produce a scapegoat for Bud Selig's blatant neglect to clean up his league.
Other than that, Mrs. Lincoln, how did you enjoy the play?
Dennis Eckersley was in fine fettle. When asked what would he do if faced Bonds in an at bat that would be the record-breaking homer, Eckersley sportingly said he'd take his chances given the slugger's age. He said, paraphrasing from memory, "I'm not shy. I'll throw my 89-MPH heater up there. So what if it's history? Everywhere I go it's Gibson, Gibson, Gibson."
In the background, the man on stilts swerved through the crowd donning a 1908 uniform. The 1912 uniform isn't very much different from today's save for the lack of red piping around the placket and collar.
Dave Roberts received a thunderous ovation from the Fenway audience. Everything that could be said about him and Game 4 has been said and much better than I ever could. Bob Ryan's column is a shining example of what The Steal meant and continues to mean.
David Ortiz acted the part of Julian Tavarez in the first, throwing a tantrum after striking out looking. The designated hitter was ejected when, after getting in home plate umpire's face to argue balls and strikes, he hurled his helmet and bat down near at the top of the steps of the dugout. Terry Francona defended Ortiz's actions to no avail.
Interestingly, Randazzo was part of a physical confrontation with Clint Hurdle in 2006, which was documented by Patrick Saunders of the Denver Post. Ray King, who complained about the strike zone, was ejected along with Hurdle.
"This guy, Tony Randazzo behind the plate today, was totally out of line," King said. "This guy was walking right up the line, getting in your face and hoping to agitate. The guy behind the plate today, from pitch one, I thought missed a lot of calls."
Such an erratic strike zone suits an unconventional pitcher like Tavarez. Yet again Tavarez bowled a batted ball to this first baseman, this time in the fifth with Randy Winn attempting to extend the inning. Tavarez's momentum took him towards foul territory. He looked as if he couldn't keep his balance and since he had touched the ball without seeing if it would dribble foul anyway, the roll seemed justifiable. Winn was in the correct path to first, so even if a relay to first hit Winn he would probably be allowed to remain on first.
Momentum, they say, only goes as far as the next day's starting pitchers. If anyone can derail Boston's rediscovered offense it would be ace apparent Matt Cain. He opposes another emergent star, Daisuke Matsuzaka.
Images of baseball card courtesy of the Library of Congress, Prints and Photographs Division, Lot 13163-30, no. 117.