Game 61: June 9, 2007

∙ 10 innings

Red Sox
4
W: Hideki Okajima (2-0)
S: Jonathan Papelbon (14)
40-21, 3 game winning streak
15-5-2 series record
Diamondbacks
3
H: Tony Pena (12)
H: Doug Slaten (4)
BS: Brandon Lyon (2)
L: Juan Cruz (2-1)
36-27, 3 game losing streak
12-9-0 series record
Highlights: The Red Sox became the second team to reach the 40-win mark on Saturday; the Angels punished the Cardinals a few hours before for their 40th. Okajima tallied his second major league win; maybe this time Papelbon saved a game ball for him.
The Diamondbacks remind me of the 2005 Cleveland Indians. They have the raw materials to make a championship team: youthful talent in key positions (Chris Young in center, Stephen Drew at short, and Miguel Montero as the backstop), a staff ace in Brandon Young, a decent if not topflight closer with Jose Valverde, and a smart front office headed by Josh Byrnes. Round it off with steady veterans like Livan Hernandez, Orlando Hudson, and Randy Johnson and you have a contender... in the National League West.
Once again the Red Sox proved their ascendancy over other division leaders with an extra-inning victory.
Arizona established an early lead with a second-inning RBI double by Montero and a fourth-inning two-run homer by the younger Drew. From that point on, however, the Diamondbacks mustered only five baserunners. Two of those came in the bottom of the 10th to make for a taxing 24-pitch conversion for Jonathan Papelbon.
Jason Varitek drove in all three Red Sox runs in regulation. With two out and the elder Drew on first in the sixth, Varitek took Micah Owings's 3-1 pitch down a tunnel near the pool area. (By the way, it's just $6,500 to rent the pool for you and 34 of your friends. Amenities include plasma television, private bar area, a $750 food credit, and logo-emblazoned beach towel and cap.)
In the eighth, J.D. was on base again with the backstop at the dish. This time Varitek golfed the ball to the base of the fences in center field. It was deep enough for the Red Sox right fielder to score from first.
The top of the tenth demonstrated how the Diamondbacks don't have quite the right mix to prevail against more polished teams. David Ortiz drew a walk and consecutive singles by Kevin Youkilis and J.D. loaded the bases for Varitek. Boston's captain struck out but pinch-hitting Mike Lowell aimed a fly to right just deep enough to warrant sending Ortiz.
Ortiz tagged up and scuttled to the dish safely for the go-ahead run. Carlos Quentin's relay wasn't in the same zip code as home plate.
Don Orsillo embarrassed Northeastern University alumni once again. In the seventh he and Jerry Remy were ridiculing Baxter the Bobcat. "He doesn't even have a tail!" Orsillo exclaimed.
Bobcats (Lynx rufus) aren't named as they are because a guy named "Bob" discovered them. Rather, it is because they have a very short tail as if it were bobbed, or cut short. Baxter probably has a sense of decorum and refrains from having his nether bits hanging out of his uniform.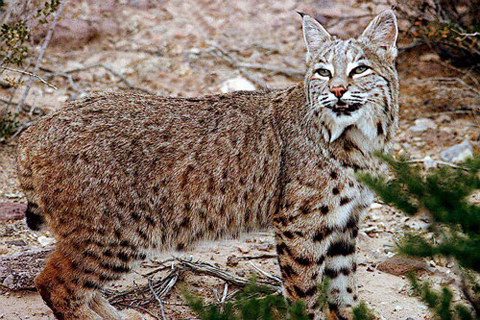 Photo courtesy of New Mexico State Office